J.J. Weaver "looking good" in recovery, ahead of schedule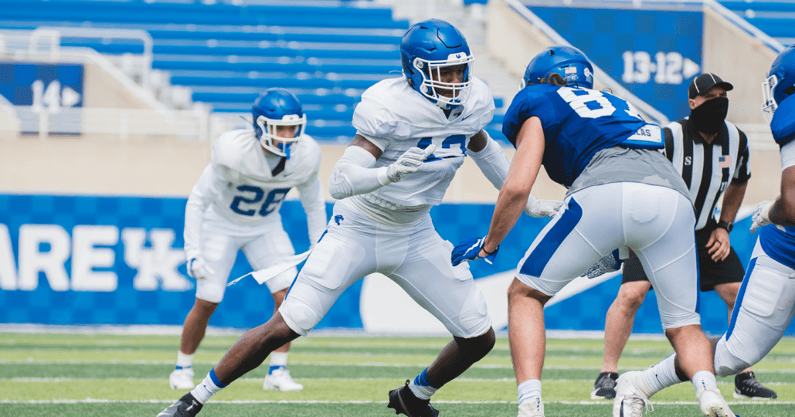 Kentucky outside linebacker J.J. Weaver was emerging as one of the program's top edge defenders in 2020, racking up 33 tackles and 6.5 tackles for loss in nine games as a redshirt freshman. In arguably his biggest performance of the year – a six-tackle effort at Florida – though, the 6-foot-5 standout went down with a torn ACL, ending his season.
He was forced to miss the regular-season finale vs. South Carolina, along with the team's Gator Bowl victory over NC State. Instead of celebrating on the field with back-to-back wins to close out the year, he was rehabbing his injured knee.
Now nine months removed from the injury, Weaver is "ahead of schedule" and on pace to suit up in 2021.
"J.J. is ahead of schedule," UK head coach Mark Stoops said at media day. "He's working extremely hard. I stayed on J.J. from day one just to make sure he stayed up with that, starting with his range of motion, and then his strength and all those things. He's putting it together. I don't want to force that. He's doing a very good job, but you also have to make sure you give that ligament time to heal. He has a bright future, and I have a tendency to try to be more cautious with those type of guys than force them back into it."
Kentucky defensive coordinator Brad White could not be more complimentary of Weaver's play on the field leading up to the injury last season.
"We all know when he got hurt, he was a dominant force on that football field," said White. "Nobody looks at the score, but if you just look at the film, when J.J. played in that Alabama game when J.J. played in that Florida game, he was as dominant as a football player as anybody on that football field."
Yet for White, Weaver's approach to rehab and his maturity as a person may have been even more impressive.
"The first thing that pops in my mind for J.J. is maturity," White added. "From where he came to where he is now — he was sort of a quiet, to himself young man when he walked in and he learned what it looks like from the Josh Paschals, from Jamin Davis, from watching Josh [Allen] sort of afar, about what it looks like to be a professional and to be able to hone your craft. And what he does — the time that he puts in, the commitment in his rehab — he is elite level and he's ready when the time comes to come back from that, he is going to come back as good and better — long term — than he was last year."
Combine his talent on the field and his growth off the field, White believes Weaver can be a true gamechanger.
"When you have a difference-maker up front, it changes the complexion of the game," said White.
Kentucky ended the 2020 season ranked No. 113 overall in sack rate, a statistic the defense knows must improve.
"It's looking good, everybody is taking that extra step to be the best pass rusher on the team," senior linebacker Jordan Wright said. "Last year we saw we were ranked 113th at the end of the season, and that's something we know doesn't represent Kentucky. We know we can rush the passer."
A key to Kentucky's return to a strong pass rush? Weaver building off his impressive 2020 campaign and returning to full strength as a redshirt sophomore.
If you ask Wright, he's well on his way.
"Ooh, man. J.J.? He's looking good, day by day," said Wright. "I'm just on his side letting him know, 'You look good. If it's hurting, don't go too hard because we need you and you're just coming back. You're getting that feeling.'"
The energy is there every day, and slowly but surely, Weaver is returning to form as a standout pass-rusher.
"J.J., he's looking good and he's attacking it every day, hard," Wright added. "That's the best thing. I'm happy for him."