Jacob Toppin's defense helps Kentucky close out Texas A&M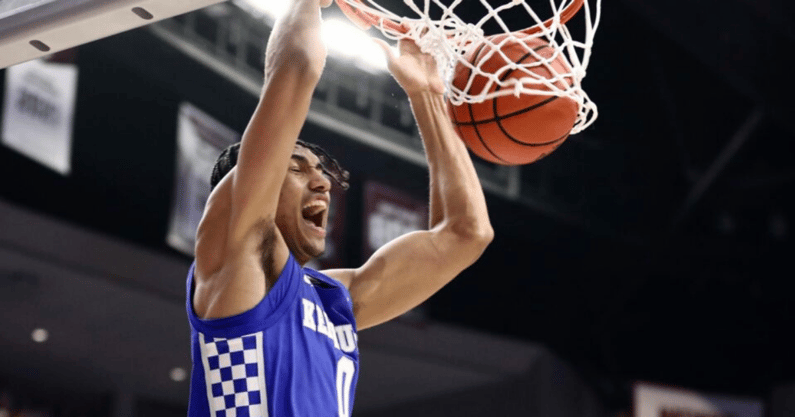 In a game where points were incredibly tough to come by, Kentucky needed more from its defense to close out the Texas A&M Aggies on Wednesday night. In place of an out-of-sync Keion Brooks Jr., junior forward Jacob Toppin stepped in to play a different role than his frontcourt teammate.
Toppin played nine first-half minutes compared to Brooks' 11, but a 2-8 shooting start from the latter called for more on the defensive end of the floor. Toppin then played 14 second-half minutes to Brooks' six, balancing a mix of scoring when the opportunity arose and locking down any and every Aggie in front of him.
"As I've said before in the past, whoever coach needs me to guard, I'm gonna guard and I'm gonna do it with pride because I take pride in my defense," Toppin said postgame. "So whoever is in front of me I'm gonna try my hardest to stop them."
Toppin finished the night with nine points, six rebounds, two assists, one block, and one steal on 3-6 shooting, including a 3-4 mark from the free-throw line in 23 minutes of action. Kentucky won an ugly one on the road in the process, 64-58. The majority of his production came in the second half in place of Brooks, where Toppin was the best defender on the court for either team.
It was his switchability that prevented an undersized Texas A&M squad from running around the Kentucky defense.
"The biggest thing is he can guard five positions," UK head coach John Calipari said postgame. "And when he learns to hit first, then your physique doesn't matter if you hit first. If they hit first, your physique matters."
Toppin missed a couple of shots he probably should have made, but Calipari said that his assistants reminded him Kentucky wouldn't have even had the ball in those situations if not for Toppin. He was battling on both ends, earning extra possessions and playing with an energy level that became infectious to the rest of his teammates.
"He fought, and that's the difference you make when you're not scoring," Calipari said.
Toppin continues to thrive in his role off the bench for Kentucky. He's not as talented on offense as Brooks, but he knows how to play within his skillset and doesn't try to do too much. The added boost he brings on defense will make him tough to keep off the floor as the SEC schedule gets more and more challenging.
It's been during conference play where Toppin has found his groove, too. Through five SEC games, he's averaging 7.2 points, 4.4 rebounds, and 1.6 assists on 14-26 shooting (53.8 percent) from the field. Toppin was the only reason Kentucky even had a chance in the road loss to LSU a couple of weeks ago and he was a major reason why the 'Cats found a way to win on Wednesday.
It doesn't matter who starts games, but who ends them. Toppin was the best option to close out Texas A&M and Kentucky will head back to Lexington with a win as a result.