Jacob Toppin's offseason progression played out in the Bahamas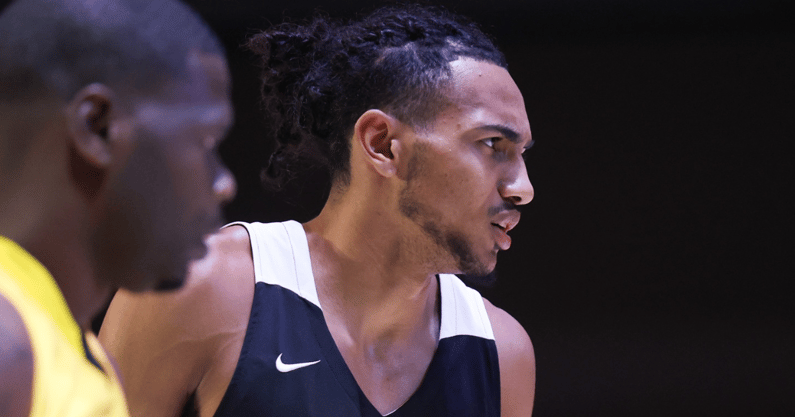 This is going to be fun.
The joyous unofficial kickoff to the 2022-23 season for Kentucky men's basketball showed the Big Blue Nation that fans could be in for something special every night. Cruising to four consecutive wins against admittedly inferior opponents, the 'Cats were led by different players every game. Shortly after his 27-point explosion the night before, senior forward Jacob Toppin followed it up with another impressive performance on Sunday afternoon.
No Sunday hangover
Facing an undeniably tougher team than anything Kentucky had faced over the past week, Toppin put up 20 points on 8-15 shooting against the Bahamas National Select Team. It wasn't as flashy as the prior day and came without the same success from deep — he shot 1-3 from three on Sunday after a 5-6 showing against Carleton on Saturday. But he continued to flex his offseason development.
It was a grittier sort of contest for Toppin and the Wildcats, once again proving everything the fans were hoping to see from him this week. He grabbed five rebounds, snagged two steals and had a block playing in a getaway game where everybody in the arena was probably half-baked from the sun and ready to go home. He matched the toughness needed against older competition.
We've all known about his hops and "wow" plays that Toppin has been able to showcase at times. We've been told all summer that he's transformed into this complete player and leader. It's great to feel vindicated about taking a project and watching it pan out perfectly, even if it is the middle of August.
We understand the level of competition we saw it against. But, we can clearly see a difference in the way Toppin has been playing this week. It's not just us who's noticed, either.
"The stuff that he's worked on all spring and summer has translated now to competitive games," Associate coach Orlando Antigua said to the media after the 98-74 win on Sunday. "Playing lower, playing through contact. Playing through the first initial physical bump against the defense, which he showed today.
"Just all the things's he's been working on in his game. To see it against other competition in a competitive atmosphere is what you want. Now he's gotta continue to keep working and continue building to get ready for the season."
Until Antonio Reeves came in and swiped it away with his second-half performance on Sunday, Toppin had a legitimate shot at the MVP award for the Bahamas trip. The three-point shooting has to become more consistent, but other than that, it's hard to deny that he's not a more complete-looking player.