Jacquez Jones, Keidron Smith are ready for Ole Miss homecoming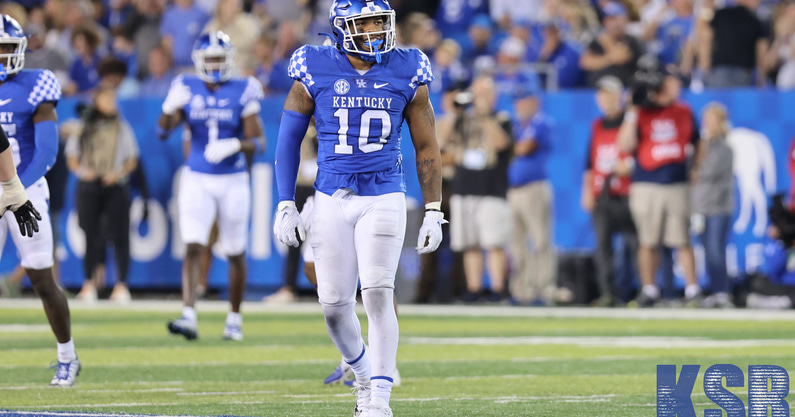 Kentucky's defense is off to a hot start in 2022 as the Wildcats rank No. 11 in scoring defense (13.0), No. 23 in yards per play (4.6), and No. 13 in success rate (31.0%). Defensive coordinator Brad White is putting together another strong unit in Lexington and it's being powered by veterans.
The Cats start five super seniors, and that seasoned presence has made a big splash early in the season. Two of those players, however, did not start their careers at Kentucky.
Both linebacker Jacquez Jones and cornerback Keidron Smith spent time at Ole Miss playing for both Matt Luke and Lane Kiffin. However, each decided to look for a second home as their college careers winded down. Both landed in Lexington and the SEC transfers are off to a great start in 2022.
Jones leads Kentucky in tackles (26) and made a great play at Florida to stone Anthony Richardson on a QB draw. That tackle set the tone early as Kentucky's defense dominated the game and rattled the talented young quarterback. Smith has logged three pass breakups and scored on a huge pick-six against Florida that officially put the Wildcats on top for good in The Swamp.
Kentucky has gotten some great play from the additions, but on Saturday, each will have somewhat of a reunion when the Wildcats make the trip to Ole Miss. However, neither is sure where the visitor's locker room is at Vaught-Hemingway Stadium.
"I've actually never been in the visitor's locker room or know how to get there," Keidron Smith told the media on Wednesday. "It's going to be a different feeling. That's one of the things I'm looking forward to."
"I've never been in there," said Jacquez Jones. "So I'm not sure where it is either. I have no idea where it's at."
Regardless of the new surroundings, both Jones and Smith will have some familiarity with the setting on Saturday afternoon. Both players have played a lot of games in that stadium and have friends on the other sideline. Things could get heated in a matchup of top-15 opponents.
"I logged out of all my social media because I know it's going to be a little hostile between us," said Smith.
"This is more personal for me," said Jones.
These two SEC programs met back in 2020 in Lexington, and both Kentucky players were on the Ole Miss roster in a thrilling 42-41 overtime win. Both players remember that contest fondly as the Rebels picked up a key road win to jumpstart the Kiffin era. Now things will come full circle on Saturday afternoon.
"It's crazy because I gave Coach Kiffin his first win against an SEC opponent, and now I'm playing against him in his first SEC game this year," Smith said.
Jacquez Jones and Keidron Smith are excited about Chris Rodriguez Jr. is being on their team now
In that meeting back in 2020, Kentucky tailback Chris Rodriguez Jr. paced a Kentucky offense that rolled up over 400 yards on the ground in an SEC game. Rodriguez carried the ball 17 times for 133 yards and two touchdowns in the close loss.
Jacquez Jones and Keidron Smith remember facing off against the power back, and things did not go well for them in Kroger Field that afternoon.
"The first time I tackled him he bust my lip," said Smith. "I'm glad somebody else is going to tackle him.
"I tackled him and I ended up with a concussion," said Jones. "That's my first concussion I ever had because I ran into a knee and I laid down on the sideline and everything. I didn't know where I was at. I didn't know C-Rod was that powerful. He kind of caught me off guard, but he's on my team now so I don't even gotta worry about it."
"I know exactly what it feels like. They gotta deal with that now."
The transfers are attempting to help the Kentucky offense prepare for Ole Miss, but they're also excited to see No. 24 go to work again in between the white lines. Buzz is building at the Joe Craft Football Training Facility.