Jacquez Jones out for the "foreseeable future," could return late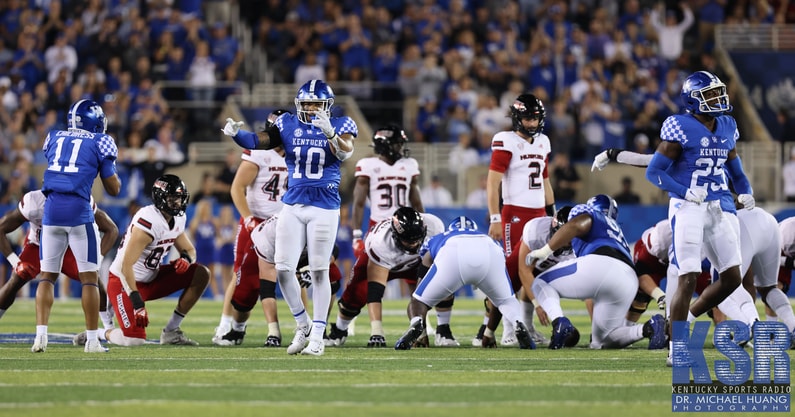 Kentucky linebacker Jacquez Jones will not play this week at Tennessee. There's a strong chance he misses the team's trip to Missouri next week, as well.
Jones could, though, return to game action before the season comes to a close.
Kentucky head coach Mark Stoops announced on his call-in radio show Monday evening that the graduate senior will be out for the "foreseeable future" and his status will be updated weekly. He's not ready, though, to declare him out for the season.
"There's a chance that Jacquez will play late in the year, but he's out for the foreseeable future," Stoops said. "I'll update that week to week, but he's definitely out this week and more than likely next week. We'll see toward the end of the year, how he's feeling."
Jones was left off the new depth chart on Monday, a sign he would be out against Tennessee in Knoxville this weekend. It will be his third straight absence after suffering a left foot injury in his Ole Miss homecoming on October 1.
Prior to the injury, Jones managed 31 tackles (13 solo), one sack and one interception in five games for the Wildcats. He's now racked up 295 total tackles (123 solo), four sacks, four forced fumbles and two interceptions across five seasons (three at Ole Miss, two at Kentucky).
Beyond Jones, though, the Wildcats are in great shape injury-wise heading into the trip to Knoxville. Jeremy Flax and Tayvion Robinson are back on the depth chart, while Will Levis is "getting better" after a much-needed week off with the bye.
"Will's getting better. He needed some time," Stoops said earlier Monday. "Surely, there were a couple parts of his body I'm sure that needed some rest and needed some ice. So, he's getting better."
As a team, it's the healthiest UK has been in weeks.
"I think we're in as good a shape as we've been in for several weeks," Stoops added. "I don't know if we'll be at 100% or not. We're getting close."