Jager Burton is Learning Center without Training Wheels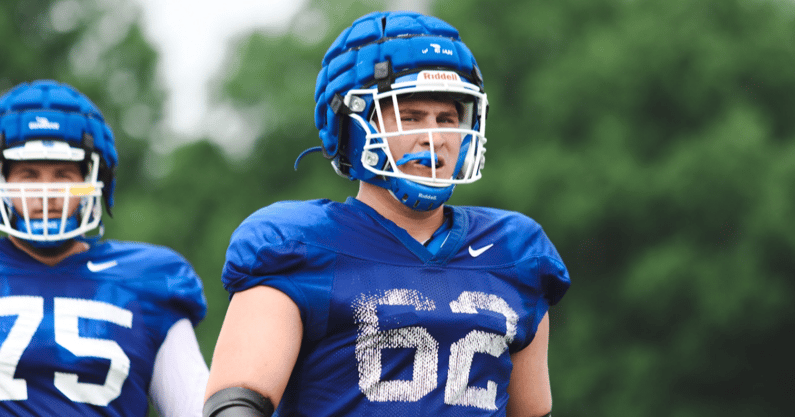 Jager Burton is starting year three at Kentucky by learning a new position, center. Surrounded by others who have made the move, he has plenty of help, but he doesn't want to keep the training wheels on for long.
Burton was ranked as one of the top 150 players in America as an offensive tackle at Fredrick Douglass. Once he moved onto Kentucky's campus, he learned the guard position, starting in every game of the 2022 season. This spring Liam Coen is shaking up things on the offensive line and trying out Burton at center. The first step to learning the position: snapping the football.
"It's really hard to jump in and play center. You literally touch the ball every play as an offensive lineman and that's not easy to do when you've never touched the ball," Liam Coen said Tuesday.
"This is my first time seriously getting as many snaps as I can a day and really trying to get that part down," said Burton. "Once that part's down, I feel like everything else will slow down."
Helpful Advice from Drake Jackson, Luke Fortner
In addition to touching the ball on every single down, there's work before and after the snap that falls on the center's plate. Of all the different positions Jager Burton has played, this is his greatest challenge yet.
"You've gotta help people with calls, you gotta make a snap, then you gotta do what you gotta do too. It's been fun," said the Lexington native. "I'm super thankful for Drake (Jackson), because obviously he's done it. He did at a high level as an All-American. To be able to have him, obviously Eli (Cox), and when (Luke) Fortner's back like right now, having him around to help me, I feel like that's helped speed up the process a lot."
At center his stance is different. He's not staggered back, off the line of scrimmage, waiting for defenders who are pursuing the quarterback in pass protection. Burton must quickly get off the line of scrimmage after the ball is snapped to get into a pass set. It's the inverse on run plays where the nose guard is inches away from his facemask.
Everything happens faster in the trenches the closer you are to the football. As Drake Jackson and others told him, that doesn't mean you have to play fast to be successful.
"Slow down," they encouraged him. "I've always tried to do everything at 100 percent speed because that's what I feel like got me here is my athleticism. It's not always good. If you're blocking a nose, you don't need to be going at 100 percent speed to go a yard, because then you're out of control. Them telling me to be under control and slow things down in your brain.
"At the end of the day, it's still football. It's supposed to be fun. We're not supposed to come in here and be all (serious). Coming in here and starting to play center, I was just nervous. I don't wanna mess up, I don't wanna mess up. If I make the wrong call even, as long as we're all on the same page, we're going to be right in a way because everybody's blocking the same people, just in different ways."
Jager Burton is Learning Without Training Wheels
Liam Coen is not ready to hand him the keys to the position, although it is trending in that direction. When the offensive line first took the field for spring practice, Cox and Kenneth Horsey let the new guy drink from the proverbial firehose.
"For the first three practices, they kind of just let him go a little bit," Coen shared. "I said, 'Hey guys, let's help the kid out a little bit. The goal is for all of us to all be on the same page.' It wasn't like they were leaving him out to dry or anything. They want to let the center ultimately be the communicator. I think they did a better job helping him out a little bit today. That was the goal."
Assigned to make the right calls before the snap by identifying aspects of the defense is a challenge. It's one Burton embraces. He's not too proud to learn through mistakes.
"It's a training wheels thing. If Eli and Horsey help me with everything, why would I learn it? It sounds weird, but whenever you get thrown in the water, thrown on the bike with no training wheels, you're either going to learn or fall. I've fallen a few times and I've learned from those. Just keep getting better and that's all you can do."
During Tuesday's practice we learned why Kentucky is willing to make the short-term sacrifice for a long-term gain. An outside zone run was called to the right. Burton made an excellent reach block, opening an enormous cut-back lane to the left for Ray Davis. Jager Burton is too talented to need training wheels for long.