Jager Burton is true scheme fit at center in Kentucky's offense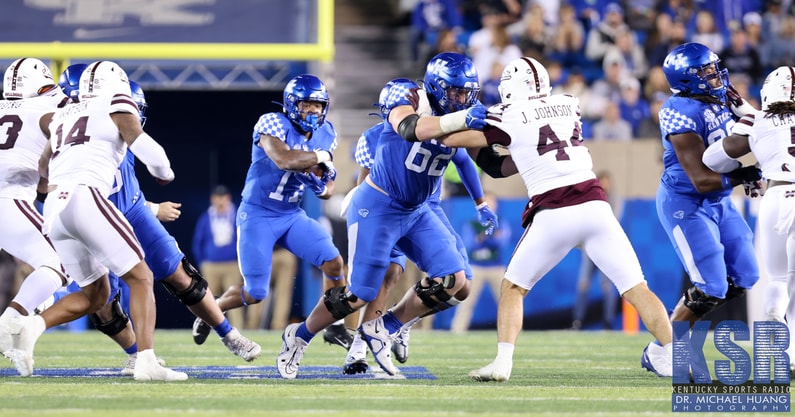 Lexington (Ky.) Frederick Douglass product Jager Burton was a huge recruiting win for Kentucky in the class of 2021. The hometown native picked the Wildcats over Alabama, Clemson, Ohio State, and Oregon. The plan was likely always for the blue-chip prospect to get playing time quickly.
After taking a redshirt season in 2021, Burton emerged as a potential option for Kentucky at left guard. With Kenneth Horsey not available for Week 1, the in-state product earned his first career start. Burton would remain UK's LG1 throughout the 2022 campaign with Horsey sliding out to play left tackle.
Unfortunately, there were some rough growing pains.
The young interior lineman gave up 15 pressures and six sacks in 790 total snaps, according to PFF. Burton struggled to create movement as Kentucky shifted to a gap scheme run game under offensive coordinator Rich Scangarello. However, the redshirt sophomore could find a more natural fit at center in 2023 as Kentucky switches to zone-heavy scheme under Liam Coen.
Burton has been checking the right boxes this spring.
"A guy that can see the whole offense and get guys in the right spot," Kentucky offensive line coach Zach Yenser said about what makes a good center. "I think the thing that helps Jag out tremendously is how athletic he is. What helps Eli [Cox] back at guard is Eli's a little bit more stout, more physical. Just more mature. I think in the run game in this conference you have to have big guards, big stout guards if you want to be able to run the football. And I think that's going to help us out with Jag moving over there. He's doing a really good job of just seeing it. Eli's still helping him a little bit. He's still playing in between two guys that have played a lot of football here.
With Burton's move back to center, Eli Cox is returning to right guard where the Nicholasville (Ky.) West Jessamine product started nine games for the Wildcats in 2021 playing 579 snaps developing into a quality run blocker who could create movement at the point of attack. That alone will help Kentucky's run game.
"Him and Eli to be able to go back to some of those different positions, that's been intriguing. That's been exciting," Coen said. "You can see the growth. When you truly put someone in a position they've never played before and you continue to see them get better at it, that's exciting."
In his new position, Burton will have less pressure on him in pass protection and his athleticism will be a real asset in Kentucky's zone scheme. The Wildcats do not need their guy in the pivot to be a full-on power player. Kentucky requires their center to complete reach blocks, climb to the second level to cut off linebackers, and assist guards in pass protection. Burton can do all of those things.
"I think you can do a lot of different things," Yenser told the media on Tuesday about having an athletic center. "You can get some pin-pull scheme. You can get some stuff where you can get your center out on the edge. You can get to the second level and cut defenses in half in the run game. I think Jag can do all that."
"We're going to continue to experiment with it with some of the stuff we want to get done. But ultimately, it frees you up when you have a guy that athletic at center being able to get to the second level, being able to pull, being able to recover in pass protection."
Jager Burton will play a critical role in Kentucky's offensive line rebuild. The redshirt sophomore fits the scheme and can give the program a long-term answer at the position. The path to respectability could be there for the Big Blue Wall if Burton becomes the next quality center to play under Mark Stoops.
Discuss This Article
Comments have moved.
Join the conversation and talk about this article and all things Kentucky Sports in the new KSR Message Board.
KSBoard