Jalen Geiger makes strong impact in homecoming win at South Carolina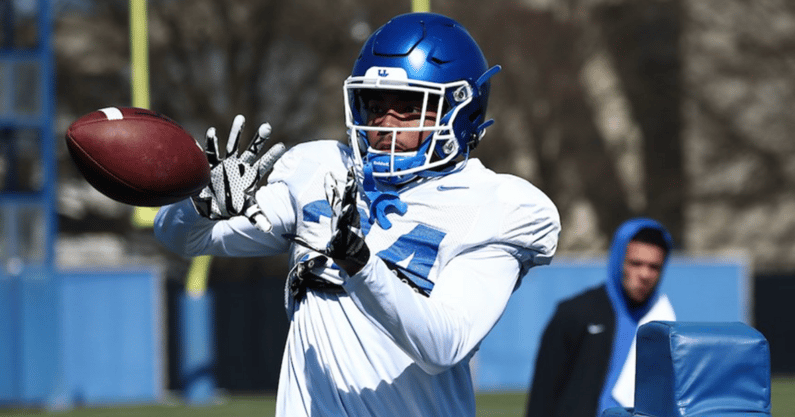 Redshirt sophomore cornerback Jalen Geiger has had a relatively quiet start to his time at Kentucky. In his first two years as a Wildcat, he racked up just four tackles (three solo) and one pass deflection in eight games.
This season alone, Geiger has managed just three total tackles and one QB hit leading up to Saturday's game at South Carolina. As a role player in the secondary, that's to be expected.
Originally a three-star signee out of Columbia, S.C., Geiger returned home in Kentucky's first road matchup of the season, his first game action in his hometown as a Wildcat. And with a bump in reps, he played a crucial role in UK's 16-10 victory.
Geiger finished with two tackles, one tackle for loss, and one pass breakup on a massive fourth-down attempt by the Gamecocks in the fourth quarter. It was a performance that earned praise by head coach Mark Stoops following the win.
"It was really good for him," Stoops said of Geiger. "You can see it's a confidence thing for him. As he gets more and more reps, he's getting better and better, more comfortable. He's really a great young man, getting better and better.
"I love his ability. He's going to be a good player."
It was Geiger's late-game heroics that caught Stoops' eye, namely his ability to make open-field tackles in critical situations. It's not only a "big deal" for his personal development, but the team's growth as a whole.
"Late in the game on their last possession when they got their long field goal, he made some really good open tackles there. That's critical," Stoops added. "I talk about it all the time to the defense. In a two-minute drill, it's critically important to keep everything in front of you.
"But tackling, you have to get them down, not let them get out of bounds, keep that clock running. That's a big deal for us."
After seeing his work in practice and in the film room, defensive teammate DeAndre Square says Geiger's performance this week is no surprise. And as a whole, his growth and playmaking ability is what Kentucky needs to take the next step forward in the SEC.
"He's been pretty good," Square said following the win. "He works hard in practice, he's always in the film room, and he makes the plays that come to him. That's what you need in the secondary of an SEC defense.
"I'm proud of the way he played tonight. I know he's going to keep it up because he's a hard-working kid."