Jamal Mashburn Jr. wants to follow in father's footsteps, puts on a show at UA Association
[caption id="" align="alignnone" width="823"]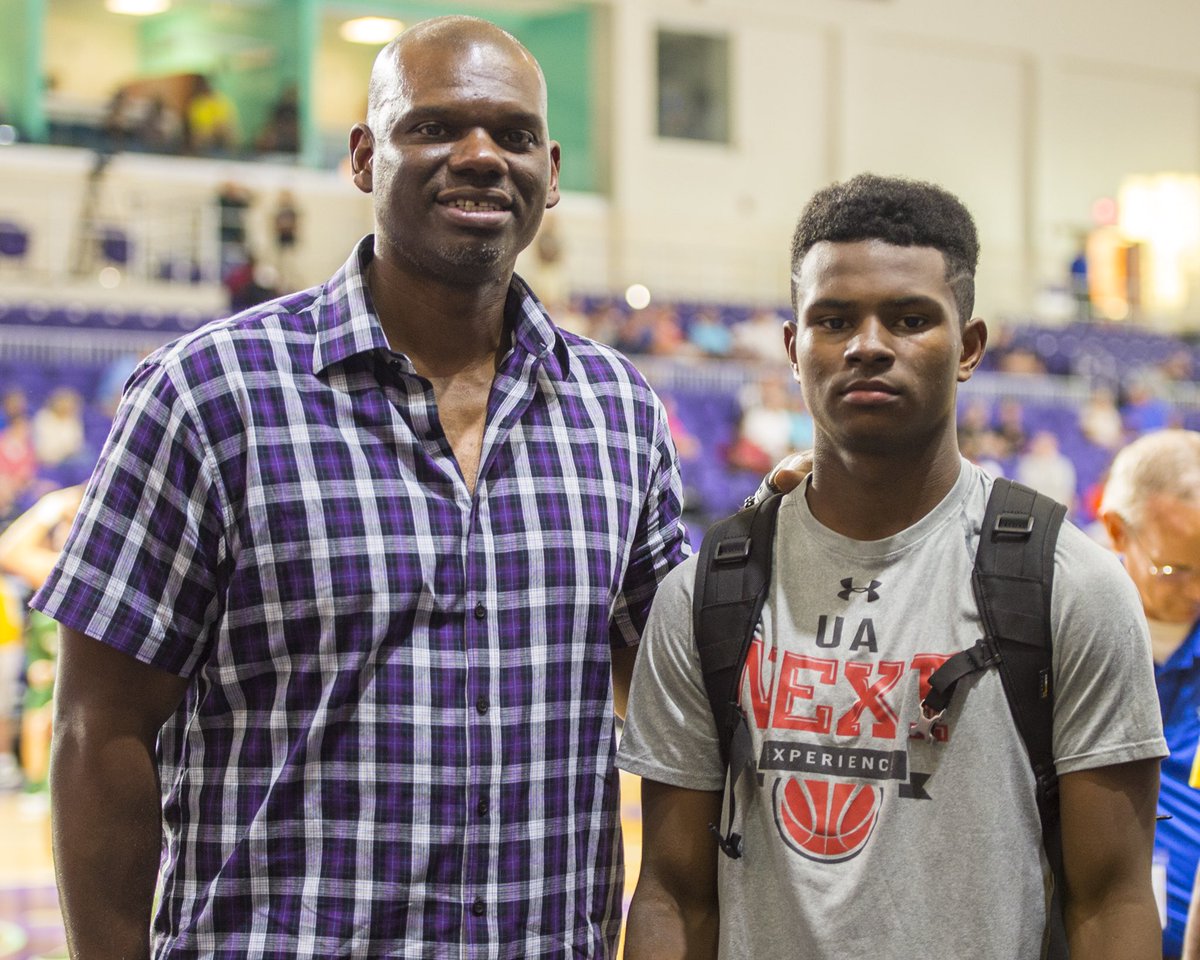 Photo: @CityOfPalmsBKB[/caption] At Kentucky, Jamal Mashburn was one of the top players in college basketball. As a junior, he averaged 21 points, 8.4 rebounds, and 3.6 assists per game, earning First-Team All-American, SEC Player of the Year, and All-Tournament honors in the process. He was drafted fourth overall to Dallas in 1993, where he became one of the most prolific scorers in the NBA over the course of his career. He finished as a career 19-point-per-game scorer, made an All-NBA team in 2002-03, and made an NBA All-Star team.
Fast forward 25 years from his last game at Kentucky and Monster Mash's son is now one of the top prospects in the class of 2020.
Crazy, huh? Jamal Mashburn Jr. first turned heads last July, when he scored 30 points and grabbed ten rebounds in the Under Armour Finals in Georgia. http://kentuckysportsradio.com/main/jamal-mashburns-son-is-really-good-at-basketball/ Now, Mashburn Jr. is considered a consensus four-star shooting guard and a top-100 sophomore in the nation. At 6-foot, 160-pounds, he has a bit of filling out to do, but the incredible scoring abilities very-obviously run in the family. This weekend at the Under Armour Association in Dallas, Mashburn Jr. put on a show in front of several college basketball coaches and analysts: Take a look: https://youtu.be/XIZexIiI1MI Last year,
Mashburn Jr. told Jerry Meyer of 247 Sports
that his father is his trainer and mentor, and looks to him for advice on everything when it comes to the sport of basketball. "He works with me every day," said Mashburn Jr. "He is my trainer, my mentor. He's everything. He's all in on my development and I'm very cool with that." Mashburn Sr. became a major businessman after his basketball career ended, where he now owns over 80 franchises, including nearly 40 Outback Steakhouses and over 30 Papa John's stores. The former Kentucky star's son is hoping to follow in his footsteps by thriving off the floor as much as on. He reportedly maintains a 3.7 GPA, takes entrepreneurship courses, and hopes to work hard enough to get into Harvard. "One of my goals is to have my grades be good enough for Harvard,"
Mashburn Jr. told Walter Villa of USA Today.
"Injuries can happen, and one day the ball is going to stop dribbling. But I want to have longevity as far as my mind." As far as specific interests, he wants to get in the food business, just like Mashburn Sr.
"My dad's a business guy, and I want to study food franchising," he told USA Today. "I want to know how to pitch deals, and I want to learn early."
Mashburn Jr. already holds offers from Louisville, Miami (FL), Florida, and Florida State, and he says there are a ton of other schools that have reached out. He said in an interview over a year ago Louisville was the favorite in his recruitment, as he wanted to learn from Rick Pitino just like his father did. Now that Pitino is out of the equation, who knows how this recruitment ends up. I just hope John Calipari gets involved so we get to see Mashburn on the back of a Kentucky jersey again.
Discuss This Article
Comments have moved.
Join the conversation and talk about this article and all things Kentucky Sports in the new KSR Message Board.
KSBoard