Jamal Murray sets aim for a big comeback season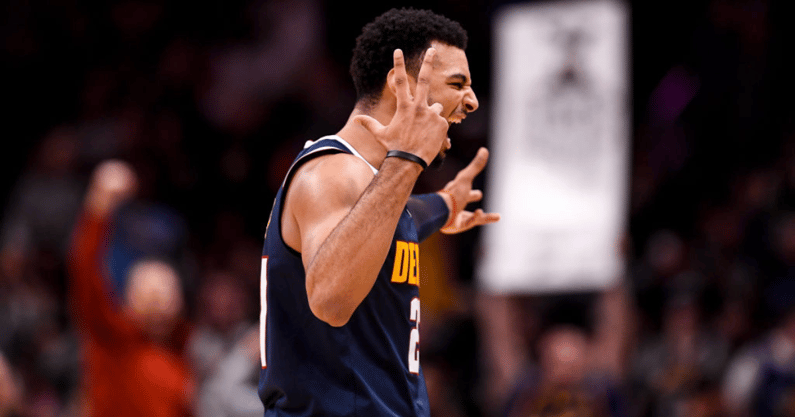 Former Kentucky sharpshooter Jamal Murray has been methodically refilling his quiver with newly-sharpened arrows over the last year and is ready to let them fly. Murray tore his ACL in April 2021, forcing him to sit out all of last season. Not unlike Anthony Davis and John Wall, two other former Kentucky greats coming off injuries, Murray is targeting a massive resurgence.
It was the dreaded non-contact collapse to the floor in the fourth quarter against the Golden State Warriors that resulted in Murray tearing the ACL in his left knee. The incident occurred just as the Denver Nuggets were gaining momentum for a big playoff run. Without their primary outside scoring threat, the Nuggets fell to Devin Booker and the Phoenix Suns in the Western Conference Semi-Finals.
Murray signed a five-year $153 million deal and to see an entire year of his prime plucked away in an instant was painful for all parties to endure. But now, the Blue Arrow has a healthy knee and a polished bow primed for competition.
Reports from practice show Jamal Murray looks healthy
Denver Nuggets head coach Mike Malone gave an update on Murray after watching him play impromptu 5-on-5 during Summer League. In what started off like a Ric Flair-quality promo, Malone said:
"[Jamal Murray] was mobile, agile, hostile, versatile. … He looked comfortable. He looked confident. That's the most important thing."

Mike Malone on Jamal Murray, per the Denver Post
Denver's president of basketball operations, Calvin Booth, shared Malone's sentiment with the Athletic:
"We saw Jamal [Murray] play in our gym the other day; he's moving while cutting well. When you have an injury of that nature, you just wonder about the apprehension in certain situations. You're starting to see that dissipate more, which is good. As long as he's comfortable moving and exploding and knowing that like he might be in some uncomfortable positions, but he's not going to hurt himself again, I think that'll be useful."

Calvin Booth on Jamal Murray, per the Athletic
Murray has also wasted no time getting some one-on-one workouts with Nuggets rookie Christian Braun, who is accustomed to seeing Kentucky players drain mid-range jumpers in his face after Kansas's drubbing in the Phog last season.
Jamal Murray was a shooting star before his knee flamed out
Before his injury, Murray showed signs of superstardom. In the 25 games before tearing his ACL, he averaged over 24 points per game. The highlight during this stretch was a 50-point performance against the Cleveland Cavaliers. However, what added the spicy chipotle mustard to that 50-burger was the fact he shot exactly zero free throws along the way. This made him the only player in NBA history to ever score 50 with no assistance from the charity stripe.
He finished the season averaging 21.2 points, a number that has climbed every year since he entered the league. A career-high 40.8% from behind the arc helped his cause.
It hasn't just been regular-season dominance that has made him stand out, though. Like William Tell shooting an apple off his son's head with a bow and arrow, Murray has been clutch when it counts.
In the 2020 playoffs, Murray averaged 26.5 points per game, more than his do-everything teammate, Nikola Jokic. Murray got there shooting 45.3% from deep on more than seven attempts per game. And while he was at it, he dished out 6.6 assists per contest as well, nearly double his career average.
Moreover, Murray has already played in four Game-7s in his young career and put up 24.5 points in those decisive matchups. That is far more than any other former Kentucky player in Game-7s, and it is not really close.
Murray will look to recapture that incredible trajectory when he takes the court again for the first time in 18 months.
Jamal Murray will make the Nuggets a favorite to win the West
When Murray finally does see the court, expect to see him ease back into things. Mike Malone suggested he will start Murray off playing around 20 to 25 minutes per game for the first few weeks and then ramp it up after he gets settled in.
Once that settling occurs, Denver will try to bully their way to the top of what will be an absolutely stacked Western Conference.
The Nuggets have quietly drafted themselves into a minor powerhouse over the last several years, with no greater example than hitting the second-round jackpot in back-to-back MVP, Nikola Jokic. The Joker carried his team on an incredible run last season without not only Jamal Murray but also Michael Porter Jr., their other oft-injured, max-contract player.
Last fall, Porter played just nine games before suffering a season-ending back injury. Before then, he showed his potential to be the third star every championship-caliber team needs when he averaged roughly 20 points per game.
Jokic dragged his team to a playoff birth on his own last season, so by adding a healthy and motivated second and third star in Murray and Porter (and maybe even a return of Demarcus Cousins, who played extremely well during his run with the team), the Nuggets will be golden.
In short, all arrows point toward success.