Jarred Vanderbilt Traded to Utah as Minnesota Acquires Rudy Gobert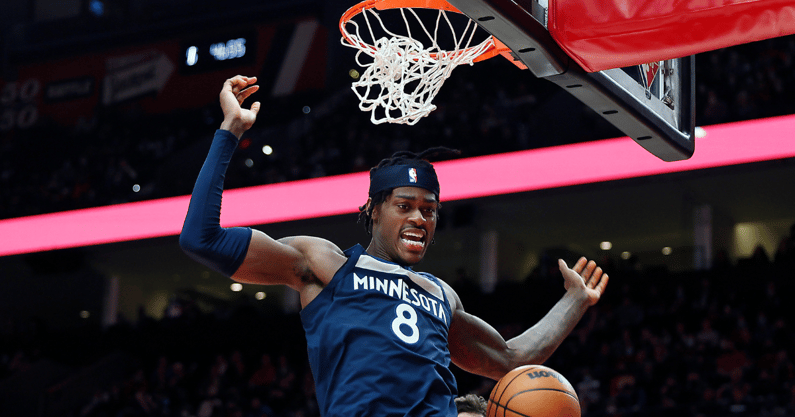 Jarred Vanderbilt is on the move after the best season of his NBA career.
ESPN's Adrian Wojnarowski reports the former Kentucky Wildcat is one of five players in a blockbuster trade between the Utah Jazz and the Minnesota Timberwolves. Minnesota will acquire Rudy Gobert, giving the Jazz Vanderbilt, Malik Beasley, Patrick Beverley, Walker Kessler and multiple first round picks.
This will be the third NBA team in six seasons for the former Kentucky small forward. Plagued by injuries during his first two years in Denver, in 2022 Jarred Vanderbilt emerged as a key role player for the playoff-bound Timberwolves. Even though he only averaged 6.9 points per game, the lockdown perimeter defender grabbed more than six boards and one steal per game. He started in 64 games, playing a career-high 25.1 minutes per game.
Even though Karl-Anthony Towns is losing a former Wildcat, this move puts Minnesota in a position to make a postseason run through the Western Conference. The Big KAT is an excellent stretch five, but an awful defender. As a three-time NBA Defensive Player of the Year and four-time All-NBA performer, Gobert fills that gap in the interior of the Minnesota defense.
Minnesota was one of the most exciting teams to watch in the 2022 postseason. They won the play-in series before coming up short against the Grizzlies. This move puts the Timberwolves in "win now" mode. Fresh off a supermax contract extension, the pressure is on Towns to deliver the best basketball Minnesota has seen since the Lakers called Minneapolis home.