Alabama WR transfer Javon Baker is visiting Kentucky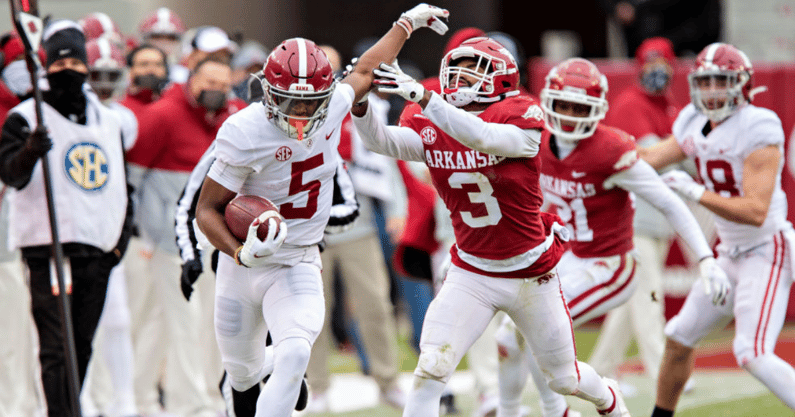 Kentucky is still on the hunt for help in the transfer portal. Things are beginning to progress with Alabama transfer Javon Baker.
After finishing up visits with Florida and Ole Miss, the former top-250 recruit is on his way to Lexington to check out the Wildcats on Wednesday, per Ben Garrett of Ole Miss Spirit.
Last week, sources told KSR that Kentucky would be pursuing the SEC transfer. The Wildcats currently have 12 scholarship wideouts on the roster, but Baker could fill a specific need.
Javon Baker can provide vertical playmaking
Tayvion Robinson is enrolled in school and will participate in spring practice, but the Virginia Tech wideout was not the only transfer portal addition the Wildcats made. Kentucky also had a commitment from Syracuse transfer Taj Harris, but that fell apart after a school credits issue.
That means Kentucky is still looking for an outside threat at receiver. Javon Baker can fill that need.
Out of high school, Javon Baker was known as a good athlete with a strong release ability off the line scrimmage combined with a good catch radius with some top-end speed. Those skills added up for the prospect to become a vertical threat in an offense at 6-2 and 200-plus pounds.
Javon Baker is a former All-American Bowl participant who has a vertical leap of 35-plus inches on record. The skills are there to be an impact player on vertical pass concepts.
In two seasons in Tuscaloosa, Javon Baker played in 16 games for the Crimson Tide and was a contributor to a national championship and two SEC titles. After the Atlanta product had trouble breaking through in a loaded position room, Baker decided to enter the portal. Now the former blue-chip recruit is looking for a place to land where playing time is available immediately.
Kentucky could provide that.
Florida and Ole Miss also need wide receiver help. It appears that each could get Javon Baker enrolled for the spring semester. That could put the Wildcats at a disadvantage, but getting the transfer on campus at least gives Mark Stoops and his coaching staff a puncher's chance.