Jaw-Dropping Kentucky Football Stats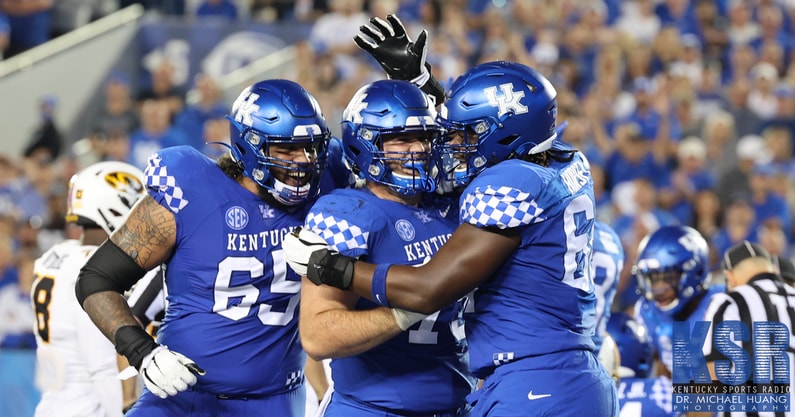 The Kentucky football team has produced some jaw-dropping stats after starting the season with a pair of wins. You have to see the numbers to believe them.
Mark Stoops is a Winning Head Football Coach
With the win over Missouri, Stoops improved to 51-50 as the Wildcats' head coach. It's the first time Kentucky's had a head coach with a winning record since Fran Curci's final season in 1981. What's even more remarkable is that two games into the 2016 season, Stoops had a 12-26 record. Since then Kentucky has gone 39-24, winning over 60 percent of its games.
"I'm not just saying this to be boring… but I am what I am," Stoops said. "It's day to day, it really is. It's week to week. And that's how I look at it. I like my job, I like what I do, I like our team, I like where our program is right now. But it's truly one day at a time. You know, and I know, how quickly that can be flipped."
It's a remarkable achievement, but Stoops does not like to toot his own horn.
"It's not about me. It's about our program, it's about our kids, our staff. There's a lot of things that go into it. I'm just the guy holding down the seat for right now."
Chris Rodriguez Tops the SEC
In two games Chris Rodriguez has rushed for 332 yards. It's the most in the SEC and only six behind the nation's leader, Brandon Thomas from Memphis. He's also averaging 7.22 yards per carry, more than a half-yard better than last year's mark.
A Top 20 Offense
We've seen Kentucky lead national rushing statistical categories. When passing yards are included, things tend to fall by the wayside. Not anymore. Kentucky ranks No. 12 nationally in total offense with 542 yards per game and 7.91 yards per play.
Stupefying Defense
Kentucky's defense allows just 3.49 yards per play. That mark is ranked third nationally, trailing only Georgia and Auburn. The UK rush defense is also in the top ten, allowing only 1.81 yards per carry. In total, UK has allowed 485 yards through two games, the fewest by a Kentucky team since 2008.
Kentucky ranks in the top 15 nationally in total offense and total defense. The only other schools to accomplish that feat through two games are Maryland and Auburn.
Kentucky is No. 1 in the SEC
Facts are facts. Check the records and you'll see that NOBODY has more SEC wins than the Wildcats. Take that, Nick Saban.