Jeff Goodman says Shaedon Sharpe will be better than Zion Williamson in college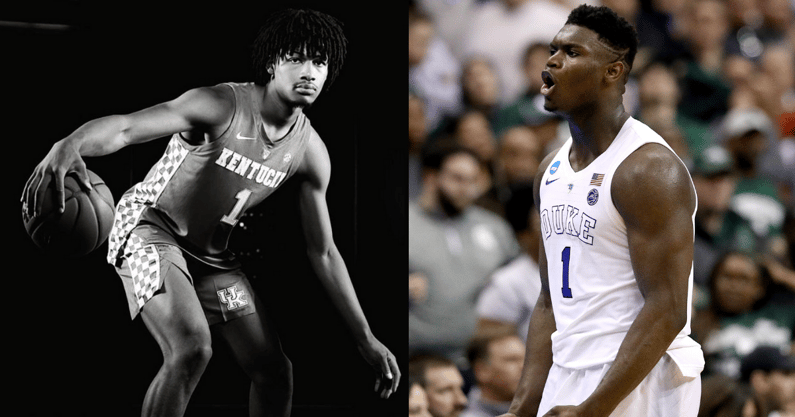 Kentucky basketball commit Shaedon Sharpe is the consensus No. 1 recruit in the class of 2022 for a reason. An effortless scorer at all three levels with elite athleticism and NBA size, the five-star guard is an instant plug-and-play star at the collegiate level.
If you ask Jeff Goodman – yes, that Jeff Goodman – he's not only a fan of Sharpe's game, he's downright in love with it. In fact, when asked if there was anyone in the class of 2022 he'd take over, say, Zion Williamson at the collegiate level, he quickly took the future Wildcat.
"I freaking love Shaedon Sharpe."
"Is there anybody in this class you would take over a Zion Williamson?" Rob Dauster asked Goodman on The Field of 68 Podcast.
"Shaedon Sharpe," he said. "Shaedon Sharpe in college, I might. I might. The whole thing with Zion, maybe not. The whole thing."
"Wait, you would take Shaedon Sharpe in college over Zion Williamson? I want you on the record on this," Dauster said. He added that it was "the most unbelievable thing" he had ever heard Goodman say.
"I freaking love Shaedon Sharpe," Goodman doubled down. "I love him. You know what he is? Here's what he is that Zion wasn't: He can score at all three levels. He can shoot it from deep, he can get to the basket, he can dunk over you. Zion could dunk over you, but he couldn't shoot the ball. And he was hurt. He was a marketing superstar and a highlight freak, all that.
"But Shaedon Sharpe, I freaking love this kid. I love him. … You've got me on the record, and I'm not gonna back down from it. I freaking love Shaedon Sharpe."
Sharpe is a star, but how big?
In 33 games at Duke, Williamson averaged 22.6 points, 8.9 rebounds, 2.1 assists, 2.1 steals and 1.8 blocks per contest. He was ultimately named National Player of the Year, ACC Player of the Year, and earned consensus first-team All-America honors. The New Orleans Pelicans then selected the 6-foot-7 forward with the No. 1 overall pick in the 2019 NBA Draft.
As for Sharpe, he averaged 22.6 points (48% FG, 36.4% 3PT), 5.8 rebounds and 2.7 assists per contest in 12 games at Peach Jam this summer. He led the prestigious event in scoring, finishing with 20 or more points eight times, 25 or more six times, and 30 or more points twice. He also finished in the top five in total 3-pointers made.
As the consensus No. 1 player in the class, it's clear he's got what it takes to be a star. The numbers and film make that clear.
But can Sharpe be a National Player of the Year, consensus first-team All-American as a freshman? Williamson had a historic freshman campaign at Duke. The Kentucky commit coming close to reaching those accolades and production would be nothing short of a monstrous win for the program.