Jeff Sheppard tells story of Reed Sheppard's surprise commitment to John Calipari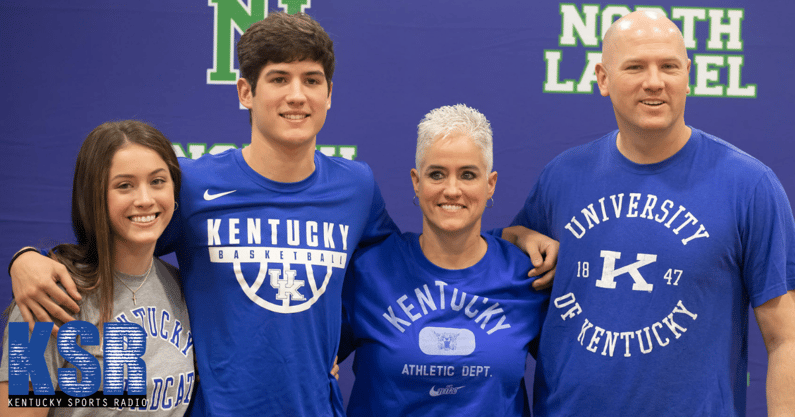 If you thought Reed Sheppard's commitment announcement was out of the blue, you're not alone. In fact, John Calipari had no idea the prized in-state prospect was going to join the fold until he made a surprise visit to Lexington last weekend and told him face-to-face.
Following Sheppard's highly-anticipated commitment on Saturday, the four-star guard's father, Jeff Sheppard — you may have heard of him — spoke with the media to talk about his son's journey and how we got to this point. During the conversation, the former Kentucky star said the Sheppard family made a surprise trip to Lexington last Saturday so the North Laurel standout could tell Coach Cal he was following in his father's footsteps.
Needless to say, Calipari welcomed the surprise with open arms.
"We came up last Saturday," Jeff Sheppard told the media. "It was fun, because during that week, we were like, "We as a family, we're going to be up in Lexington just hanging out. Are you all practicing? Reed loves to watch practice. Do you mind if we just stopped by? We're gonna be in town anyway, kind of that way." Well, then Orlando (Antigua) texts us and says, "We're not practicing on Saturday." So we're like, "Well, we're already going to be in Lexington. If y'all are gonna be around the basketball office, we're just going to stop by and say hello real quick."
"So we finally got there, sat down, and that's when Coach Cal was like, "Reed, do you have a game today? What are you doing up here?" Reed was like, "Well Coach, I want to tell you that I want to play basketball at the University of Kentucky."
"Coach Cal's like, "What!?" And he stood up said, "Come here, son! Give me a big hug!" So it was really cool. We stayed in his office for, I don't know, an hour or so just chatting and talking and that kind of thing. And then we spent a little bit of time out on the practice floor and took some pictures in uniform, that kind of thing. It was a lot of fun."
It's what happened after the commitment, though, that made Sheppard feel a sense of relief. The first thing Calipari told the standout guard? "Have fun."
Now that he's officially a Wildcat, Calipari told Sheppard to embrace the moment and have fun with it his last two years of high school.
"One of the things I appreciate about Coach Cal is, when Reed went and sat down with him and told him that he was he wanted to play at Kentucky, we kind of celebrated that moment," Jeff Sheppard told the media. "That was pretty cool, the way Coach Cal reacted. … (He) said, "Okay, here's what you have to do the next two years: You've got to have fun." And it was almost like, all of the weight of the world that was on Reed just totally released when Coach Cal told him, "You've just got to have fun these next two years."'
The pressure Sheppard was putting on his shoulders was immediately lifted and he was allowed to be a kid again. He didn't have to worry about the recruiting process with visits and texts and phone calls. Instead, he could just focus on his basketball career and enjoying high school.
"He was putting too much pressure on himself, and he doesn't do well when he puts pressure on himself," Sheppard said of his son. "He doesn't mind the stage, but when he can go out there and just be himself, he does really well. This summer, he did really well on a pretty big stage. That's with any of us.
"If we put too much on ourself and we can't be ourself, then it doesn't work. He's a kid from Kentucky and there's a lot there, so it's important that us as parents, Coach (Nate) Valentine, Coach Cal, those that surround him take that stuff off of him. Just empower him to be himself and he'll be fine."
Sheppard became the first player in the class of 2023 to commit to Kentucky on Saturday morning. The London, KY native chose the Wildcats over offers from Arizona State, Clemson, Indiana, Iowa, Louisville, Ohio State, Texas A&M and Virginia, among others.
Doesn't get much better than that.