Jersey Shore Calipari's Thursday Morning Wakeup
Believe it or not, school starts soon for many kids across the Bluegrass, so families are doing their best this week to fit in one last week of vacation. That includes the Caliparis and the Palumbos, who met up yesterday in Lavallette, New Jersey to play some mini golf. Cal reportedly won the round, but
I wonder if anyone told him his shirt was inside out?
They were probably too busy checking out his custom slides, which seem to be his favorite shoes of the summer: [caption id="" align="alignnone" width="500"]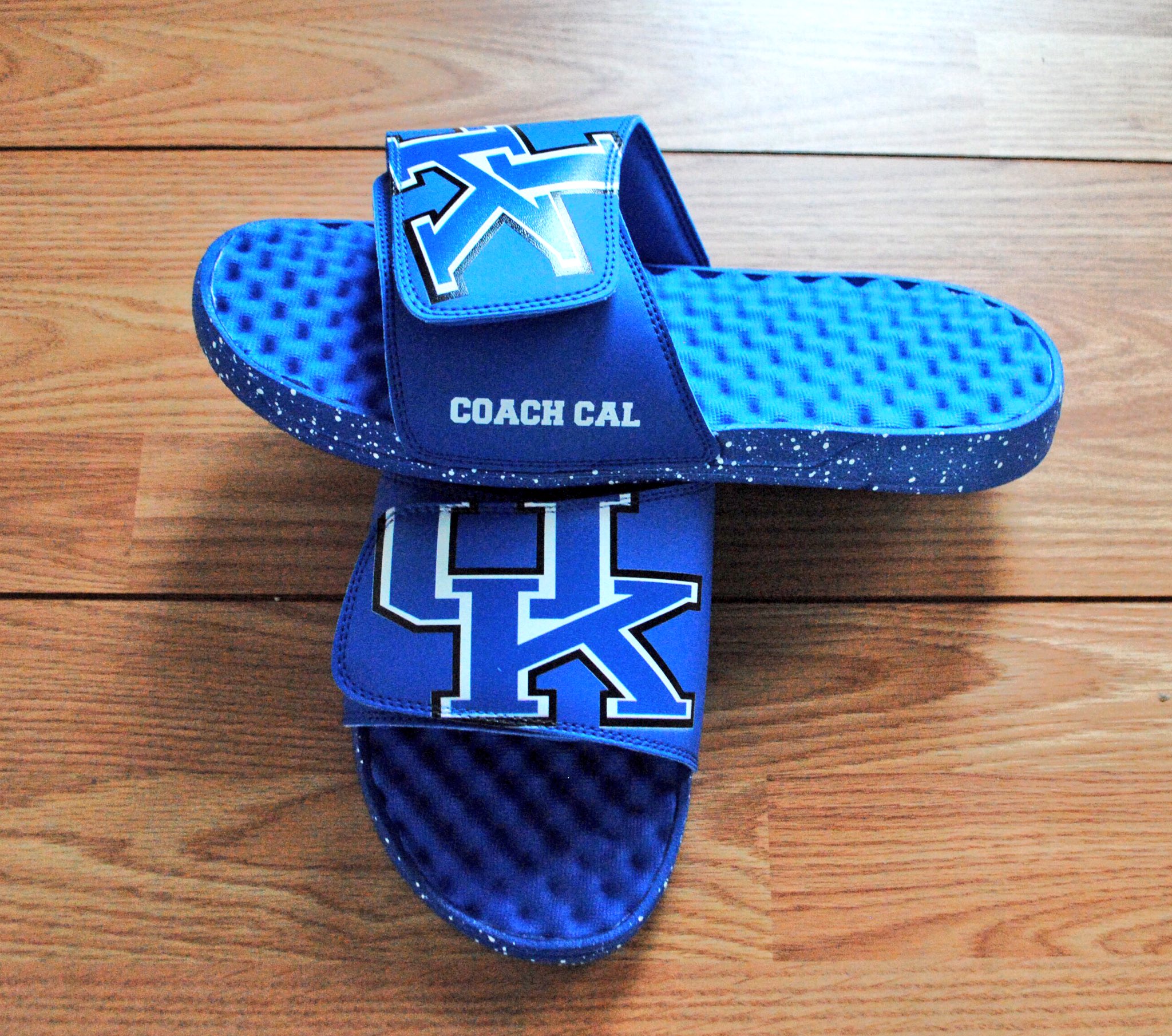 @ISlideUSA[/caption] Between the inside out shirt, the slides, that tan, and hair that would make Pauley D proud, Cal is settling into the role of Jersey Shore dad very nicely. Meanwhile, here's what's going on it Cal's old Kentucky home...
Trae Young put UK in his top six
Young is arguably Kentucky's most important target in the 2017 class, and last night, released his top six: Kentucky, Oklahoma, Oklahoma State, Texas Tech, Washington, and Kansas. Kentucky's considered his favorite, so no surprise there, but his comments to
Rivals
about the Cats were encouraging all the same.
"I love the way coach Cal goes about things. I really like that it's about business and he puts the team in a spot to compete for a championship each year."
Young says he has no timetable and plans to visit each of the finalists before making a decision.
President Ramsey is officially out at UofL
[caption id="attachment_203599" align="alignnone" width="466"]
@M_E_Mahone[/caption] In case you missed all the drama last night, UofL President James Ramsey's 13-year, scandal-ridden tenure finally ended, but, in true Ramsey fashion, he didn't go down without a fight. After Ramsey submitted his resignation and conditions, he and the Board of Trustees negotiated for over six hours before agreeing a settlement in which he will receive a $690K payout (the amount of his salary and benefits through June 2017) and leave his role immediately. Ramsey originally wanted to stay on as interim president through June 2017, but the Board ultimately rejected that, instead naming Neville Pinto to that role. The fact that Ramsey's getting almost $700,000 to leave is ridiculous, but not as ridiculous as the story of him leaving the meeting, going across campus to teach a class, and showing students a scene from the movie "Teachers" in which Nick Nolte stands up for a teacher that is being forced to resign. I swear, you can't make this stuff up.
The UK Football Kickoff Luncheon takes place in Louisville
Nick and Freddie will be there (Freddie's actually cohosting), so check back on the site after lunch for comments from Mark Stoops, Eddie Gran, and DJ Eliot.
Devin Booker and Tyler Ulis will be in town this weekend
https://twitter.com/DevinBook/status/758407077689630722 Booker is helping Cal host the inaugural John Calipari Shooting Camp on Saturday, and Ulis will help with the Calipari Pro Camps, which take place Monday and Tuesday and also feature Alex Poythress and Jamal Murray. Ulis is coming a few days early to host a signing tour, so if you missed getting Ulis' autograph during his tour in the spring, now's your chance:
Did you catch the new episode of The OTT Podcast?
After a summer hiatus,
I rebooted my podcast yesterday with an interview with Jennifer Maggard
, wife of Freddie Maggard, who also attended the UK Women's Football Clinic last Saturday. I went in with a lot of respect for Jen, but after listening to her describe her background in the National Guard, her ties to the UK Football program, and how she was the one to ask Freddie out (and propose!), I'm convinced she's Superwoman. To listen, just subscribe to "
Kentucky Sports Radio
" on iTunes or stream
on Podbay
.
I'm excited about the "Gilmore Girls: A Year in the Life" trailer
Cancel Friday Night Dinner. @GilmoreGirls: A Year In The Life is coming November 25.https://t.co/vGDj7j6pZ2

– Netflix US (@netflix) July 27, 2016
Considering this is a (mostly) sports website visited predominantly by males, I don't expect many of you to share this opinion, but when the trailer for Netflix's "Gilmore Girls" revival hit the internet yesterday, I was very excited. I maintain that the theme song/intro is one of the worst in TV history (to the point that it's nauseatingly endearing), but I got hooked on the series last year in a serious Netflix binge. November 25 can't come soon enough.
KSR recaps a big night at the DNC
Last night, Joe Biden, Tim Kaine, and Barack Obama addressed the Democratic National Committee. Our intrepid reporters were in the arena to take it all in, so tune in one hour from now to hear their thoughts on the speeches and the other madness going down in Philly.