Jim Matney, Jared Lorenzen, and the Famous 1998 KHSAA Semifinal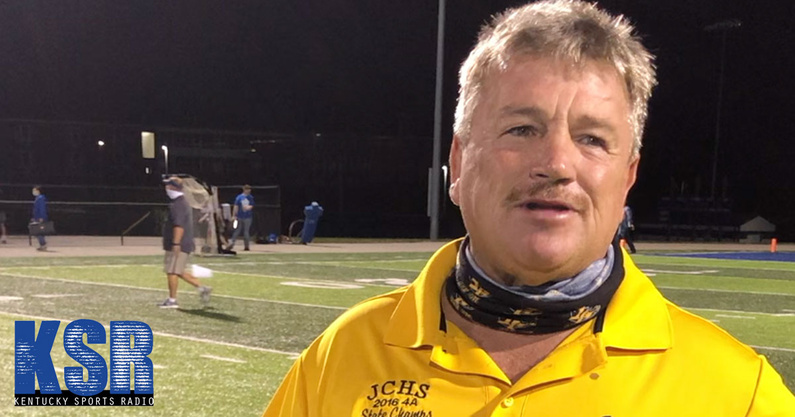 [Ed. Note: On Friday, the Kroger KSR Game of the Week heads to the mountains for Johnson Central at Letcher County Central. As part of our preview this week, we will be remembering Jim Matney, the late, great Johnson Central coach who passed away from complications due to COVID-19 in September.]
In 1998, the Highlands Bluebirds rolled to a 15-0 record and a No. 19 spot in the final USA Today Super 25 National Rankings.  Jared Lorenzen had one of the best seasons in Kentucky high school history, passing for 3,392 yards and 45 touchdowns and rushing for 904 yards and 15 scores.  He completed over 62% of his passes, many of them to tight end Derek Smith.  The Bluebirds defeated eventual 4A state champion Male 51-41 to open the season.  They outscored opponents 801-203 and won each postseason game by more than twenty points.
Except one.
The Bluebirds made the 178-yard drive from Fort Thomas down to Martin County to take on Coach Jim Matney and his 9-4 Sheldon Clark Cardinals.  The week before, the Cardinals had escaped with a narrow 16-15 road win at Belfry, Matney's alma mater where he led the state in defensive interceptions.  Highlands was coming off an easy 37-14 victory over the defending state champion Covington Catholic Colonels.  
The hype leading up to the Highlands/Sheldon Clark matchup was epic.  A few years earlier, fans in the rest of the state would circle their calendar for when mountain superstar Tim Couch and his Leslie County Eagles would come to town.  People in the mountains did the same thing for Lorenzen.  He and Smith were already becoming household names throughout the Commonwealth.  I remember watching the duo lead Highlands to the 1997 Sweet 16 finals at Rupp Arena.  After an opponent made a bucket, Lorenzen would look to quickly inbound the ball and often throw a full-court pass to a streaking Smith for a quick strike layup.  It was beautiful basketball.  They had the same connection on the gridiron.
In front of an electric crowd, Highlands jumped out to a 28-0 lead in the second quarter.  One key play involved a long Jared Lorenzen pass that appeared to bounce off a player's helmet straight up in the air, only to be caught by a Bluebird for a touchdown. 
Matney and the Cardinals didn't quit, though, battling back to make the final margin a very respectable 44-28.  Matney praised Lorenzen's tremendous arm strength, elusiveness, and refusal to be tackled.  
"You don't see somebody like him once in a lifetime," Matney said, via WYMT. "Up until that time, the mold for a quarterback was different. He just showed what a big strong young man could do. He basically would pack the team on his shoulders."
Matney and Lorenzen: Legends in their fields
Matney continued to have success at Sheldon Clark, reaching two state semifinals.  In 2004 he took over a floundering Johnson Central program coming off a one-win season.  He built the program from an afterthought to a team that is so good now that hardly anyone in the mountains (except Belfry and few other schools) will agree to play them in a non-district game.  Matney led the Golden Eagles to five straight state finals, including state championships in 2016 and 2019.  He also coached team and individual wrestling state title winners during his tenure at Sheldon Clark and Johnson Central.
"We don't have, per se, a whole lot of tall people. We don't have a whole lot of real fast people. What we have got is tough people," Matney said in 2020.  "You get these kids with big hearts and you say, look, man, we are fighting for our very existence."  
Lorenzen went on to become a fan favorite, throwing for over 10,000 yards in his career at the University of Kentucky, with some of those completions going to Smith.  Lorenzen was the New York Giants' backup quarterback when they won the Super Bowl in the 2007-2008 season. 
When Lorenzen passed away in 2019, Highlands returned his No. 22 jersey.  When Coach Matney passed away last month on a Tuesday, Johnson Central went on to play against Clay County that Friday as scheduled, albeit with heavy hearts.  Before the game, Johnson Central coaches said Matney would not have been happy had they canceled it.  He cared for his players dearly and would have wanted them to play.  The Golden Eagles went on to defeat Clay County 42-6 and renamed the field Jim Matney Field.
Jim Matney and Jared Lorenzen: two Kentucky legends that left tremendous positive impacts on countless people.