Jimbo Fisher vs. Nick Saban: The 10 Best Quotes from an ELECTRIC Press Conference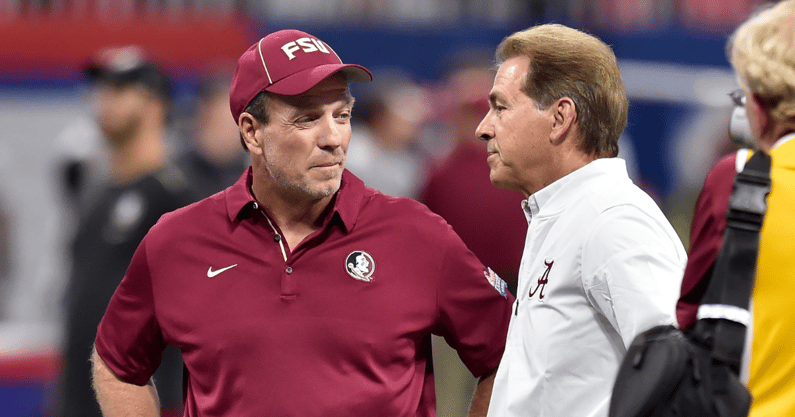 Less than 24 hours after Nick Saban accused Texas A&M of paying for its top-ranked recruiting class, Jimbo Fisher produced the most entertaining press conference in college football history. An absolutely electric event, Jimbo held nothing back. Here are just a few of the barbs thrown Saban's way.
"It's despicable"
Fisher denied all allegations made by the Alabama head coach. "You're taking shots at 17-year-old kids and their families, that they broke state laws… we never bought anybody. No rules were broken."
"When things don't go his way, the narcissist in him doesn't allow those things to happen. It's ridiculous."
Fisher also referred to the conversation Saban recently had with Paul Finebaum that criticized NIL from ruining parity in the sport. "The parity he talks about? Go talk to the coaches that coached for him. You'll find out all the parity."
"Some people think they're God. Go dig into how God his deal and you may find out about a guy a lot of things you don't want to know. We build him up to be the czar of football. Go dig into his past or anybody that's ever coached with him."
Jimbo coached with Saban at LSU from 2000-04. He knows where the bodies are buried. "There's a reason I didn't go back to work with him."
"My Dad always told me this. 'When people show you who they are, believe them.' He's showing you who he is."
Fisher said he learned how to do things the right way while working for Bobby Bowden. Others (cough, Saban, cough cough) teach you how to do things the wrong way, according to Jimbo.
"When you walk on water, I guess it don't matter."
One of the multiple times Fisher called Saban God, Jimbo prefaced it by saying, "What's funny, in that talk right before he said that about us, wasn't he soliciting funds from the crowd? It's amazing."
"I have nothing to hide and our program has nothing to hide. It'd be interesting if everybody could say that."
What is Saban hiding?
"I don't cheat and I don't lie. I learned that as a kid, if you did, your old man slapped you on the side of the head. Maybe somebody should've slapped him."
Some would have gone quietly into the night after Saban levied those accusations. Not Jimbo. "I don't mind confrontation. I've been dealing with it my whole life. I kind of like it myself. Backing away from it wasn't the way I was raised."
"It's disgusting what we're into right now. Especially by the people who are throwing the darts, who have no glass in their house."
Can a dart break a glass window? Questions we must answer after this exciting press conference.
"Certain people never followed the rules anyway."
I wonder what certain people Jimbo is talking about?
"We're done."
Nick Saban called Jimbo Fisher to try to clear the air. He did not answer the phone.
Texas A&M travels to Tuscaloosa to take on the Alabama Crimson Tide October 8.