Jmaury Davis, a class of 2023 RB, hearing from Coach Settle, Kentucky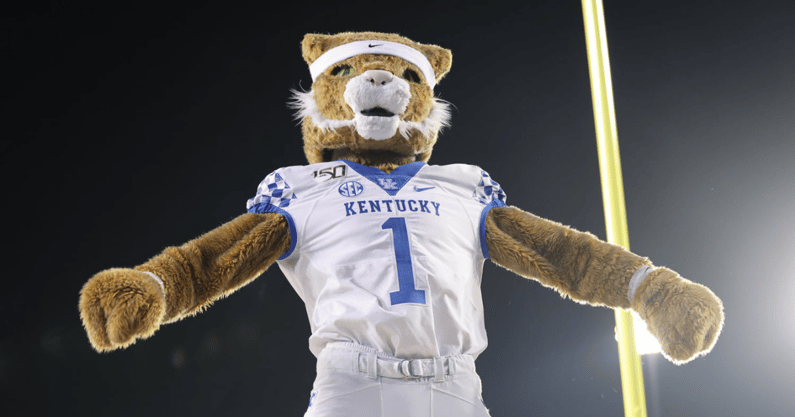 Kentucky Football has yet to sign a running back for its 2022 recruiting class, and there's a good chance it remains that way. Instead, the coaching staff has shifted focus on future tailbacks to the class of 2023. Franklin County running back Kaden Moorman is already on board, but UK is hungry to add another.
Enter Jmaury Davis, a rising star out of Clarendon, TX, who picked up an offer from running backs coach John Settle back in early September. He was a relatively unknown prospect entering his junior season of high school but has quickly established himself as a potential national recruit.
Davis clocks in at 6-foot-2, 190 pounds and holds a four-star rating from the folks over at Rivals.
Building a relationship with Kentucky
Nearly two months after recovering a scholarship from UK, the relationship between both sides has continued to develop. Coach Settle traveled down to Texas on Friday to meet with Davis and his head coach at Clarendon High School.
Settle got to watch a show, too. Jmaury Davis finished with a "quiet" night of 74 yards and two touchdowns in a 21-20 victory over Wellington. He suits up primarily as a running back, but also spreads out wide as a pass catcher if necessary. Clarendon is 7-1 on the season.
Kentucky isn't the only program jumping on Davis early. Purdue (Sept. 3) and Western Kentucky (July 27) are his other two Divison I offers. Davis told KSR that those three schools have been teaching out more than most so far in his recruitment. He's also receiving interest from several Big 12 programs, although the offers have yet to come in just yet.
As for his next steps with Kentucky, Davis added that he intends to take an official visit to check out the Lexington campus sometime after his junior season is over. Check out his highlight package below.