John Calipari asks the Big Blue Nation to help others this Thanksgiving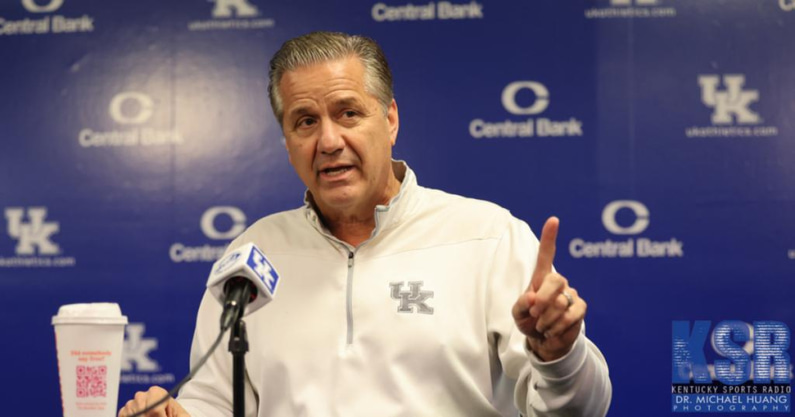 Thanksgiving is one of the few days throughout the year when family and friends can all come together to celebrate all the good in their lives. Sure, the endless leftovers, all-day football, and too many adult beverages help make the holiday that much more fun, but in the end, it's all about being thankful for what you have and being around the people you care about the most.
However, Thanksgiving can be tough for those without anyone to share the good times with. Not everyone is in a position to celebrate with their loved ones on this day of thanks. After his Kentucky men's basketball team took down North Florida on Wednesday night — the day before Thanksgiving — head coach John Calipari implored the Big Blue Nation to help others.
"I would tell everybody, if anybody's writing this or you're listening, reach out to somebody who you know may be by themselves. Invite them to your house," Calipari said. "Maybe somebody that's older, maybe a widow. Maybe somebody that's moved to town and they're here by themselves. Invite them to the house. Bring them food and spend some time with them. I mean, it's a great time.
"I think for all of us, that's why we do stuff at Thanksgiving. I want these kids to feel it, what it is, and the appreciation of people."
As his teams have done year over year since his arrival in Lexington 13 years ago, Calipari plans to stick to his word once Thanksgiving comes on Thursday. He's always been big on community outreach, and this year will be no different.
"We'll probably do some things for Thanksgiving. The team and some of their families will be at the house," Calipari added. "But probably go to the Salvation Army and serve and do some stuff, maybe stop by the Hope House later that night with my family and do some stuff."
Calipari plans to host several of the players and their family members at his house for Thanksgiving. Senior center Oscar Tshiebwe said after Wednesday's win that the plan is to eat a big meal (mostly turkey) and then go out to help others. We should all do the same.
"(Eating) turkey for sure. I love turkey," Tshiebwe said of his Thanksgiving plans. "We are going to have a good time. All the team will be together at coach's house and then after that we will give back to others."