John Calipari calls for rule change on blindside screens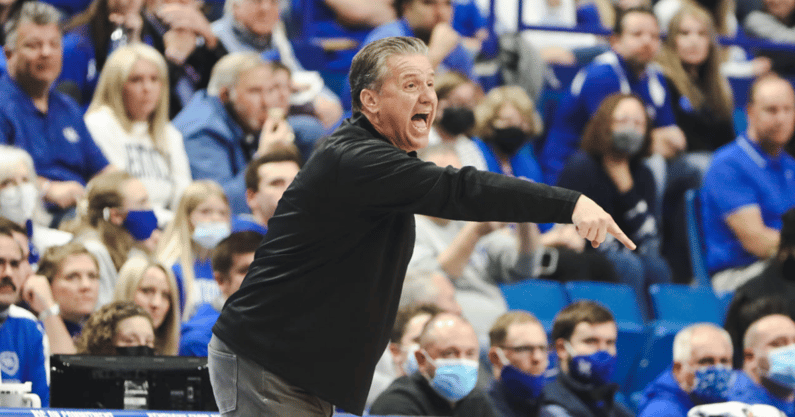 Sahvir Wheeler is still listed as day-to-day after running straight into a brick wall of a screen against LSU earlier this week.
The Kentucky point guard smacked right into a pick set by Efton Reid, a 7-foot, 240-pound center for the Tigers. Wheeler was down for several minutes with a clearly dazed look plastered across his face. He had to be helped back to the locker room by two different people and didn't return to the bench the rest of the night.
That incident happened not even four minutes into Kentucky's 65-60 loss to No. 21 LSU down in Baton Rouge. Without its floor general for roughly 36 minutes–and later down TyTy Washington due to cramps–UK struggled to find its offensive footing. Wheeler's absence played an obvious factor in Kentucky's inability to get into a rhythm down the stretch when points were becoming a rarity.
There was nothing dirty about the screen set by Reid, let's get that out of the way first and foremost. The freshman big didn't lower his shoulder into Wheeler or intend to knock him to the hardwood; it was a fullcourt screen that happens regularly throughout college basketball games. Unfortunately, the 5-foot-9 Wheeler didn't see it coming, and it resulted in his neck whipping side-to-side as his body subsequently collapsed on the floor.
If anything, Reid could have been called for a moving screen, but there was no hint of malicious intent. Kentucky center Oscar Tshiebwe, who was the one defending Reid, is responsible for calling out the pick so Wheeler knows it's coming. Tshiebwe said on Friday that he did call out the screen for his point guard, but the crowd noise emitting from a packed Pete Maravich Assembly Center easily drowned out his cries.
Kentucky head coach John Calipari was asked about the play during his pre-Georgia press conference on Friday. And while he agrees that it wasn't a dirty play, he did call for a change in how the play is ruled. Calipari's argument is that you aren't allowed to blindside hit somebody in football, so why should you be allowed to do the same in a sport without pads and a helmet?
"So why not in basketball don't we have something like that? That you can't go up and just blindside a guy that's running? You wanna tell me why we wouldn't have that? …It's a blindside screen," Calipari said. "Even if a guy went up and he knew he was coming and wanted to do it with his hands, show him, that would be okay with me. I don't think the guy did anything dirty, I think it's a rule that needs to be changed."
Calipari argues that the screen-setter should be allowed to put their hands out in an attempt to brace the impact of the player about to run into the screen. As it is now, the rules require players to keep their hands close to their body and off the defender.
To be clear, Calipari is only saying that screens from this particular scenario should be changed. Screens established in the halfcourt and within the system of an offense are different than a guy unknowingly running full speed into a wall at the midcourt line. In that sense, Calipari has a point in that screens, like the one set by Reid, can be unintentionally dangerous.
But a full-on overhaul of the rule change could open up a whole different can of worms stemming around what is and isn't a legal screen. Considering college officials are in love with the offensive charging call, maybe that isn't a bad thing. But midcourt screens have been around since the inception of basketball. They are strategically used to help free up backcourt players hounded by fullcourt pressure. Where does the line get drawn between what's legal and what's not?
What are your thoughts on the call as it is? Should a rule be instituted to help prevent these potentially dangerous screens? Or is this something that players simply need to be more aware of?