Clarion University names basketball court after John Calipari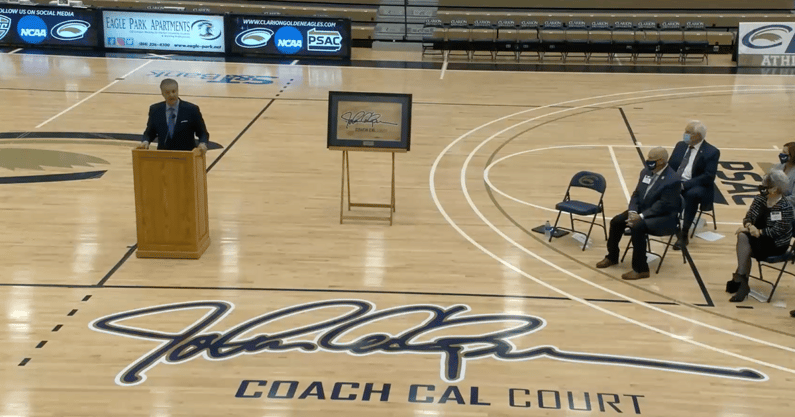 On Tuesday evening, John Calipari returned to his alma mater. Clarion University has decided to name the court at their gym after their most famous alum.
A 1982 graduate of Clarion University, Calipari would play point guard for the Golden Eagles in the early 1980s for head coach Joe DGregorio. Calipari helped lead the Division II program to its first NCAA Tournament appearance back in 1981.
In Tuesday's ceremony — just 80 miles outside of Pittsburgh — friends, family, teammates, and members of the university gathered for the court dedication ceremony. It was very clear how much Calipari means to this small university that gave the head coach his start.
Calipari is still friends with many of the teammates and coaches he had while in college.
"I can remember being there and being unsure how things would play out, but this group has truly been and remained friends for 40 years," said Calipari.
Calipari landed at Clarion after spending two seasons in Division I at UNC Wilmington. From there, Calipari would join the coaching staff at Kansas and Pittsburgh before getting his first head coaching job at UMass just six years after his college career ended. You now know the rest of the story.
Four decades later, John Calipari has won 742 games, coached in six Final Fours, and owns one national championship. The hall of famer is one of the most accomplished coaches in basketball history. The 62-year-old now has the court named after him at the place he used to call home.
This is quite the honor for a man who is entering his 13th season as the Kentucky head men's basketball coach. That, by itself, is a major accomplishment.
Congrats to John Calipari and his family for the prestigious award.