John Calipari doesn't believe Shaedon Sharpe will play this year, "but we'll see"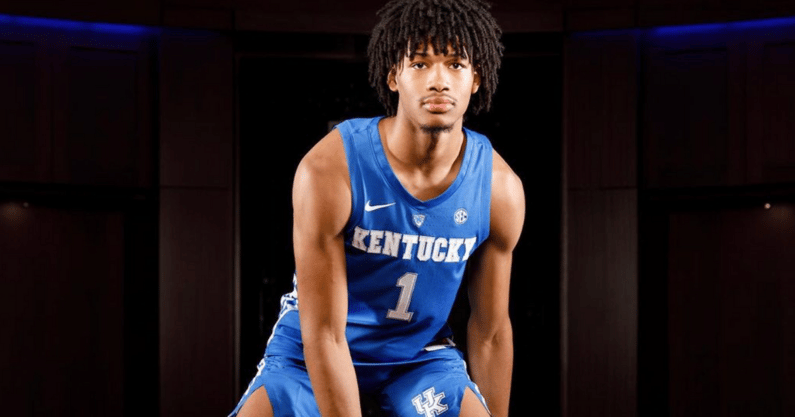 Will Shaedon Sharpe play this season? John Calipari isn't ruling out the possibility.
After announcing he would be enrolling early and joining the Kentucky program in January, the five-star guard made it clear his plan was to redshirt the spring semester so he could develop his body and train against "bigger, stronger and better" talent.
"I'm going to redshirt," Sharpe told Sports Illustrated's Jason Jordan. "I just want to get a head start on college basketball and train with older, bigger, stronger and better players. It just makes more sense to me to go play where I can elevate my game the most."
That's the plan, at least. Should John Calipari call his number this season, Sharpe will be ready for the moment. The five-star guard just wants to do whatever the team needs him to do.
If that means playing immediately, then so be it.
"Whatever the team wants, he's going to do," Sharpe's coach and mentor, Dwayne Washington, told KSR last week. "But he's coming in to learn and develop, that's what he's coming in to do.  … His mindset is just to go there and get ready. If Coach (Cal) says, "I need you to play," he's going to play. He's not going out there to play, he's going out there to practice, but that can change at any moment."
It's a Calipari question. The ball is in his court either way.
The Kentucky head coach's early thoughts? Unlikely, but never say never.
"I don't think so, but we'll see when he gets here," Calipari said Thursday. "He may not be in any kind of shape to really do it. But we'll see."
Sharpe is rated as the No. 1 overall prospect in the 2022 On3 Consensus Rankings. The five-star guard chose Kentucky over Arizona, Kansas, Oklahoma State and the NBA G League in September.
"Shaedon has the ability to be one of those guys that we've had make a special impact on this program," Calipari said of Sharpe. "He is an elite scorer with a ton of upside. He's a 6-5 athlete who I would describe as bouncy.
"What I love about Shaedon is the work he has put in over the last year to take his game to the next level. I look forward to seeing that work ethic take on a new challenge at Kentucky."
The where (Kentucky) and when (January) have been finalized. Now, only one question remains: Will he play right away?