John Calipari doesn't expect Shaedon Sharpe to play at Kansas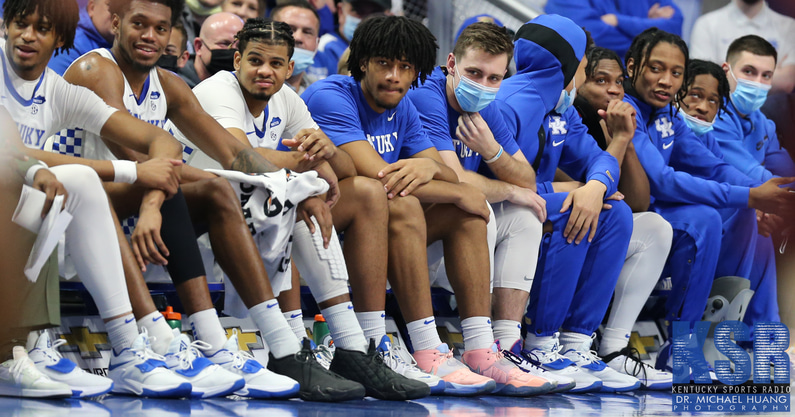 Kentucky freshman Shaedon Sharpe is not expected to make his season debut when the Wildcats take on the Kansas Jayhawks in Lawrence on Saturday.
Despite "(stepping) on the gas a little bit" in practice to start the week and Sharpe's teammates pushing John Calipari to play him in games, the UK head coach would prefer to hold off a little while longer. He didn't take the floor in Kentucky's overtime win vs. Mississippi State, and he's not expected to play at Kansas, either.
"I'd rather not right now only because I think he needs more time to elevate the intensity, the fight, all of the stuff that you need," Calipari said. "I'm going to show them. What you do at Kentucky is learn to fight, to create your own space. You learn to fight."
Sharpe saw what it's like to play in a hostile environment when Kentucky traveled to Auburn on Saturday, a standing-room-only event featuring two top-15 programs. After the Tigers held off the Wildcats, Auburn players and fans danced with their shirts off on the court and in the stands to celebrate.
Calipari poked fun at the celebration during his call-in radio show Monday evening, teasing Auburn for downplaying the win with cameras and microphones rolling during media opportunities, but displaying the opposite.
"I'm not being disrespectful, but they charge the court, shirts off, and it's not a big game? OK," Calipari said. "I'd hate to see them when they play in a big game. Take your shorts off, maybe? I don't know. Isn't that everybody who plays us? It's everybody who plays us. We're in that environment every time we play."
Calipari expects a similar atmosphere when the Wildcats take on the Jayhawks in Lawrence on Saturday. Before throwing Sharpe in with the sharks in that kind of environment, Calipari wants to be sure the nation's No. 1 recruit is ready.
"Because every game we play is someone's Super Bowl. It is," Calipari said Friday. "And they'll act like it's not a big game and all that. Ok. Ok, great. But it's someone's Super Bowl. And you learn to fight, or you look to make excuses or people around you look to make excuses. You learn to fight."
After weeks of downplaying the possibility of Sharpe playing this season, Calipari acknowledged this week that the five-star freshman had ramped things up in practice and looked the part. He added that if he ultimately decides to play Sharpe, he'll put him in positions to do what he does best: score.
"If he plays, you've got to say, 'We're only doing these two or three things.' He's only been here a couple of weeks," Calipari said Monday. "… You better do some really simple stuff and let him do what he does. What does he do? He scores the ball.
"So you say, 'Look, you won't believe this. When you get in and score the ball.' And that's if we choose to play him. I'm not sure yet what we'll do."
Freshman guard TyTy Washington missed Kentucky's game against Mississippi State with a left ankle injury and his status at Kansas remains in question. Calipari added that Jacob Toppin and Daimion Collins also missed practice on Thursday, potentially leaving Kentucky quite short-handed against the Jayhawks.
No matter who is available and who is out, Calipari doesn't expect to play Sharpe on Saturday.