John Calipari feels bad for Chris Mack, says UofL will be "right there" in coming years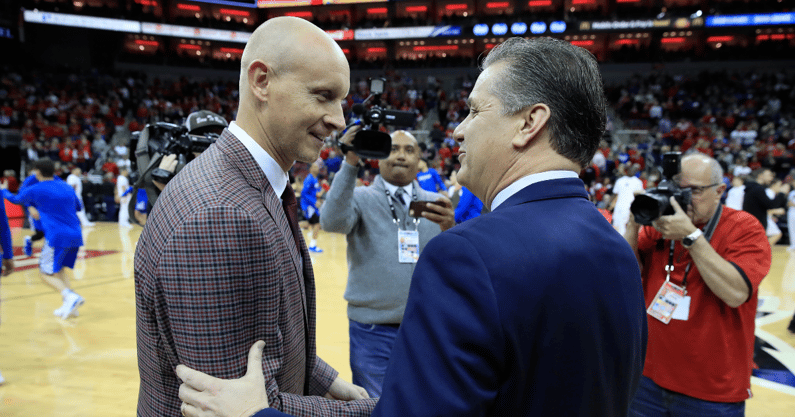 Chris Mack's time at the University of Louisville has come to an end, with the two sides deciding to mutually part ways this week, effective immediately. It was a four-year run that resulted in a 63-36 final record with just one NCAA Tournament appearance (2019) and zero wins.
"Coaching transitions are always difficult, especially during the course of the season, but Chris and I agreed that it is in the best interests of our student-athletes that he step aside immediately," UL interim athletics director Josh Heird said in a press release. "We will always prioritize our student-athletes and do all that we can to ensure that they have an incredible experience at Louisville. I want to thank Chris and his family for their service to the University and we wish them the very best in their next chapter."
Kentucky head coach John Calipari knows coaching is a tough business, one that sees individuals at the top of the profession go from having strong job security one month to searching for another opportunity the next.
"Well, I feel bad for he and his family. Coaching is a hard profession," Calipari said Friday. "You know, we're all 30 days from bankruptcy. Everybody in this profession, that's how it is. And so I feel bad for him."
With Mack gone, Louisville is now in search of a new basketball head coach, an athletic director and a university president. It's not an ideal situation for any athletics department, especially one with a rabid fanbase desperate for immediate results.
Calipari has confidence, though, that UofL will bounce back.
"I remember talking to Senator (Mitch) McConnell, the leader, we were talking about the situation," Calipari said. "This was a while ago when they were there were things, they were struggling with and he said to me, 'Cal, I'm not worried about athletics. Athletics at Louisville will always bounce back. We've got to get the rest of this stuff right.' That's what he said to me. Over the years, athletics at Louisville has always been fine. Now there have been ups and downs in every program. There are ups and downs in this program."
It starts with putting new pieces in place from top to bottom and reestablishing a winning culture within the athletics department. With the right hires and patience, Calipari believes Louisville is an "outstanding" program capable of reaching sustained long-term success.
"I think it'll be fine. They've got to hire a president, hire an AD, hire a coach, get their thing rolling, create the culture that they want," Calipari said. "But it's Louisville, it's an outstanding athletic program. And I know right now they're mad that I would even say that, but it is it's true. I mean it's won national titles, football games, women's basketball, you think about it.
"They've just got to get things in order, and my guess is within a couple of years, they'll be right there."