John Calipari hopes to have full roster back "in the next week or so"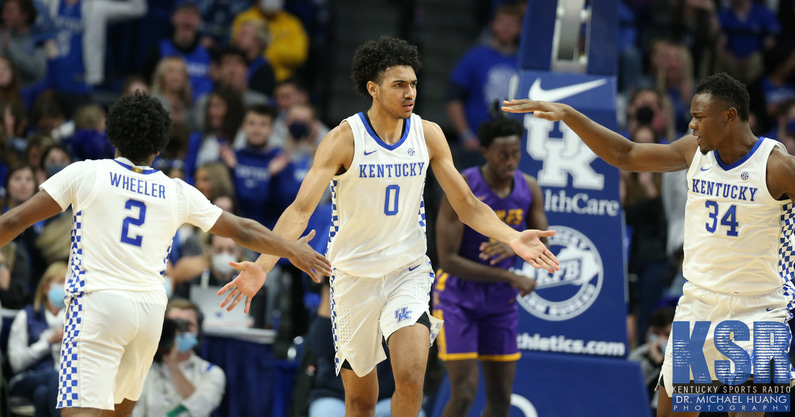 Will Kentucky be back to full strength when North Florida comes to town on Friday? John Calipari provided an update during his call-in radio show Tuesday evening.
UK was down four scholarship pieces against Albany, with CJ Fredrick, Jacob Toppin and Lance Ware out due to injury, and Davion Mintz being a late scratch due to illness. Fredrick is out for the year, but the other three are considered day-to-day with their specific ailments.
Calipari started with Toppin and Ware.
"Not having Davion showed. Hopefully we get Jacob and Lance back, so we have a full team," Calipari said. "It's been hard when you've got eight scholarship players. You're worried about foul trouble too, now. Hopefully we'll have a full team here in the next week or so."
What about Davion Mintz, who is currently dealing with an illness?
"Not sure about that," Calipari said. "I'm not sure."
He added that Toppin is going to be a key difference-maker when he returns to the floor, specifically in terms of energy. His effort will light a fire under his teammates to follow in his footsteps.
"When Jacob comes back, the one thing we know he's going to give us is energy," Calipari said. "That means if you're on the court with him, and you're not playing with as much energy as he's playing with, woof. Everybody sees it, like, "Why isn't he playing like Jacob?" Jacob coming back kind of forces guys to step on the gas a little bit."
Calipari's comments come just one day after UK assistant coach Chin Coleman said in a postgame interview that Toppin was expected to return "this week."
"Obviously, when we get Jacob (Toppin) back this week, we become more athletic," Coleman said. "We become bigger when we get Lance (Ware) back."
Sounds like we're getting close to seeing Kentucky return to full strength.