John Calipari Interview's Monday News and Views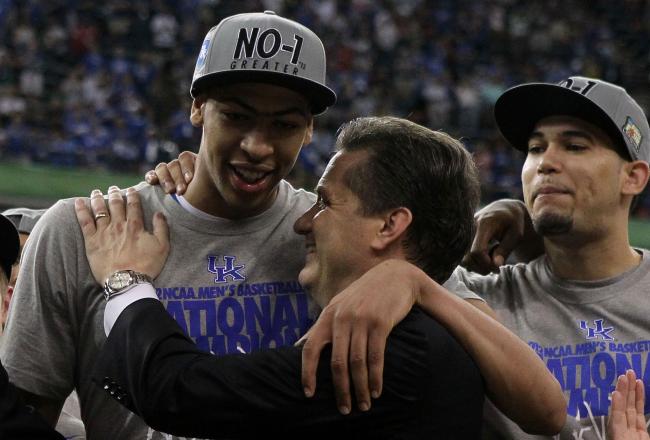 Most Sunday nights in this space, we go over the news from the weekend and look ahead to the next five days in UK sports. But to be honest, my weekend sucked and we all watched the UK football game and know what happened. So instead, let's get ready for some basketball. A couple of weeks ago,
John Calipari sat down with ten local media members for a preseason talk
. This event happens every year and is usually done to get the information necessary for preseason guides and previews about the Cats. Over the next week, we will be giving you a lot of information from these interview sessions, including video interviews with all of the basketball Cats. First up though, is this summary of Calipari's comments about this year's team at the interview (and some quotes from Fantasy Camp) and the job at Kentucky. There is a lot of good stuff in here, so we hope you enjoy:
On Watching His Team Practice This Summer
: Calipari has had the chance to work out the team a number of times this summer thanks to the relatively new NCAA rule, but he says that it hasn't done a lot to help him understand his team. "To be honest, the more information we get on this group, the more confused we are." Calipari said that they have seen a number of different skill sets from the team but "we have to see how we are going to play. Is it to play two big guys...do we play Archie at point some...there are a lot of options."
On Alex Poythress
: Calipari said that he loves the skill level of Alex Poythress but notes that it is very important to make him maximize his talent. "My goal is to get Alex's motor to where Michael Kidd-Gilchrist was." Calipari likes the diversity of Alex's game but hopes the effort gets better.
On Team Tempo
: Over the last three years, Kentucky has played a number of different styles, as Calipari adjusted to his team's personnel. This year however, he has one plan. "We are going to play fast. We are going to dribble drive and get moving." Calipari thinks that he has athletes on the court that will be better than almost anyone they played and thus it is important to have a "higher tempo" than any of his other teams at Kentucky. When I asked how someone like Kyle Wiltjer will fit in, Calipari said that he would have Kyle play behind the ball, as the last man down the court "like Larry Bird late in his career, spotting up for shots."
On Willie Cauley-Stein
: Calipari talked extensively about Cauley-Stein and called him the surprise of the early workouts. He noted that a bit part of Willie's success is his athleticism and the versatility it allows. "I went to see this kid in high school and he comes out and has a tennis racket." Calipari noted that he can play a number of sports, but his football talents have allowed him to show coordination and ability to run the floor that is rare. Willie has gained 25 pounds since arriving in Lexington and at this point "he is on a different level than Nerlens, because he has been here 8 weeks longer."
On Expectations for this group
: As always, fans want to see the team play for a championship and they have high expectations. But Calipari says he isn't quite sure what this team's ceiling is yet. He noted that they only have one player returning who played significant minutes and that the inexperience could cause a slow start, potentially even 0-2. But he isn't sure what that means for the year as a whole. "Could we better than last year? Maybe. But that would mean we are really good." While it was clear Calipari wanted to downplay expectations, he repeated a familiar comment, "I like my team."
On Kyle Wiltjer
: Calipari spoke extensively about how Kyle has tried to vary his game and has gotten much better. Wiltjer has put on muscle and is still an excellent shooter (as seen by some of the performances we viewed at the Calipari Fantasy Camp). But the best view may come from Anthony Davis, who came and played with the team and went raving to Calipari saying, "Kyle is way better and way stronger." Calipari noted that the high praise from a former teammate made him confident about Wiltjer this season.
On Julius Mays
: The mystery man for the team is also still a bit of a mystery for the coaching staff. Mays is a 5th year Senior and Calipari noted that he will be expected to provide "old guy" leadership with this group. He said, "Julius is a great kid who has performed at a high level. He can make jump shots and comes in with no expectations." On the latter point, Calipari noted that Mays could have gone elsewhere and potentially played a bigger role, but he wants to be here to win and that is very appealing to him.
On Ryan Harrow
: Calipari noted that having Harrow in the system for a year is helpful, but that he still needs his young point guard to improve. While he may be a better shooter than Marquis Teague and his explosiveness is without question, Calipari wants to make sure he can finish as well. He told Harrow, "I want you to be the best layup shooter in the SEC" and he has made Harrow work on just that skill. Finishing at the rim, something Marquis Teague became great at during the year, is the key for Harrow's success.
On Nerlens Noel
: The most questions were asked about the nation's top recruit and Calipari was quick to say that Noel is far behind his teammates due to his late arrival on campus. He noted that he became worried when Anthony Davis said, "I pushed him off the post...so I looked and Anthony and said, YOU pushed him off the post?" Calipari noted that Noel must play tougher and get bigger, but his athleticism is such that cannot be taught. He likened Noel to Anthony Davis and Michael Kidd-Gilchrist in his springing leaping ability and said that he is one of the quickest kids he has seen in the way he is able to get to balls. Calipari noted that it will take time with Noel and that we may not see the best of him until well into the season.
On the Balance of this Group
: Calipari said that he may have never had a team with such variety in terms of talent and the "go-to player." He expects that at some point this season, up to 7 different players could lead the team in scoring and that this will be a team where "any given night, someone steps up." He doesn't expect people to have traditional roles on the team and says this could be a group where "everyone has to do everything."
On the Overall Status of the Program
: Calipari talked extensively about how happy he is with the state of Kentucky basketball right now. He said that while Kentucky has always been a great basketball program, the academic bar has been raised here "and that is because of Brandon Knight." He noted that Kentucky leads to many stresses you don't have in other places. "The pace you go here is the pace you go. You take a lot of crap here. But if that is what you have to do to coach here, that is what you do. This is Kentucky." He said he recently watched a fan video about the last three years (I assume it was the UKCat8Fan video) and that "it touched me." He noted that moments ranging from Cousins in the SEC Tournament, to Brandon Knight over Princeton to last year's title are all very special. He said he feels that he is the "keeper of the tradition" and notes that as of right now "the epicenter of college basketball is right here." We will have more preseason interviews as part of the
KSR Season Preview
throughout this week. I will be giving anecdotes and features from the preseason interviews on the radio, including some great stories, all week long. So tune in beginning tomorrow at 10 am. See you then....