John Calipari is preparing for six more years at Kentucky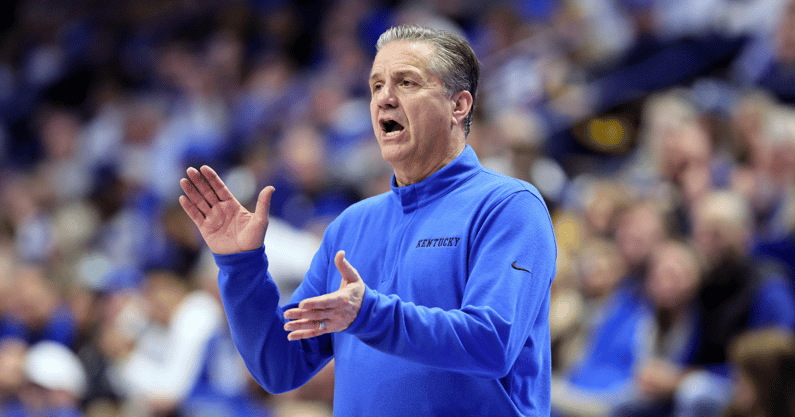 Kentucky head coach, John Calipari, bantered with Dan Patrick last week about a host of topics including NIL and Oscar Tshiebwe's stay-or-go decision. However, he slipped in an additional nugget of information that was easy to miss regarding his plans for the future with the program.
When talking about what lies ahead, Calipari said, "We've got 6 years left to do some really good stuff."
Before he could keep going, Patrick interrupted him, "What do you mean 6 years?"
Calipari did not dodge the question. "Well, I've got six years on the contract…Alright, let's make this run…Let's get this back where we were."
There have been borderline conspiracy theories floating around about when Cal will hang it up at Kentucky, with the most pessimistic of which hypothesizing this upcoming season could be his last. Aside from the poetic bookend of coaching DJ Wagner, the son of one of his early-career players, there really isn't any evidence or even scuttlebutt that this will happen. In fact, Calipari continues to insist on the opposite.
Calipari signed a "lifetime contract" just weeks after Kentucky lost to Auburn in overtime in the 2019 Elite Eight, however, it specifically calls for a roughly $9 million annual salary until the 2028-29 season. He'll turn 70 that February.
Last offseason, Calipari committed to serving out the length of this contract and has thankfully re-upped to that pledge once again. It is also encouraging to hear him determined to get Kentucky back where they were, begrudgingly acknowledging that what is good at one school is not good at Kentucky. There was also a caveat that, "Two seasons ago we were the 5th overall seed," though failed to mention the result of that tournament.
Listen for yourself as he gets into the topic around the 1:20 mark.
Discuss This Article
Comments have moved.
Join the conversation and talk about this article and all things Kentucky Sports in the new KSR Message Board.
KSBoard