John Calipari on Kentucky's offensive woes in the first half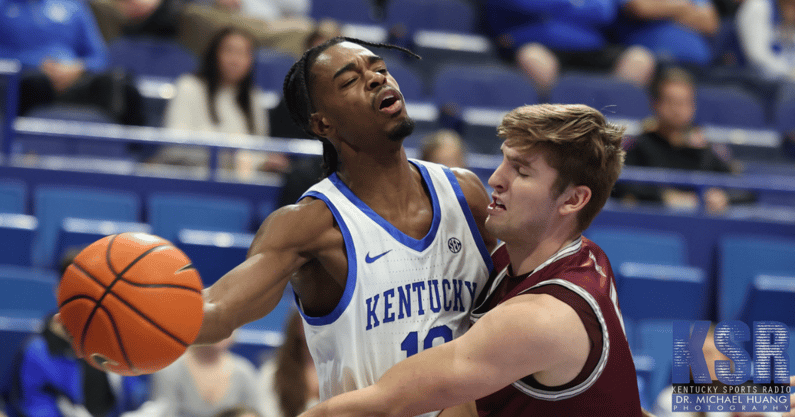 Maybe unknowingly, John Calipari came up with the perfect analogy for watching Kentucky Basketball right now after the 60-41 win over Bellarmine.
"I told the guys today, I told the staff, this is like going to the dentist. That's what it's like."
Calipari was talking about Bellarmine's unique offense and the challenges it presents, but it feels like he was speaking about his own team's offense, specifically in the first half. In the first 20 minutes, Kentucky scored only 21 points, the lowest such total since a loss to Missouri back in February 2018. The Cats shot 9-30 from the field (30%), 2-11 (18.2%) from three. They turned the ball over nine times.
What led to yet another stagnant start? Calipari pointed to an off night from Oscar Tshiebwe and a tentative first half from Jacob Toppin. Oscar finished with only 8 points and 12 rebounds in 32 minutes.
"This team plays different," Calipari said. "And then you've got to play a little different because of how they play."
"It's hard to post Oscar from the wing. I keep telling him, you've got to post them from the middle third of the floor. If you post them from the wing, everybody's off. He missed some shots today. I was really surprised, some lefties. And then it's important because of how we're playing and because of Oscar, that you got to shoot open threes, especially if you're one of those three."
After going 0-4 in the first half, Toppin was 4-5 in the second, finishing at the rim with force, which earned him the program's new "Most Impactful Player" belt. He finished with 12 points, 5 rebounds, and 2 assists.
"We need probably more aggressive play from Jacob," Calipari said. "Going to the rim in the first half, he missed three two-footers. Threw them. Second half, he drove and he made baskets but you've got to do that when they're being physical. We've got to get some easy baskets that way."
What difference does an aggressive Jacob Toppin make?
"My whole thing is, I think his mid-level game and his ability and his athleticism to go to the basket. But it takes a grit to want to go in there and know you're gonna get bumped and pushed in and that's where the only way you can get comfortable doing it is doing it. Yeah, he's got to go. Just go in there and there's gonna be some car crashes. But he is so much a better player. But the grit is between him being special. You want to be special, be that guy where they got to play you on pull-ups, they're not going to try to muscle you because it doesn't matter."
Subscribe to the KSR YouTube Channel for press conferences, interviews, original shows, fan features, and exclusive content.
"It took unbelievable discipline to play that the way we played it"
Calipari said that by the end of the game, three Kentucky players cramped up, most noticeably Sahvir Wheeler, who had to be helped to the bench with a minute left. Despite the ugly first half, he was pleased with his team's effort on defense. In the end, the Cats held Bellarmine to 41 points, the fewest for a Kentucky opponent since the 78-39 win over West Virginia in the 2015 NCAA Tournament.
"I would say is, it took unbelievable discipline to play that the way we played it. And they are a team, anytime you break down — which happened in our other couple of games — the good teams, when you break down, they make you pay so it takes unbelievable discipline throughout the possession for 40 minutes. When you're tired come out because we're trying to win. This is not you're just trying to play. And so that's what was good about this. And like I said you get a couple of guys that cramped up. So you know it was it's what we needed."
Kentucky's defense is to be commended and the second-half fight was good, but the ugliness of the first half will be hard to forget. Even Calipari just shook his head while looking at the box score.
"We were trying to figure out in that first half, they were packed in so bad and then we missed some shots and then guys wouldn't take shots and that kind of adds up. Which is why we came out and said, 'Alright, we're grinding a little bit so you don't score as many as what we scored. It's one of our lowest scoring games in a while. Yes."