John Calipari: Kentucky is "prepared for all scenarios" after NBA Draft Deadline Misses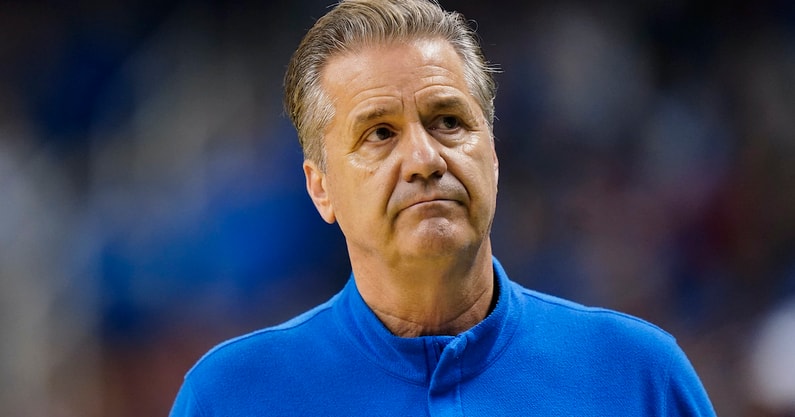 Wednesday was a rough day for the Big Blue Nation. With an incomplete Kentucky basketball roster, Wildcat fans patiently waited for news from three indecisive players at the NBA Draft deadline. Oscar Tshiebwe and Chris Livingston remained in the draft. Antonio Reeves announced a return college, although it could be to another school.
The angst and anxiety amongst the fanbase has been palpable for weeks. As it begins to boil over, John Calipari has broken his silence. Thursday morning the Kentucky basketball head coach jumped on social media to share his thoughts about the process.
"I woke up this morning thinking about our team now that the NBA deadline has passed," Calipari Tweeted. "We support all of our players as they weigh their options and pursue their dreams and it's my job to make sure these kids are making informed decisions. It may not be what you think or I think – but it's informed."
Despite a couple of swings and misses so far in the transfer portal, John Calipari says the Kentucky coaching staff is prepared for the next step in the roster-building process.
"But that also makes it hard to move until you really know what your roster is going to be. We've prepared for all scenarios and now we can move forward," said Calipari. "There's so much misinformation out there and most of it we can't address publicly. Numbers being thrown around just aren't accurate, who we are in contact with or who we are not in contact with, we don't make it public."
The coaching staff may not make it public, but the players can provide that information. The latest potential suitor to emerge is Creighton small forward Arthur Kaluma.
John Calipari shared some confidence in his current roster and the next steps the program is taking to put a winning product on the court next season.
"We want players who want this culture, who care about winning, understand what it means to play at Kentucky – both how hard and how rewarding it is – and have the ultimate drive to win and succeed on the biggest stage, which helps everyone. We have a talented group right now which isn't finished yet, but when it's done we will have a talented team who will chase the ultimate goal together and make #BBN proud."