John Calipari looking to tighten Kentucky's rotation in coming games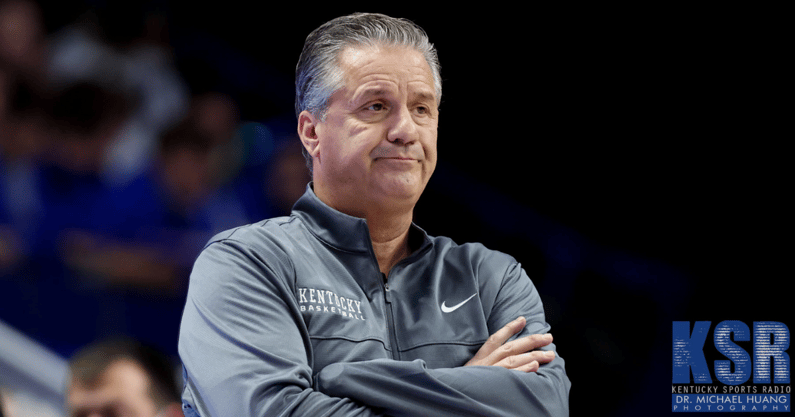 John Calipari went with a mostly eight-man rotation on Tuesday night despite having his roster at its healthiest since the season-opener against Duke. Setting CJ Fredrick's surgery aside, Kentucky had all 11 scholarship players available to play in the 76-64 win over Southern; and all of them made an appearance.
But three of them were the odd men out: Bryce Hopkins, Lance Ware, and Dontaie Allen. Cutting Hopkins some slack, Calipari did admit that the freshman forward was only going at "50 percent" in practice on Monday as he continues to recover from a lingering back problem. Hopkins only saw two minutes against Southern as a result, well below his season average of 11.4 per night coming into the game. However, this only complicates Calipari's issue when it comes to figuring out his rotation.
Kentucky is finally through with its run of seven consecutive "cupcake" games, all of which were hosted at Rupp Arena. UK was a double-digit favorite in every single one, winning by an average of 26 points. Only one of those opponents, the Ohio Bobcats, rank higher than 285 in the KenPom standings. To put it lightly, UK has not been seriously challenged.
That all changes this Saturday though; the 'Cats head to South Bend for the first true road matchup of the season against Notre Dame. Kentucky will then follow that up with showdowns against Ohio State (in Las Vegas) and Louisville (at home). UK will jump right into SEC play after that. By the time Jan. 1 rolls around, we'll all have a much clearer idea of how good this Kentucky team actually is or isn't
Now back to the rotation. With the schedule heating up, the days of playing all 11 guys upwards of 10 minutes each night are out of the equation. Calipari typically rolls out eight-man rotations once the spring rolls around and this year should be no exception despite the added depth. He plans to use the next week-plus to iron out his go-to rotation as the competition beefs up.
"Over the next 10 days, we gotta start making a decision on some guys getting more minutes and some guys getting less," Calipari said after Tuesday's win. "It doesn't matter what year you are, none of that. If we have a roster of 11 I'm not gonna play 11 guys. The guys that aren't playing, you gotta be ready to go."
The next, most obvious question is which players will make the first cut? The starting five of Sahvir Wheeler, TyTy Washington, Kellan Grady, Keion Brooks Jr., and Oscar Tshiebwe has been set in stone since the opener. Jacob Toppin has earned his minutes through energy plays while Davion Mintz is back in the lineup after recovering from an illness. Mintz will play no matter what. Looking beyond those seven, the clouds are a bit tougher to see through.
Against Southern, Daimion Collins was effectively the eighth-man while Ware and Allen failed to play more than six combined minutes. Collins looked impressive, but admittedly against an undersized opponent. A healthy Hopkins could potentially steal some of Collins minutes away. Which one of them plays more on a game-by-game basis? Will Ware and Allen even have a spot with so much talent in front of them?
These are the aspects of this roster that Calipari and his staff plan to evaluate in the coming weeks. Kentucky will play three games in 11 days against good teams, starting with Notre Dame. It shouldn't take long to figure out who deserves to play and who doesn't.
But the beauty of having this many players is that Calipari can make adjustments on the fly. Allen and Ware didn't play well against Southern so Cal pulled him in favor of more minutes for Mintz, Toppin, and Collins. There might be an instance in two weeks where Mintz or Toppin aren't playing well, forcing Allen or Ware to step in.
"They're not machines, I'm not mad," Calipari said of his players. "You know what I told them after? You know what's good about this team? Couple of you don't play well, I'll put in somebody else and they'll play well and you sit there and watch and get yourself ready. That's what's good about having depth."
The rotation will get slimmed down to eight–or maybe even nine–players moving forward, but that doesn't mean it won't be fluid.