John Calipari mentions foul discrepancies after loss to Auburn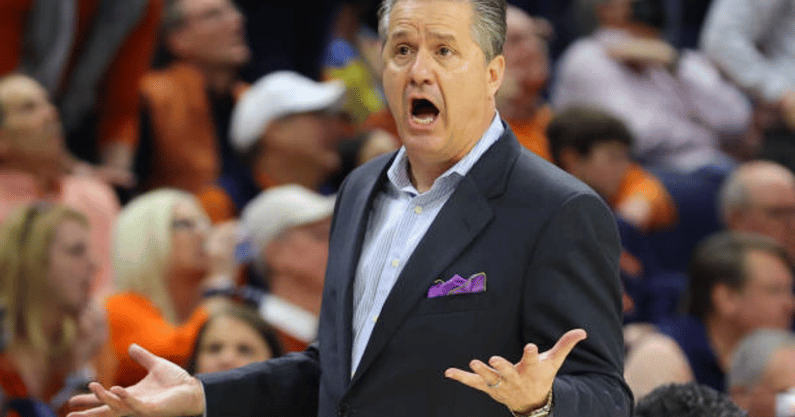 Saturday's loss to No. 2 Auburn was brutal for John Calipari and his team, and not much of it was really his fault. Kentucky went into an incredibly hostile environment, essentially lost both point guards and kept it a relatively competitive and equal game.
Well, equal in most areas
John Calipari quips about fouls after the game
Nobody even had to bring it up; John Calipari was going to let you know that Auburn had a whole lot more free-throw attempts than Kentucky did.
When asked about the absence of TyTy Washington due to his ankle injury and how that impacted the game, Calipari used his magic on the microphone to subtly get to one of the real issues for him.
"We had breakdowns defensively. When do you see us shoot 50%, 41% and 80%?… again they tripled our fouls but that's alright, sometimes that happens," Calipari said postgame.
Nothing provoked it, Calipari even went straight on to discuss those dastardly defensive breakdowns the Wildcats had. He wasn't even 30 seconds into the first question and he was already bringing up the foul disparity.
Is the criticism and subtle shade against the officials totally undeserving? Heavens no, it was an objectively poorly officiated game. The refs didn't perform to the necessary standard. And whether we like to actually give credence to it or not, it had a major impact on Saturday's game.
"We'll get better, it's not obviously what we want [fouling three-point attempts]," Calipari mentioned "We made more field goals than them. We did some good stuff, we lose a tough game on the road in this environment, no one gave us a chance."
The disparity tells one story
In all, Kentucky was only called for eight more fouls than Auburn. Looking into it, where these fouls were called makes it all the more absurd. Kentucky went 8-10 from the free-throw line yesterday. A nice, respectable line. Sure you would like to see them get to the line more, but that wasn't at the lack of effort from the Wildcats.
Auburn on the other hand? 24-29 from the line en route to a nine-point victory at home. Kudos to the Tigers for getting up and making 83% of their attempts, but the disparity in the numbers is eye-popping.
Not going to sit here and say that the amount of free throws directly correlates to what the score would've been had they not occurred. But seeing Auburn take 19 more free throws than Kentucky is head-scratching at its most innocent.
You never want to be the team that looks back and stays focused on past transgressions–that ultimately is more hurtful than anything. Still though, you can take a step back and take an objective look at the game and come out with a pretty unanimous conclusion.
We really need to see another Auburn-Kentucky matchup this season.