WATCH: John Calipari and players after the win over Albany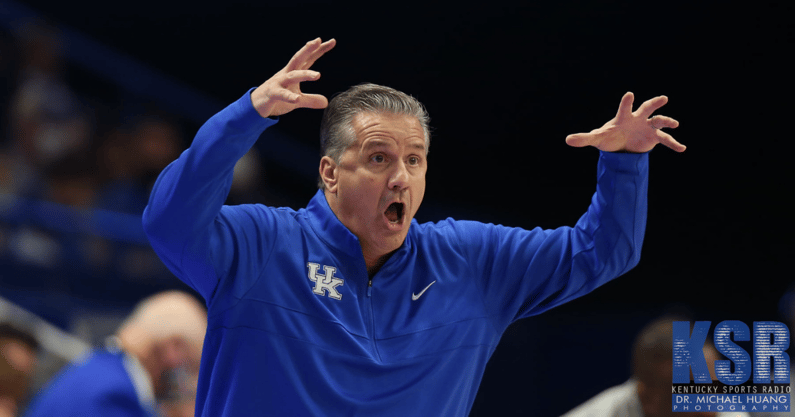 John Calipari, Kellan Grady, Sahvir Wheeler, and TyTy Washington met with reporters following Kentucky's 86-61 win over Albany. Here's everything they had to say in both video and written form.
John Calipari
JOHN CALIPARI: Let me start by saying (Albany head coach) Dwayne (Killings) did a great job, had his team ready. I've said this before, when a team is struggling a little bit — and I'm watching their tape. They play really hard. Played harder than we played. If you watch the game, you said, dog gone it, they played harder. 
Second thing he did is he put a couple things in, wrinkles defensively, that bothered us and really got us out of rhythm in the first half. 
But the hardest thing for a coach and something that shows me that, one, he's a really good coach and he's connected to his team. They're going to have a breakthrough, and they'll go on a run of games. But they've just got to stay the course. And how hard is it when you're losing games? That's a real coach. 
You're winning, everything's easy. It's the next. That's easy. You're struggling some. You're missing some shots. You're doing some things, but your team's fighting like crazy. 
Yes, he was the ball boy. No, I didn't spend a whole lot of time with him when he was the ball boy. His dad was in our gym all the time when we practiced. He worked at the University of Mass. 
But I'm proud of him. I watch him, and he's got a smile on his face. Did a great job. 
Q. Cal, how much is Kellan (Grady) still trying to figure out his role versus what he did at Davidson, and how close is the second half to what you kind of see for him? 
JOHN CALIPARI: It was better, but here's what's happened. He's on the scouting report. Like don't leave him. You know what that means? They're working hard not to get you shots. What does that mean? You have to work really hard to get plays now. You've got to work harder than they're working to keep you from scoring to score. 
I gave him, I said, go look on YouTube and look at Rip Hamilton. Rip Hamilton, skinny dude that could score and catch it and shoot, and they all said, we're going to keep him from doing it. You know what he did? He sprinted. He didn't run around the court. He sprinted to get himself free to make shots. When he sprinted, everyone else ended up being open because they tried to stop him. He slips to the basket, lobs, guys trying to help on him. 
That's where Kellan is. You're on the scouting report. You may be the top of the scouting report. 
Q. What do you hope Oscar (Tshiebwe) learns from the last two games about foul trouble? 
JOHN CALIPARI: That he is going to get fouled and grabbed and pushed. Got to deal with it. His advantage is 255 (pounds). In the eyes of others, that's a disadvantage. So they let him be grabbed and held. 
I mean, it's what it will be and deal with it. You can't push back. He didn't. 
Q. Did he get frustrated tonight? 
JOHN CALIPARI: He did. He came over twice and said, the dude's grabbing my arm. I said, look, just play. It's what I've said and I'll continue to say, his advantage is 255. If a guy backs under him and he goes to rebound, that should not be a foul. 
Well, he's got to go straight up and down. He was, except the guy displaced him and moved him back. So now he grabs the ball, and it's like that. Well, it's over the back. It isn't. He went straight up. Is displacing a foul? I don't know. But we'll watch the tape and try to learn. 
Still, I've got to spend more time with him in the post myself, and I will. The biggest worry I have is I'm watching games, the physicalness of the games that I'm watching, there's no emphasis on physicality right now for the officials because they're checking on — if you cut, you're getting chucked. I'm seeing really physical play. 
My question is can we play that way? Or does it take us out of everything we're doing? Or do we have two or three guys that will play physical and fight, or do you have those other two that keep breaking down and don't want to be that guy? 
So I've got to watch the tape. We've got to screen better. What's that? Toughness. Go knock somebody's head off like you're getting your head knocked off. I've got to get back and practice and got to shift what we're doing. 
The pick-and-roll stuff in the first half was me, like they did some things and I didn't — at halftime I got us to do some different stuff that hurt them. I've done this 30 years. Obviously, the ball boy's coaching the other team. So I've been here a while. So I would say that I should have been better in the first half to give us a chance. 
Q. Keion (Brooks Jr.) had 17 points, eight rebounds. Didn't take a three-point shot. Is that the way that you want him to play? 
JOHN CALIPARI: Just got to fight more. Just got to fight more, but he's coming. Look, he's got to be a 15, 16 point and an eight-rebound guy for us in a real physical game. Then you've got to be confident defensively. 
If you're guarding a guy — this is what I just told him. If you are guarding a guy and you're going like this or your hands are down because you're afraid he's going to beat you on the bounce, how are you going to be confident offensively? If you're getting driven by, shoved, pushed, dunked, laid on, you cannot be confident offensively. You're going to turn it over. You're going to miss some shots you shouldn't miss. 
So we've got to get back to defensive confidence. One, that we're all together so I know I can trust my teammates, so I can get up and be aggressive. That adds confidence. 
The second thing is I'm fighting before — I'm going to beat him down the court. I'm going to beat him over the screen. I'm going to fight. A shot goes up. I'm hitting him before he hits me. And now all of a sudden, you're the toughest guy in the gym. 
It doesn't matter. He weighs 25 pounds more. Hit him before he hits you because, if he hits you first, he's forcing you under the goal. So I'm not saying that about just Keion. I mean, I watched the game. We have three or four guys that aren't to where they need to be. 
But I'll say it again. For us to be any good, Keion has to get 15 and seven in a really good game, and he's got to have confidence defensively. Was that block a goaltend or a block? 
Q. A block. 
JOHN CALIPARI: It was a block? (Shrugs). 
Q. What did you think? 
JOHN CALIPARI: I couldn't see it. At least that's what they'd say. 
Q. I guess as physical as they were playing, were you kind of satisfied with the small runs in the second half that kind of gave you all a little breathing room? 
JOHN CALIPARI: The biggest thing is we made a couple shots. You know, it was funny, and it was really true. One of the guys said to Dontaie (Allen) during the game like, dude, if you make two shots, we're going to break this open. Just make a shot. I want him in there shooting balls. 
You have to understand, I kept saying, just keep shooting. Then I told him after the game I probably, when I go to my office tonight, I will probably see you in the gym shooting, right? Because you're getting your opportunity. Now you've got to take advantage. We need him. You know, we need him. 
It's another thing. Defensive confidence. You cannot be getting clubbed on defense and think you're going to be confident on offense. Again, it just doesn't happen that way. 
Q. The ball boy said that it was kind of — 
JOHN CALIPARI: I shouldn't have said that. Dwayne, he was our ball boy. I think he was a 26-year-old ball boy, by the way. He was a little older for being a ball boy. 
Q. Coach Killing said that it was kind of a victory for them that you were not always happy with your team. I wondered if 17 turnovers are one of the reasons and what — 
JOHN CALIPARI: That, and I didn't — like, look, the one thing that I've looked at their tape and their stats, they turn it over. They didn't today. So what does that tell you? They were playing harder than us and were ahead of the action versus us coming at them. That aggravated me more than anything. 
Again, it wasn't just one guy. It was like a team full of guys. But three or four, again, the same thing, this is good enough. No, it isn't. You won't be in. I'm taking you out. 
Look, I like this team, and this team has a chance. And I've got to do my job and hold them accountable. I don't care about the clutter. People can say what they want. I've got a job to do, and I've got to get this team right because we have some pieces that can do this. 
We've got to get healthy. We've got to get guys back. We still don't know what we are. What happens when Lance comes back? What happens when Jacob comes back? Do we become different? How do we play? What are we trying to do? 
Q. Coach, with Oscar being limited to just 23 minutes with that foul trouble, what did you kind of see from the rest of your team of how they played with him having to be on the bench a little bit more than normal? 
JOHN CALIPARI: Here's what I'd tell you. I'd rather not see what we can do without him. I'd rather him be on the floor. Again, when you're getting two and three guys thrown and hold and grabbed and kicked, anything you do looks like a foul. That's why I'm saying I've just got to send in the tape and say tell me. 
And I may watch the tape and say, you know what, they didn't do it as much as I thought. But when I watch the tape, I'll know. When he's on the court, we're better because he just grabs everything. We've got to get him better around the goal. 
Now, you know what I did late in the game. What kind of shots did we get him? Did you watch? Anybody watch? Jump shots. I know he can do that. He may be our best 17-foot shooter. But we've got to be able to get something around the goal, especially when you catch it three feet, get something. 
And I'll say this. Daimion (Collins) — the stretch in the game that helped us spread the game out, when you're talking, was with Daimion, blocking shots, rebounding, dunk, throwing it to the rim. So he did some good stuff today. 
Q. Cal, you all have gotten to the line a little bit more the last two games, closer than your teams normally do. How much of that is something you did differently, or is it just the way they're playing you these last two games? 
JOHN CALIPARI: You're saying free throws? Some of it was guys going to the rim. We still shot our floaters. We're not shooting as many threes. I think this is a 22-shot three-point shooting team. But let me say, when you shoot 22 threes, are you going to get fouled? No. You're shooting floaters, are you going to get fouled? No. (Indiscernible) your misses, and they end up being 70 percent shots. But you still in the open court have stuff to get to the rim, which we have to do. 
Q. John, you had told us that Oscar was a great midrange shooter, and yet he still seems a little bit hesitant to put it up. He almost seemed like he was a little bit surprised when he made it. Why is that the case? 
JOHN CALIPARI: I don't think he was. I think you're wrong in there. 
Q. I've been wrong before. 
JOHN CALIPARI: Yes, you have. Many times. (Laughter). But that's something we try to get him that shot. I'm just being honest, he barely misses it. 
Then the one, he's not played this way before. Most of his stuff, which is why I'm kind of surprised. Everything was at the rim and mush mouth. Now we're trying to spread them out a little bit. Then when he gets close, the stuff that he used to be really good at, he's not as good. So it's probably me. But he can shoot. He can shoot free throws. Get to the line, get the ball up. 
Again, his size can be an advantage. But in the eyes of others, well, they have to do that to play him. No. No. No. That is not — for him — but I'll watch the tape. And if I see some push-off, hey, it's fine. If he has two hands in the back and he's pushing people, if the guy's going like this and he's trying to get him away, is it a foul? Or is the other thing a foul? I don't know. We'll have to look. I'll watch the tape. 
---
Sahvir Wheeler, Jr., Guard 
On if Albany outhustled them tonight …
"They play really hard as a team. I don't think Coach Cal was too far off on that. They play really hard and they made us compete. We were only up nine at halftime. I believe that was it, and a lot of credit to them. Even when we made our run, and we were up 20, we can hear their coach coaching with passion and the players still believing they can win even though the game was already kind of decided. They played hard, and that just shows that we've got to play a little bit harder to be able to finish our plays so we can create those leads earlier in the game. Against better competition when were down, we might not be able to wait so late to play so hard in order to come up with wins."
On the secret to getting to the rim and finishing …
"I can't give away all my secrets. I think having an attack mentality, and playing with a team like this with great shooters, the lane is that much more open. I think one of my gifts is being able to create for others and get inside of the paint at will. Guys like TyTy [Washington], Kellan [Grady], Dontaie [Allen] – those guys are threats. We missed Davion [Mintz] tonight, but I think that's a part of playing with guys who can make shots to spread the floor and using my advantages as my speed and my quickness. I'm at that point that if I'm by my defender, I'm playing two-on-one with either. It's me, the rim, and the big man. Whether that's Daimion, whether that's Oscar [Tshiebwe], or whoever is down there playing the four, Keion [Brooks], it's their man and me, and you know those guys."
On the transition from Georgia to Kentucky …
"It hasn't been a big thing for me. I think my game has always been fast paced – using my speed, using my advantages. But here everyone else can do it, too. I think that's the beauty of it, when we have multiple playmakers and multiple guys who can get themselves shots and create for others. We're a great team that shares the ball. We play for each other, there's no ego, and we're playing to win."
#3, TyTy Washington, Fr., Guard
On playing 38 minutes against Albany … 
"It kind of just happened in the flow of the game. I didn't know I played that many minutes. As long as I am in shape and as long as I keep running hard in practice, and just keep showing that I'm in shape, I can play full games like that and play well." 
On his shooting improvement each game … 
"I feel like I'm adjusting really well and just letting the game come to me, just getting out in transition. I feel like one of the good aspects of my game is just getting out, beating everybody on the floor, and making easy plays for me and my teammates. I feel like as we keep going, my condition is only going to get better, and this is going to help me and my team." 
On how important Kellan [Grady]'s performance in the second half was … 
"It was very important. Everybody knows Kellan's background, scoring 2000 points so everybody in the arena knows he can get it going and just like a snap of a finger. The first half was a little quiet. I am kind of starting to pick up off him and just letting the game come to me. He never forces anything. He's just always happy for his teammates, even when he's not scoring anything like that. In the second half, after he hit the three, I told him, 'Grandad,' – I call him granddad – but I said, 'KG, this is your time. They are not standing in front of it. Just get it, rip by, and get to the free throw line.' I feel like you get to the free throw line, you see the ball go in from the free throw line, you'll gain more confidence. And I feel like, in the second half, I am a rookie at best. So, I try to tell him as much as I can, but at the end of the day, he knows how to play basketball at a really high level. So, he just went out there and does what does." 
On how Kellan feels being called 'granddad' … 
"He takes it really well. He always laughs. He knows he's a granddad. He's OG. I'm like the little brother. He's always looking out." 
---
Kellan Grady, Gr., Guard
On conservative shot selection …
"I think I have been a little bit. I think part of that is finding my role as one of the guys, but not the guy like I was accustomed to for four years. I think I have probably been conservative in picking my spots a little bit and letting the game come to me, which I think is a good thing. But I think there are sometimes where I could try to be more aggressive. That's essentially what Cal has told me. He told me to get going before the game started. In the second half, he told me to shoot the ball and get going. That's definitely what he wants me to do, and it's on me to do it."
On being older …
"Yeah, the whole team calls me 'granddad.' I thought that was public knowledge at this point. That's being a grad transfer and they also tell me I am an old soul in some of my habits. I am a little bit different."
On Davion Mintz being out …
"It was going through my head, I think perhaps naturally a little bit, but it wasn't really something that was going through. I was just focused on the game plan."
On what he is thankful for …
"I'm not sure there's a short answer for that. I'm incredibly thankful to be at the University of Kentucky to play on a team that is just filled with great teammates and high-quality guys. Being able to play for a coach that's invested in every player and wants to add value and help us win and know us on a more personal level. I'm thankful to have gotten a college degree and being able to come here and play. I am thankful for my family and my friends. I guess good health as well, though I take that for granted."
---
Dwayne Killings, Albany Head Coach
Opening statement
"I'm proud of my guys. I'm proud of our team. I thought we competed our tails off. I thought we really grew from the last game. One of the things we talked about for our program was just being selfless in this game and just consuming themselves with this opportunity to play an unbelievable program. Kentucky has done some amazing things with what Coach Calipari has done with this program, and I thought our kids came in and they took advantage of the opportunity. We had some big moments. De'Vondre [Perry] did some really good things, Trey [Hutcheson] did some really good things, and what I was most proud of is I thought our culture really grew. But Kentucky's a really good basketball team. You turn it over, they make you pay. The runs come at you really, really fast, but I thought it was a great test for our program. I thought we got better in the game and I'm thankful for the opportunity. I think it's going to pay huge dividends for us as we move forward in our season."
On how Oscar Tshiebwe in foul trouble played into the depth of the game…
"I was really concerned about the fatigue that would come into the game, but I thought our guys responded. We went pretty deep into our bench just to give our guys a breather. We tried to take guys out before media timeouts. I didn't think that we necessarily got fatigued entirely through the course of the game, but you guys have so many different players that can impact the game in different ways. You have guys on the perimeter that can make shots like Kellan Grady. He just drilled shots around the perimeter, which is pretty impressive. But then you can get guys that can isolate you. You guys put pressure in the paint which makes it really challenging for your one-on-one defense and your team defense because it never stops. But I thought we were getting some momentum in the course of the game in the second half, but we didn't stop the run. Once the run started against a program like this, it happens fast and can get away from you pretty quick."
On how important Kellan Grady can be for the future of Kentucky basketball…
"I actually coached against them when I was at Marquette. We played them when he was at Davidson and he was impressive. He made timely shots and I thought he did that today. When you think about a kid like him, when you get deeper into your season and when you have guys that can stretch the floor and make shots – I mean, he made two big shots over the course of this game – if he can do that down the stretch, then it's going to take the team to another level."
On what they'll take away from this game heading into their next against Eastern Illinois… 
"The schedule we put together is to give our guys confidence. We've played some really good basketball teams: LaSalle, Towson, Harvard. Harvard's an unbelievable storied program. Eastern Kentucky is a really good program. Kentucky, obviously, is one of the best programs in the country. I think what our guys are learning is that we can play and compete with anybody. So, I'm hoping as we get deeper into our season, it's going to give our team confidence and our individuals confidence because we've taken it to such a high level so quickly. I think we became a better team over the course of these last two games. We had some really hard conversations going into this game, just about who we are and what we're trying to become. I think our guys responded, and then also just an opportunity to come out here for five or six days and be in a hotel together, being around each other all day, every day. It's a chance to become a family and I think we took a really good step for our program today. It wasn't the result we wanted, but we competed and we represented our program the right way."
On what it means to put up that performance in front of Bruiser Flint and John Calipari…
"You want to come in and compete, I know that much. I wasn't trying to come in here and get embarrassed. But it's great. I mean, I am going to be honest with you, the best part of the game for me is I can tell Coach Calipari was getting upset with these guys. That means our guys are competing and playing the right way, and that's all I wanted. I wanted our guys to feel like they had a chance, and they did, and we gave them a run. We gave them all we had. That's awesome. To come down after the game for Coach Cal and for Coach Flint to say they're proud of what we're doing, and that we're doing it the right way. That means that we're on our process and we're heading in the right direction. And I thought it was pretty cool. I think people walk away from this place like, 'The Albany men's basketball team competes, and they play tough, and they're aggressive,' and I think they were impressed. That's what we want to do. We want to play the right way."
---
Albany Player Quotes
#2, De'Vondre Perry, Gr., Forward
On how much mentality played a role in their game against Kentucky…
"I would say it's huge for our team, just being mentally tough and physically tough. I'd say the mentality part is more so our program's culture than anything."
On the differences between preparing for this game with their teammates versus what it was actually like…
"I would say the main difference was their limp in their speed. Coach pretty much preached that their pace was really fast."
On what it's like playing against Sahvir Wheeler who does not have size as an advantage… 
"He's pretty talented. He's got amazing touch around the rim to be 5'9. I know he practices finishing over guys, especially finishing over length."
#3, Trey Hutcheson, Jr., Guard
On how hard it was to play against Kentucky who has countless good players to substitute when others are tired or not playing well…
"When Oscar [Tshiebwe] came out, they brought in other guys, and it made an impact. I just thought they ran the floor really well. That kind of started when [Oscar] came out, but they have a lot of talented guys throughout their roster. When they brought in new guys, it was still a challenge for us and we had to step up to the challenge and embrace it."
On the differences between preparing for this game with their teammates versus what it was actually like…
"I'd agree with that, just the speed that they had once their rebounder took the ball and they got it down the floor. I think that's just something that was a little more advanced than what we've seen."