John Calipari preaching defensive confidence early in season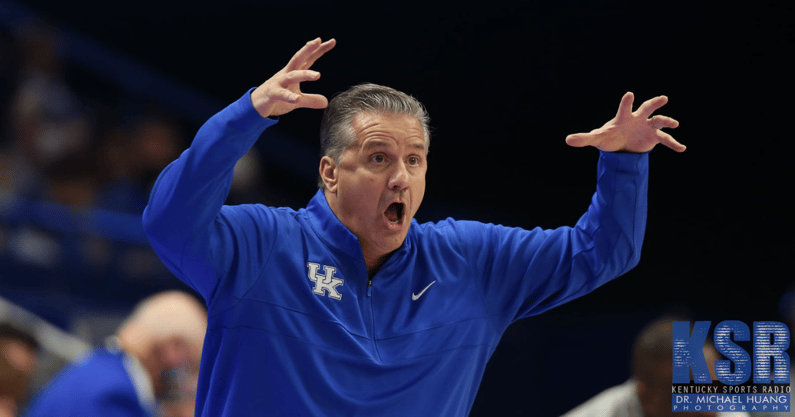 Offensively, Kentucky Men's Basketball is quickly finding its rhythm through five games this season. The 'Cats trot out a top 15 offense in the country, per KenPom. Looking up and down the roster, it shouldn't come as too much of a surprise. There is shooting, rebounding, and playmaking on the floor at all times.
On defense, however, Kentucky has not exactly looked up to par when compared to some of John Calipari's past teams.
Interior defense was an early issue that still hasn't been fully addressed. Then it was allowing too many open 3-pointers. Now, it's a combination of smaller problems; being forced to scramble too often when defending in the halfcourt, keeping the frontcourt out of foul trouble, and most importantly, playing with confidence on that end of the floor.
On paper, Kentucky isn't a bad defensive unit. Opponents are shooting just 38.8 percent from the floor and 28.4 percent from beyond the arc. But playing four non-Power 5 programs might have something to with that. UK is still one of the worst teams in the country in terms of turning the opposition over. One-on-one defense has been suspect, at best.
Following Kentucky's 86-61 victory over Albany on Monday night, Calipari talked in the postgame press conference about the need for defensive confidence. The head coach pointed to junior forward Keion Brooks Jr. as someone who has to play with more confidence on defense if he wants to continue seeing results on the other end of the court.
"If you are guarding a guy and you're going like this or your hands are down because you're afraid he's going to beat you on the bounce, how are you going to be confident offensively?" Calipari said after the win. "If you're getting driven by, shoved, pushed, dunked, laid on, you cannot be confident offensively. You're going to turn it over. You're going to miss some shots you shouldn't miss. So we've got to get back to defensive confidence."
Brooks has been a pleasant surprise on offense through five games. He's averaging the second-most points on the team at 14.2 per outing, to go along with 5.4 rebounds while shooting 50 percent overall. But opposing teams have begun to target him on individual defense. Instead of fully embracing the challenge, Brooks has a tendency to play back on his heels, letting the offensive initiator hit him first.
Despite his role on the wing, Brooks is up to 12 turnovers this year, tied for second-most with TyTy Washington (lead ball-handler Sahvir Wheeler is first with 16 miscues). He has a tendency to leave the ball in front of him, making him prone to having it smacked right from his fingertips. Aside from his 18-foot jumper, Brooks' confidence is certainly not as high as it could be.
Calipari then turned to another player struggling to find defensive confidence, junior sharpshooter Dontaie Allen. The Kentucky native shot 0-5 from distance against Albany and has regularly gotten lost on defense throughout the season.
"You cannot be getting clubbed on defense and think you're going to be confident on offense," Calipari added. "Again, it just doesn't happen that way."
There are still a handful of "tune-up" games left before heading up to South Bend, IN for a road showdown against Notre Dame. So the opportunity to find that defensive confidence will be there; especially against the likes of North Florida, Central Michigan, and Southern. It's important to establish a base of confidence now so it can be built on moving forward.