John Calipari reflects on first interaction with Joe B. Hall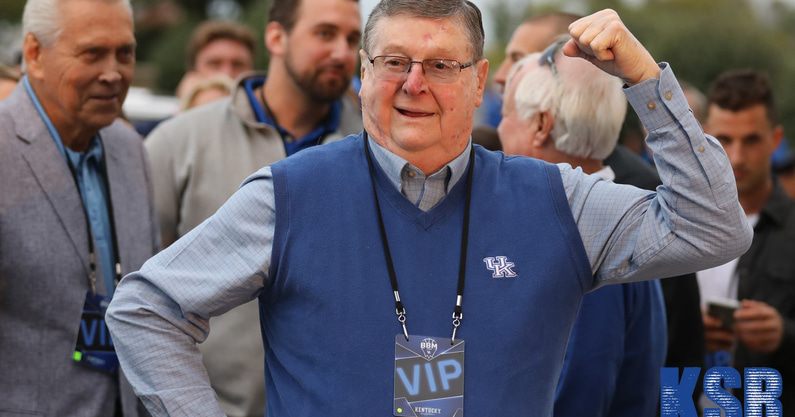 University of Kentucky Hall of Fame head coach Joe B. Hall turned 93 years young earlier this week. His legacy in Lexington has been cemented for decades now, encapsulated by the statue of himself sitting outside of the Wildcat Coal Lodge where the current Wildcats eat and sleep.
Coach Hall is a beloved figure around the Big Blue Nation, not just for his on-court accomplishments (of which they are many, including a 1978 national championship), but for how he's continued to stay involved with the Wildcat program over the years.
John Calipari, the current Kentucky head basketball coach and sixth to hold the title since Hall left the spot in 1985, remembers the impact that Hall had on him during his first-ever practice back in 2009. Calipari was taking over a Kentucky program buried in the trauma that two-year head coach Billy Gillispie left in his wake. Calipari's first season at UK would ultimately end in an Elite Eight appearance, but it took the voice of reason to help calm him down in what was a major wake-up call early on.
That voice of reason was Joe B. Hall.
"I've told you this story," Calipari recalled on Thursday of his first interaction with Coach Hall. "The first practice I went to there were 22 guys. I thought I had a football team. I'm like, who are all these guys? There were 22 of them. I said, 'Hold on. Hold on.' (Coach Hall is) sitting there watching me do it. I made all of the walk-ons – like there are 11 of them – go to the side and put their toes on the sideline so I could just see. Then I had the managers on the block and when a kid shot it, I made them yell out his name and say, 'Good shot, Patrick!' I was trying to figure out who's who. I knew Patrick (Patterson) and a couple of the guys, but then it was done, and I go into the room with my hands like this [motions to covering up his face]. 'Oh my God, what did I do? What have I done?'
"And (Hall) walks in and puts his hand on my back, and he says, 'You don't worry. You are going to be great here. You watch. Don't worry about one day.' And that's what the first thing he said to me. I'm just telling you, I've done this a long time. It is very unusual for the last coach to want the next one to win. There's only going to be a few of us that are that way."
Calipari added that he misses having Coach Hall around practice on a regular basis. As age has caught up to him, Hall has understandably taken a step back from the basketball life he used to live. But Calipari was effusive in his praise for how Hall took him under his wing at a time when the former head coach certainly didn't have to.
"Guys leave a job that they've been in and had success. Let's be real, how much do they really want the next guy to win?" Calipari said. "I'm just going to be honest. They'll encourage you to hire somebody that they know they can't win. I've been blessed."
That was never going to be the case with Coach Hall; he was always going to support the next in line. Hall is a Cynthiana boy and a Kentucky graduate. He knows better than any living person in the world what it takes to succeed at UK. Calipari has been lucky enough to have previous head coaches turn into mentors, and Hall was arguably the most important of the bunch.