John Calipari says TyTy Washington is reminiscent of past Kentucky greats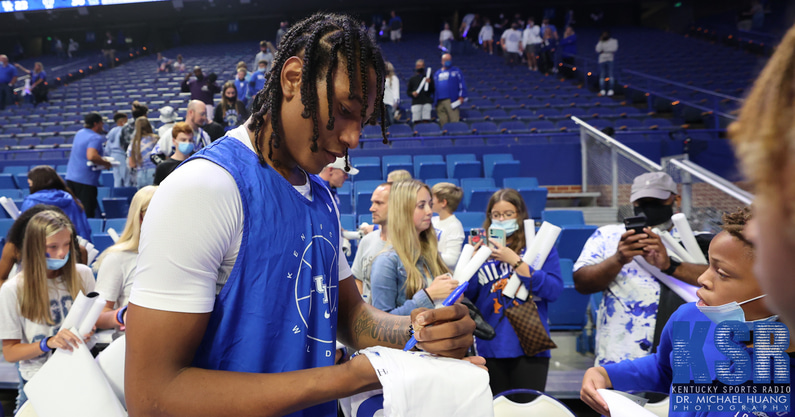 Kentucky point guard TyTy Washington lived up to the hype in his unofficial debut as a Wildcat. Taking the floor in UK's annual Blue-White Scrimmage, the former five-star recruit finished with 24 points on 10-17 shooting and 3-5 from three to go with ten assists, four rebounds and three steals.
The standout scoring guard was knocking down shots at all three levels, both wide open and with a hand in his face. There were a couple makes that left UK head coach John Calipari speechless.
"How about TyTy? Yeesh," Calipari said. "He pulled up a couple, I looked and they went right down. I said, "Aight… If that's how far out you can shoot it, shoot it."
It was a continuation of Washington's strong summer and preseason, with his impressive start behind the scenes bleeding into production in — albeit unofficial — games. Put two and two together, and Calipari firmly believes he has the chance to be special.
He didn't want to name names, but the UK head coach said Washington stepped in with the same poise and feel for the game as some of the best to come through the program during his time in Lexington. He simply has the it factor.
"He's like — I hate to start naming names of my guys," said Calipari. "You know the guys that did it, guys that have walked in and been able to do it. He can score the ball on all levels."
An elite shooting performance for everyone paying a lick of attention. Well, for everyone except TyTy Washington.
In his own mind, he was simply "OK." And he plans to top it next time out on the floor.
"I think I shot the ball OK. One through ten, probably like a seven," he told KSR. "I showed little glimpses, but that's pretty much it."
Calipari's praise extended beyond Washington's shooting. If anything, he may have been even more impressed with his freshman point guard's ability to facilitate and create for his teammates.
"You know what else he can do? He can pass," said Calipari. "They scrimmaged the other day, I put him and Sahvir (Wheeler) on different teams. Guess what? His team won and he didn't take one shot, TyTy. And they won big."
For Washington, he knows if he can build his teammates' confidence up, it'll create more easy looks for him. It's a win-win scenario for all parties involved.
"I value (playmaking) a lot," Washington told KSR. "The more I get my teammates going, they see the ball go through the hoop for themselves, me giving it to them so they can score and make shots, I know how much of a confidence boost that is for them.
"If their confidence is high, me kicking it out to them for open shots, I know it's going to open up more opportunities for me when I'm going to the rim."
But it all comes back to shooting, Washington's personal bread and butter. He's confident in his abilities as a playmaker, but make no mistake about it, the five-star freshman is a shooter.
"I think I'm a really good shooter," he said. "I feel like that's one of the stronger points of my game. Just the ability to catch and shoot, shoot off the bounce, I can come off of down screens — I don't have to have the ball in my hand to get my shot off. Different ways to get shots and being able to make them.
"I spend a lot of time in the gym shooting. If I keep doing that and staying confident in myself, I'll be a really good shooter."
Washington added that Kentucky has a 4-point line in practice to work on NBA-level shooting. If players are comfortable taking shots from several feet behind the line, Calipari encourages it, because defenders at the collegiate level refuse to guard out that deep.
And Washington certainly has no issue with confidence.
"My range is probably like a step in front of (Steph) Curry," he said. "… Whenever I work out with Coach Chin (Coleman) or Jai (Lucas), I always shoot it behind the deep line. With me doing that in workouts, it translates to the games and feels like second nature for me."
Calipari is impressed with the way Washington is able to let the game come to him rather than forcing the issue. He's comfortable in his own skin, just as Kentucky's other elite players have been over the years.
"He just plays the game," said Calipari. "He was at an All-Star event, barely played in the first half. Barely played, didn't say one word. Came out and got 22 in the second half. And he wasn't forcing it, he just played.
"He's comfortable in his own skin. Great smile every day, comes to play. Competitive now, he's got a little chip on his shoulder. You come at him, he's coming back at you."
Washington is grateful for the praise, especially knowing Calipari's history with other elite guards. But the work doesn't stop at the Blue-White Game.
"I feel like having a great coach like Coach Cal, everything he says — even if he's yelling at me — I listen to the words he says," Washington told KSR. "At the end of the day, I know he's always trying to help. For him to say that, it means a lot. Every day in practice, I'm always finding ways to get better.
"Whenever he's talking, I always make sure I'm focused, locked in on what he's saying."