John Calipari shares post-Bahamas thoughts: "Special group!"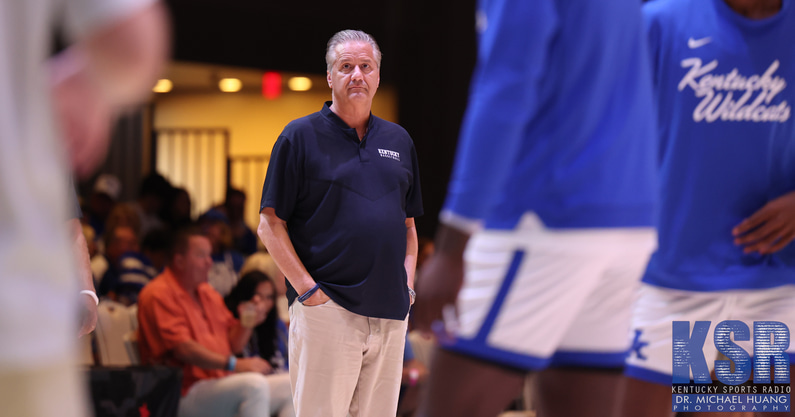 Kentucky head coach John Calipari likes his team.
After a four-game exhibition tour in the Bahamas where the Wildcats won all four matchups by an average score of 50 points, Calipari finally got settled in at home and turned on the film. Even after a dog fight against the Bahamas National Select Team in his squad's fourth game in five days, Calipari believes his team can be special.
The film of Kentucky's final win showed exactly what the head coach hoped he would see, especially on such a quick turnaround following the team's game the night before.
"Just watched the tape of the last game," Calipari tweeted on Monday. "That team we played was an experienced, physical group. With the quick turn, I wanted to see if we had fight… and I loved what I saw. I loved that it was close and we had to pull away."
The Wildcats turned a one-point halftime lead and a game they trailed by as many as eight points,
His biggest takeaway from the week overall? It was a well-rounded effort that saw college basketball's reigning National Player of the Year finish as the team's fifth-leading scorer. Despite taking a backseat to his teammates, Tshiebwe continued to celebrate and cheer. It's a trait, Calipari says, the entire team shares.
"But you know what I really loved about the week? That Oscar was our fifth-leading scorer and he cheered like crazy. That's what makes him special! That's what makes this team special! They all want each other to succeed!"
It's easy to leave the trip thinking big. It was a dominant effort from start to finish against grown men and professionals (usually both). His message to the team? Ignore the noise. Don't read or listen to any of it. Continue to push for greatness.
"My message to the players now is to not drink the poison," he said. "Don't read the clippings. Don't listen to the accolades of that trip. We were good, but not close to where we are going to be if they stay hungry, yet humble."
Do that, and this team has a chance to be special.
"My focus now is where do I take each individual player to be their best version on the court," Calipari said. "We can already see their best versions off the court with what they are doing for the people of Kentucky. Special group!"
Calipari wasn't the only one with thoughts following the trip to the Bahamas. SEC Network analyst Tom Hart also shared his opinion on the Wildcats after calling all four games and being around the team in paradise.
The big takeaway?
"Man, Kentucky is going to be great," he said. "Cats have talent and depth at nearly every spot on the floor."
Hart went player by player, position by position breaking down what he loves about the Wildcats. And yes, it's a long list.
"Antonio Reeves was a breakout star. His role on this squad is very different from what he was last year – and he'll be even better for it.
"(Jacob) Toppin's emergence as an offensive threat will be the tipping point for this team. If he can replicate what he did in the Bahamas the ceiling is national title.
"(Daimion) Collins will be a tough matchup for many teams, and he's a great fit for Cal's offense. He's improved.
"I wish we could've seen more of CJ (Fredrick). He's a steady voice, is always in the right place, and can be deadly from 3.
"The point guard position is in great hands with (Sahvir) Wheeler and (Cason) Wallace. Wallace and (Chris) Livingston can be elite, even though they're just getting started.
"Oscar is Oscar. I don't know that there is any more likable college player in any sport. He's authentic. Oh and he's the reigning Player of the Year so there's that."
Not bad. Not bad at all.