John Calipari "so happy" for Mark Stoops, Kentucky Football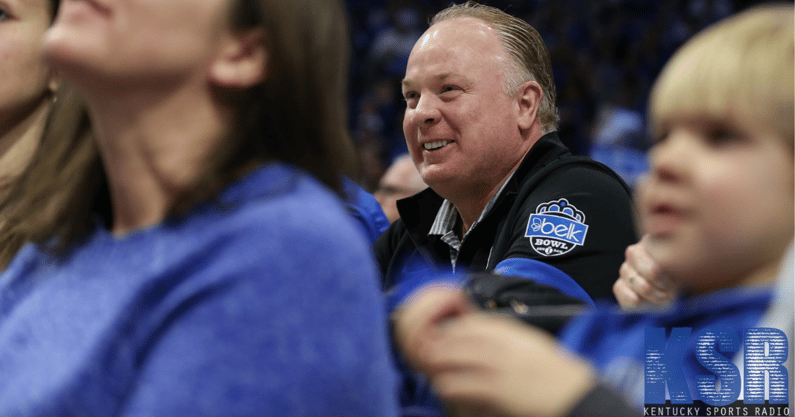 Mark Stoops fielding basketball questions on football media day was the norm back when he took over in 2012. Now, John Calipari is fielding football questions on basketball media day. With the football Cats flying high after a 6-1 start, I couldn't resist asking Calipari about Stoops and what he's built across campus.
"Mark and I are close. We're from the same [area], Western [Pennsylvania] and Youngstown [Ohio]. He talks — he's Yinz. He's one of my guys. What he's done here — which took time. This didn't happen in two years. This happened over a period of time."
"Yinz" is a second-person plural pronoun used mainly in Western Pennsylvania and Appalachia; it means "you ones." After the Georgia game, Calipari called Stoops up to talk, just two yinz lamenting about a loss.
"I called him after Georgia and he was upset," Calipari said. "'I thought we could have played better.' I said, 'Mark, it was a rock fight. It was a rock fight. You're not going to have execution. You're trying to survive. And your kids never budged.'"
Like all of us, Calipari was on the edge of his seat at the end of the first quarter when Georgia quarterback Stetson Bennett fumbled the ball only for Kentucky's players not to fall on it.
"That crazy call, the fumble. I thought this was going to be a ridiculous — and then they score one play later and it kind of changed things. And that's sports. Especially Kentucky, in football, who are now vowing to have an undefeated season or a one-loss season and it's a little different when things happen."
Calipari: "No one can say, 'They put all the money in basketball.'"
Calipari used the opportunity to point out that football and basketball's success is just a small part of UK Athletics' winning culture, made possible by Mitch Barnhart and Eli Capilouto.
"It was like volleyball here when Coach Skinner told me, 'We can't quite get over the hump.' And I said, 'When you do, you will see you'll be running downhill.' And that was about five years ago. His thing has done the same as Mark's.
"I have to tell you, the commitment to all the sports here, new soccer stadium, new softball stadium, new baseball stadium, $190 million in football. You're talking about what they've done for volleyball. They're trying to build more [for] track. They already built one. They're trying to build another one. You're talking tennis. How about our rifle team? We've got a bunch of snipers over there. These dudes are winning [Olympic medals]. The investment that's been made here is in all the sports. So, no one can say, 'They put all the money in basketball.' It's not what happened here. It's not what happened here. I give them credit."
The last time Kentucky had a football team this successful, legend has it Bear Bryant left town because the school put basketball first, most explicitly in the form of a cigarette lighter instead of a Cadillac. That myth has (mostly) been debunked and Calipari insisted today that he is thrilled for Stoops' success.
"I am so happy for football. Packed stadiums, running onto the field, like storming the field, all the stuff. It's great for the morale of this campus. It's great for our alums to take pride in this place."