John Calipari teases DJ Wagner commitment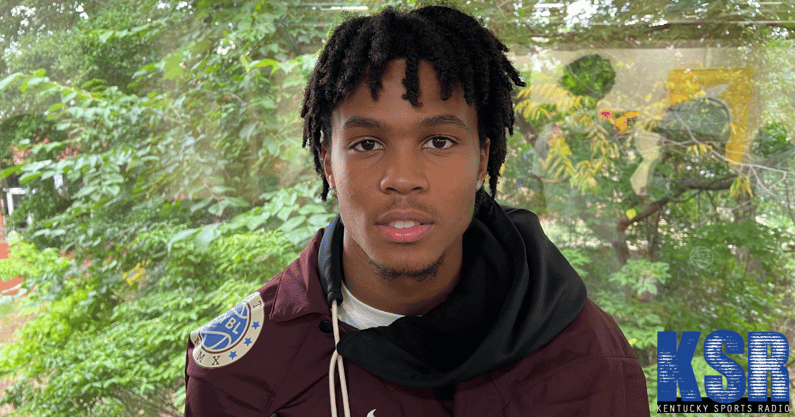 Is a commitment on the horizon for five-star guard DJ Wagner? John Calipari hinted at the possibility this afternoon at the Greater Louisville UK Alumni Club Hosts Basketball Tipoff Luncheon.
When speaking to event attendees on Thursday, the Kentucky head coach acknowledged he may be signing the son of one of his former players.
He's already got two on the roster in Adou Thiero (son of former Memphis center Almamy Thiero) and Kareem Watkins (stepson of former Memphis guard Dajuan Wagner Sr.).
Now, he could be on the cusp of landing Wagner's biological son, DJ — Kentucky's top target in the class of 2023.
"I may get another kid where I coached his dad," Calipari said, via Dominique Yates of WLKY. "Now all of a sudden you're like, 'I'm coaching kids (of my old players).'"
Event moderator, Kent Taylor of WAVE3, quickly jumped in to acknowledge the magnitude of that statement.
"Uh oh! Breaking news!" he said.
The UK head coach quickly played it off, joking about media members in attendance hearing his slip-up, adding that there are "some things" he's said this year he'd like to take back — his "basketball school" comment being one.
"No, no, no. Oh, media is here? Great, great," Calipari said. "That's just great. Because I've said some things I wish I grabbed back a couple of times this last year, so…"
The headshake at the end says it all.
Wagner is Kentucky's top prize in the senior class, with the Wildcats hoping to close on his commitment leading up to the early signing period in November. UK previously earned commitments from five-star guards Rob Dillingham and Justin Edwards, along with in-state standout Reed Sheppard, before adding another from five-star center Aaron Bradshaw — Wagner's high school and grassroots teammate — prior to Big Blue Madness this past weekend.
With the signing period quickly approaching, John Calipari is clearly feeling good — slip-up or not — about Kentucky's chances to land the star guard, likely the final piece of the program's superclass in 2023.