John Calipari to receive Race Amity Medal of Honor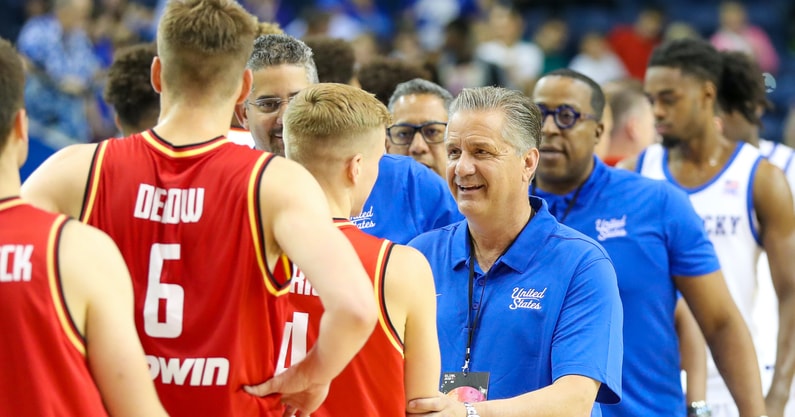 Another prestigious award for Kentucky head coach John Calipari to recognize his work away from the basketball floor, this time in the form of the Race Amity Medal of Honor. Announced by the National Center for Race Amity, the honor recognizes those who have made significant efforts to engage race amity to advance access and equity in society.
Calipari is set to receive the award at a conference in Atlanta in November.
"I'm incredibly honored to be considered for this award," Calipari said Monday. "This brings light to a cause that is dear to me. Throughout my career, bringing people together and assisting those in their time of need has been at my forefront. It is humbling to be recognized for this."
The National Center for Race Amity is known for developing forums, workshops, service projects, films and other initiatives to advance cross-racial and cross-cultural friendship out of Boston since 2010. Now, the Hall of Fame head coach is being recognized for his association, amity and collaborative action to help overcome racial prejudice using his platform at Kentucky.
The on-court results speak for themselves, guiding four teams to the Final Four with one national championship. He's the second-winningest coach in school history with a 387-113 record while helping 58 players hear their names called in the NBA Draft over the course of his career. Off the court, though, he leads by example to instill servant leadership, initiatives including feeding families at the Salvation Army each Thanksgiving, sponsoring families in need with food, rent checks and presents at Christmas, visiting hospitals and working with Samaritan's Feet. His charitable work includes three principles: drawing attention to a cause, providing immediate needs or generating lasting impact.
Among his best public initiatives?
Raising more than $12 million with the American Red Cross for the 2010 Haitian earthquake, 2012 Superstorm Sandy, 2017 Hurricane Harvey, 2021 tornadoes in Western Kentucky and 2022 flooding in Eastern Kentucky
Launching The Calipari Foundation in 2012, which has generated millions of dollars and includes matching funds for more than 30 charities since its inception
Assisting families with financial help and grocery gift cards for Lexington federal workers during a government shutdown in 2019
Partnering with Fayette County Public Schools during COVID-19 to deliver meals to participating schools, including directly to families at their home
Developing the "Unity Series" — a five-year partnership between the University of Kentucky and the Southwestern Athletic Conference to play an annual game with a member institution, those matchups raising awareness to the missions of HBCUs and funds to to provide opportunities for students at their institutions
Creating the McClendon Minority Leadership Initiative in 2020, which provides access and opportunity for men and women of color within college athletic departments across the country — 93% of participants securing full-time jobs since its inception
Individually, Calipari was recognized for his work in putting others first when he received the Jefferson Award for Outstanding Public Service in Sports by Multiplying Good. That organization is the world's most highly-celebrated organization focused on and honoring public service for over 50 years.
A well-deserved honor added to the list for Coach Cal.