John Calipari wants Kentucky to be a "speed team" in 2021-22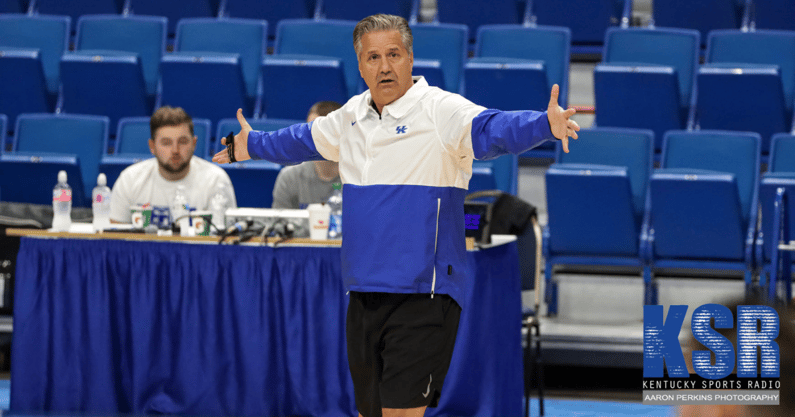 The overwhelming majority of John Calipari-led Kentucky teams were not known as ones that would physically wear down the opponent. Outside of the outlier that was the Platoon System in 2014-15, which was more about depth than pure speed, the Wildcats have never been a team that purposfully tries to outpace the opponent for 40 minutes.
But the 2016-17 version of the Kentucky Wildcats sure came close. That roster was, without a doubt, the fastest that Calipari has put together during his time in Lexington. One might argue Cal's first squad that featured the likes of John Wall and Eric Bledsoe is up there, too, and the Tyler Ulis/Jamal Murray backcourt sure could put on the burners. But a makeup of De'Aaron Fox, Malik Monk, and Isaiah Briscoe, and even Bam Adebayo and Dominique Hawkins, is the clear winner from a pure speed standpoint.
The 2016-17 Wildcats was one of the fastest teams in all of college hoops. UK was top 30 in all of Divison I basketball in adjusted tempo and average possession length, per KenPom. Kentucky pushed the ball nearly every time up the floor and thrived off quick looks. There were enough shooters surrounding the perimeter to make a fast-pace even more lethal, especially on the fastbreak. It resulted in a two-seed in the NCAA Tournament and an eventual Elite 8 berth (we don't need to talk about what happened next…).
Replicating that type of well-rounded speed isn't going to be easy in 2021-22. For starters, there isn't a player on this roster as fast as De'Aaron Fox. In reality, there might not be three players in the entire NBA faster than Fox. But Georgia transfer Sahvir Wheeler is a terrific base to try and run a speedy offense through (as long as his ankle is okay).
Calipari wants this version of Kentucky to embrace the pace. During Monday's open practice, he said as such to the crowd of NBA scouts and media personnel that filled the Rupp Arena sideline.
"We're going to be a speed team," Calipari said. "If you're not running as fast as you can, you're not playing."
But what exactly does that mean–to be a "speed team"? Looking around the roster, Wheeler might be the only player considered to possess elite speed. TyTy Washington is expected to be a fantastic all-around point guard, but not someone who will leave his defender in the dust. The rest of the backcourt is loaded with excellent all-around players such as Kellan Grady and Davion Mintz, but even they aren't considered track stars.
That being said, what Calipari is hoping for isn't a couple of players that can run a 4.2-second 40-yard dash. Rather, he's looking to instill a mentality in his team where every single player is looking to push the ball as fast as possible. You don't need to be the fastest player on the court, you just need to be the fastest version of yourself in that moment.
When you have otherworldly big men athletes in Daimion Collins and Oscar Tshiebwe, who don't possess elite-level speed but do desire to beat their opponent down the floor, that's an instant advantage. Not many college big men want to–or even remember to–consistently chase after their matchup. When you add in a slew of veteran guards who know to find those centers cutting down the floor, it adds to the advantage.
It's not just those two, though. Jacob Toppin might be the bounciest player in college. Keion Brooks Jr. has the experience to know what Calipari is thinking. Lance Ware, Bryce Hopkins, Dontaie Allen, and CJ Fredrick aren't slouches by any stretch of the imagination.
Having a roster that can potentially go 10, 11, or even 12 players deep sure does help, too. Even if the word "platoon" is never mentioned again by Calipari, he has enough depth to run his opponents into the hardwood.
We'll have to wait and see once the season begins to really figure out if Calipari is leaning on speed. He's talked a big game about rolling out guard-heavy lineups over the summer, so him saying he wants to play with more pace adds up. Faster guards make it easier to create space, which opens up more room for shooters and alley-oop tosses.
The game of basketball is continually changing and Calipari is doing what he can to stay ahead.