John Calipari wants more minutes for Chris Livingston; could play him at the "4"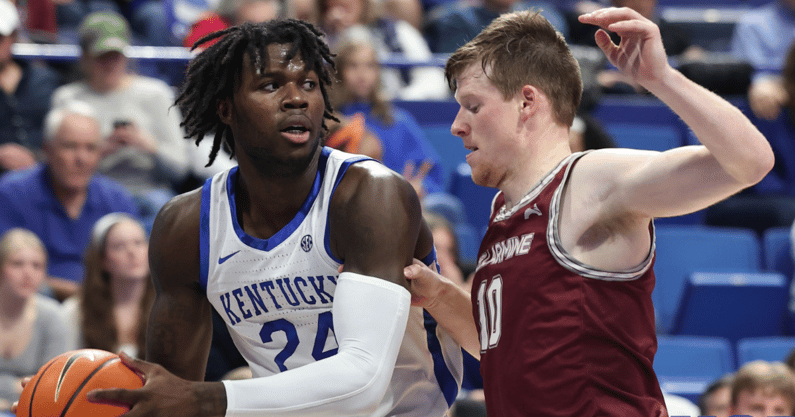 Chris Livingston is a prospect tailor-made to play within a small-ball lineup at the college level. He's a versatile, well-built 6-foot-6 wing who can bang down low with his 220-pound frame just as well as he can navigate through an open lane. But through seven games as a freshman, he's been pushed out to the perimeter.
According to data collected by Sean Vinsel of Hoops Insight, Livingston is playing the majority of his minutes at the "3". So far this season, he has 41 possessions playing alongside a frontcourt of Jacob Toppin and Lance Ware and 16 possessions playing alongside Oscar Tshiebwe and Daimion Collins. Even in Livingston-included lineups that have fewer than 10 total possessions played this year, he's always next to some combination of Tshiebwe, Toppin, Ware, Collins, or seven-foot freshman Ugonna Onyenso every time he touches the hardwood.
So much size on the court at the same time has hindered Kentucky's ability to spread the floor effectively — a growing criticism of John Calipari's offense right now — which in turn has trimmed down attacking opportunities for Livingston when he's out there. He thrived at the high school level when he had room to operate. Playing next to multiple big men who can't stretch the space has made that difficult.
On Tuesday night, in a 60-41 win against Bellarmine, Livingston saw the court for 12 minutes, tied for his second-fewest of the year. He managed to record five rebounds, one assist, and one steal, but failed to get off a single shot attempt. Calipari said definitively after the game he will find Livingston more minutes, and, more importantly, noted that he could play the rookie at the 4 — which would put him around more shooters — to help make that happen.
"Having to get some other guys, whether it be Cason (Wallace), Antonio (Reeves), C.J. (Fredrick), someone's going to have to take less minutes," Calipari said postgame about what's preventing him from playing Livingston more clock. "Or could I play him at four, which I was going to do today."
Calipari didn't have the luxury to experiment with that lineup, though. Kentucky was tied with Bellarmine at the half and didn't pull away until the final 12 minutes. Going back to data provided by HoopsInsight, Livingston played all 17 of his offensive possessions against the Knights next to a pair of bigs.
Coming out of high school as a five-star recruit and top 20 player in the class of 2022, Livingston just hasn't seen the floor all that often to begin the season. He's at 14.9 minutes per game right now, averaging 5.3 points and 3.6 rebounds on 44.0 percent overall shooting. Granted, he looked out of place in big matchups against Michigan State and Gonzaga (his two fewest minutes-played outings of the season), but who's to say he doesn't perform at a higher level if he's in a more comfortable position? "What ifs" don't help anyone, though.
Livingston has played the seventh-most minutes on the team and even started the first three games of the regular season. But he's already trending in the wrong direction when it comes to Calipari's rotation. A plan is in place to change that, however, and Calipari is adamant that time will come.
"He's going to get more (minutes)," Calipari said of Livingston. "I was just, I'm so proud of him. He made one, he got tired. He went to sub himself. First time in his life maybe that he said, 'Sub me.' And I left him in through the timeout because I thought the timeout — very next play he tried to steal it, and then he let the guy run for a layup, and I knew it. That's on me. I should have had him out. But he's going to get more and more time. He will."
"I love Chris," Calipari added. "Again, I got to figure out how to get him in."