Will John Fulkerson ever find the Rupp Arena scoreboard?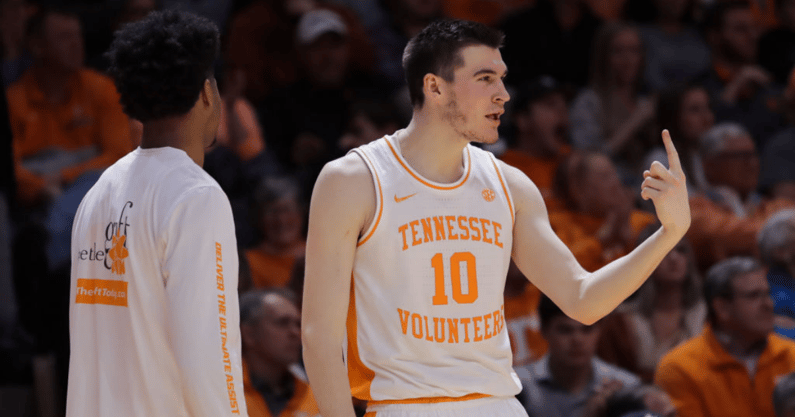 John Fulkerson has played in Rupp Arena four times over his 120-year career at Tennessee, but he still doesn't know where the scoreboard is. On the eve of (hopefully) his final trip to Lexington, Fulky reflected on the time he scored 27 points in Tennessee's upset of the No. 6 Cats in March 2020. Even though it was a career-high, he didn't know because he never saw the scoreboard.
"Honestly, the first thing I remember about that game is I could never see the scoreboard. That game I was really looking up and kind of out in the crowd where the two bowls overlap and I could never find the scoreboard so I never knew we were down 17, 18 in the first half or second half. I never knew how many points I had and I never knew we were coming back to make it close that game so that's the first thing I remember. And then obviously we won and I played really well so maybe it's good for me not to see the scoreboard."
Last season, Tennessee also beat Kentucky in Rupp but Fulkerson didn't score, only playing 10 minutes due to foul trouble. Even from the bench, he still couldn't find the scoreboard, but he has an idea of where it might be.
"I don't think I found it. I can't remember though. If it's on — I think it's on the thing that hangs in the middle and I think every time I tried to look maybe I was right underneath it."
Help Fulky find the scoreboard
This season, Fulkerson is averaging 9.0 points and 6.0 rebounds per game. He missed a few games due to COVID but is working his way back to full strength. He had 10 points and 7 rebounds in the Volunteers' win over South Carolina on Tuesday, his best outing since the win over then-No. 6 Arizona on Dec. 22. He's hoping to give the Vols their third straight win in Rupp tomorrow…even if it means never finding that elusive scoreboard.
"I'll make a point this year to definitely — well actually, I don't know if I can say that. Maybe not looking at the scoreboard is a better thing. We'll just see what happens if I can find the scoreboard or not."
For the record, there are FIVE scoreboards in Rupp Arena, the big one in the middle and one in each corner. I think tomorrow, everyone should help Fulky find them. I'll start.
One from an angle he'll probably see a lot:
If the Cats win, definitely make sure he sees it on the way out.