John Wall named top 100 NBA player by ESPN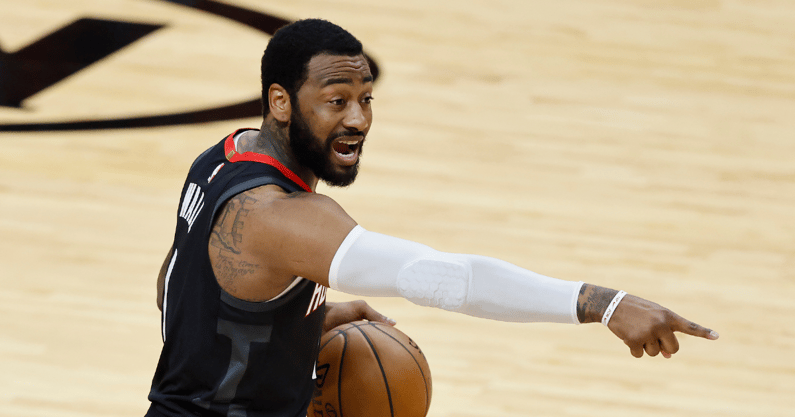 John Wall isn't going to play for the Houston Rockets this season, but whichever team does acquire his services will be getting a top 100 player–an expensive top 100 player…
According to ESPN, which released its top 100-51 NBA players heading into the 2021-22 season on Tuesday, John Wall is considered the 85th best player in the entire league. Last season, ESPN ranked the former Kentucky Wildcat as the 81st best player in the NBA.
Here's what ESPN's Tim MacMahon had to say about Wall's ranking:
Houston Rockets | PG
2020 NBArank: No. 81

One big question: Can the Rockets work with Wall's agent Rich Paul to find a new home this season for the veteran point guard? Wall's supermax contract, which has $91.7 million remaining over the next two seasons, certainly complicates matters. All parties agree that he isn't a fit with the rebuilding Rockets, who are putting Wall on ice and prioritizing the development of their young backcourt of Kevin Porter Jr. and rookie Jalen Green.

— Tim MacMahon
Wall, who spent the 2020-21 season with the Rockets after spending two full years off the court due to various injuries, does not expect to return to Houston when the 2021-22 season tips off in October. The 6-foot-3 point guard still has two years and $91.7 million remaining on his deal, including a $47.4 million player option in 2022-23, which he will almost assuredly pick up unless he is bought out before then.
In the 40 games he appeared in with Houston last season, Wall averaged 20.6 points, 3.2 rebounds, 6.9 assists, and 1.1 steals per outing on a shooting split of 40.4/31.7/74.9. However, the 31-year-old is no longer in the franchise's long-term plans–Houston drafted Jalen Green No. 2 overall in the 2021 NBA Draft and will pair him with Kevin Porter Jr. as the backcourt of the future.
Speaking as a fan of Wall, having him listed as a top 100 player, despite the last three years of little to no productivity other than empty stats on one of the worst teams in the NBA, is tough to argue for. 2021-22 was his worse shooting season since his second pro season and he was still dealing with minor injuries throughout that. IF he can return fully healthy, perhaps he's worthy of being a top 100 player, but his last two-plus years of basketball don't justify that right now.
Even still, Wall will make for a fine addition to his new team, whenever that happens. It's likely that a franchise with NBA Finals aspirations will roll the dice on him with the hope he provides enough of a boost to make a deep playoff run. Let's hope he can make it happen.