John Wall reaches buyout with Rockets, signing with Clippers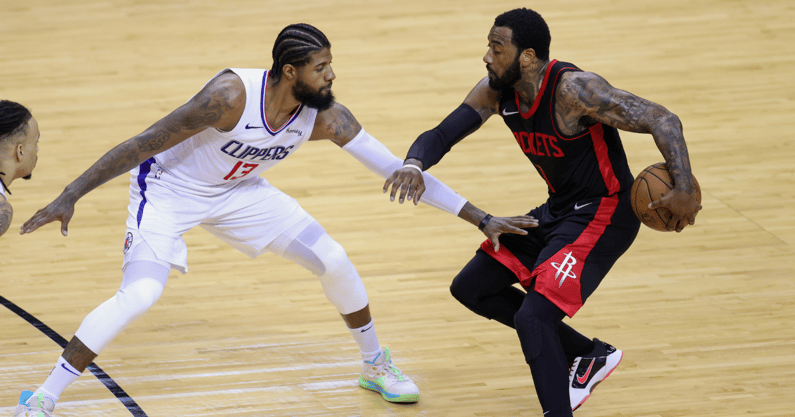 John Wall is officially an unrestricted free agent after reaching a buyout with the Houston Rockets.
Yahoo! Sports' Chris Haynes was the first to report the buyout.
ESPN's Tim MacMahon reports that the buyout will shave $6.5 million off his $47.4 million salary, giving him a whopping $40.9 million from the Rockets as a parting gift. The $6.5 million is the equivalent to the taxpayer midlevel exception, the deal Wall is expected to secure with a new team in free agency.
Who could that new team be? ESPN's Adrian Wojnarowski reports that Wall is expected to sign with the Los Angeles Clippers after clearing waivers.
Wall previously exercised his $47.4 million player option with Houston, the result of the four-year, $171 million supermax contract he signed with the Wizards back in 2017. The former Wildcat has played just 40 total games in the league since his contract began and 113 total since the deal was agreed upon.
Overall, Wall has earned a total of $229,137,948 in player salary over 12 years, including the additional $47,366,760 in 2022-23 — after signing his taxpayer MLE with the Clippers — to give him a whopping total of $276,504,708.
Wall initially suffered a season-ending left heel injury back on December 29, 2018 before developing an infection in the incision from the surgery. He then slipped and fell in his home, resulting in a ruptured left Achilles tendon, a string of injuries that kept him out 12 total months.
Wall was then dealt to the Rockets, where he played 40 games in 2020-21, his first season back from injury. He then sat out the entire 2021-22 season while Houston tanked for the No. 3 overall pick in the 2022 NBA Draft, with the Rockets looking into various unsuccessful trade scenarios that would send Wall to a contender.
Now, he's taking his talents to the Clippers.
The former Kentucky Wildcat has averaged 19.1 points, 9.1 assists, 4.3 rebounds and 1.7 steals in 10 active seasons as a pro, earning five consecutive All-Star appearances between 2013-2018.