John Wall chronicles his struggle with depression and near suicide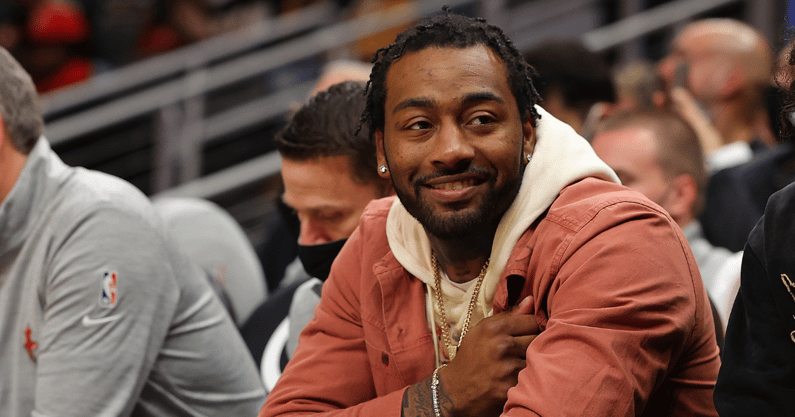 There hasn't been and might not ever be a cooler player to put on the Kentucky uniform than John Wall. John Calipari's prized recruit of his first season at the helm of Kentucky basketball single-handedly transformed a program whose credibility was in sharp decline back to the premiere echelon of college basketball.
During that 2009-2010 season, DeMarcus Cousins was awesome, Patrick Patterson was beloved, and Cal helped orchestrate the whole thing, but John Wall was top dog. He created a Big Blue Nationwide phenomenon with a five-second dance during his descent from the Rupp Arena rafters that to some fans felt like a descent from literal Heaven. You couldn't get on the Internet back then without seeing a toddler, middle-aged man, or grandmother in a #11 jersey doing the John Wall dance.
On the court, he more than lived up to the hype, cementing Kentucky as officially back when he led them past North Carolina in Rupp in a performance that mirrored the YouTube highlight reels Kentucky fans had watched on repeat since his recruitment began.
Parents named their first-born sons after him and bars named shots after him. No one held the collective awe of Kentucky basketball more than John Wall during his time in Lexington.
Today, 13 years after he entered into the hearts of Kentucky fans (and really basketball fans at large) everywhere, John Wall opened up about his struggles with depression, and how he was "this close" to ending his own life.
John Wall writes the must-read article of the sports world
Don't stop what you're doing and read the article John Wall wrote for the Player's Tribune. You are probably multi-tasking with noise in the background and jumping between work and figuring out what you are going to eat later. Instead, wait until you have fifteen minutes of quiet and take your time reading through Wall's words.
Wall talks about how doctors nearly had to amputate his foot due to the severe infection that manifested after Achilles surgery, and how that took his sanctuary of basketball away from him. That might be bad enough for a man who owes so much to the game he loves, but in the midst of all that, John Wall lost his mother to breast cancer.
To hear him tell it, though, he lost his best friend.
Wall goes into great depth about his relationship with his mother and their mutual ride from poverty to meeting the President of the United States. He shared the sacrifices she endured to make sure he had everything he needed, especially when it came to basketball.
Losing her and basketball at the same time was nearly too much for him to handle.
John Wall says he was extremely close to ending his own life
When he lost the person closest to him in the world at the same time he was unable to escape via basketball, he felt like he had no place to go. And when depression meets the feeling of being trapped, that's when suicidal thoughts trickle in.
My best friend is gone. I can't play the game I love. Everybody just got their hand out. Nobody is checking on me for me…What's the point of being here?

If I'm being honest, even the thought of being a father wasn't enough to help. That's how depression lies to you. That devil on your shoulder is whispering to you, "Well, maybe they'd be better off without you here."

One night, after all my homies had left and it was just me sitting there all alone with my thoughts running wild, I got about as close as you can to making an unfortunate decision and leaving this earth.

John Wall
Anyone who has even dabbled in depression knows exactly what Wall means. When your own brain turns against you, it can be difficult to navigate a way out. Finally, it reached a point where, in Wall's words, he said, "Bro, I need some ******* help."
John Wall joins a growing list of athletes opening up about mental health
For seemingly the entirety of humanity, uttering the hint of mental health struggles publicly was seen as taboo. This is especially true for men, and even moreso for athletes who meet the stereotypical alpha-male prototype.
However, whether it has been Kevin Love, Serena Williams, Michael Phelps, Simon Biles, or DeMar DeRozan, the list of high-profile athletes willing to share their mental health battles is growing and this is a good thing for humanity. John Wall has joined that admirable group.
It is easy to put our sports heroes on a pedestal, especially ones as illustrious and meaningful as John Wall, who lifted Kentucky basketball up from the ashes with one arm while doing his signature dance with the other. To see someone with his level of, for lack of a better word, "coolness," volunteer this level of vulnerability is incredibly impactful and makes you reflect on what is important in this short life we lead.
John Wall is back
Unlike too many stories in this same ilk, the good news is that this one is on the trajectory for a happy ending. Wall has found peace in being a father and is physically healthy enough to make an impact on the court once again, this time for the LA Clippers where he won't be the only superstar looking to make make a comeback.
However, he will be the first to tell you, this fresh start with a new team is not the only way he feels truly back.
I know y'all heard me say it not too long ago, when I was playing pickup with [Paul George] and them, "I'm BACK."

And it's true. I am back. But it's also something way, way deeper. It's bigger than basketball, what I'm talking about. It's LIFE, right? I've been through some of the darkest times you can imagine, and yo…

I'm still here.

John Wall
Kentucky fans have seen John Wall lift their program from a low point back to its peak, and there is no doubt he can do it again, this time for himself.
If you struggle with depression or any other kind of mental health, take a lesson from a Kentucky basketball diety and ask for some help. If it can affect someone as seemingly invincible as John Wall, it can affect us all.
The National Suicide Prevention life provides 24/7 support for people in distress. If you or anyone you know is ever in need, their number is 1-800-273-8255.