John Welch expected to join Kentucky basketball staff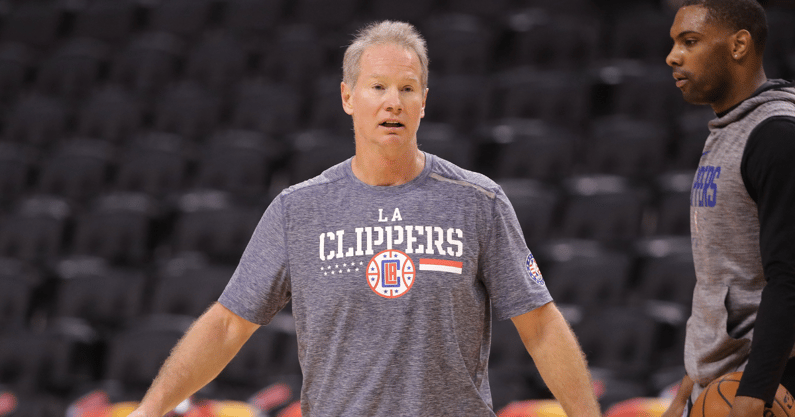 John Calipari is expected to hire longtime coaching veteran John Welch to his staff at Kentucky, sources tell KSR.
The native of Portland, Maine will take one of five on-court positions going into the 2023-24 season, in charge of game planning and workouts. His addition comes alongside the departure of assistant video director Andrew Ortelli, who is set to take a new position at Temple, KSR has learned.
Welch was in Lexington interviewing for the position last weekend. An official announcement is expected in the near future.
The 60-year-old coaching veteran is the father of former Kentucky walk-on and graduate assistant Riley Welch. He joined the NBA ranks back in 2002 and stayed through 2020, spending time with the Memphis Grizzlies (2002-05), Denver Nuggets (2005-13), Brooklyn Nets (2013-15), Sacramento Kings (2015-16) and Los Angeles Clippers (2016-20). Welch began his coaching career as a graduate assistant at UNLV — where he played college basketball from 1985-86 — followed by stints at Long Beach State (1993-95) and Fresno State (1995-02).
Welch has worked alongside the likes of legendary basketball figures Jerry Tarkanian, Jerry West, Hubie Brown and George Karl across his 34-year coaching career. Now, he's set to take his talents to Lexington, joining Calipari's coaching staff at Kentucky.
At the time of Riley Welch's addition to the UK roster as a walk-on in 2019, Calipari described his father as a "gym rat," with the family being one that "loves this game and loves challenges." And then to close out the walk-on's career in Lexington — before he joined the staff as a grad assistant — Calipari praised John Welch while adding that his son just might end up being the best coach out of all of them before it's all said and done.
"I keep telling him, 'You're doing a great job.' And I told him, his dad is a heck of a coach, NBA coach," Calipari said at the time. "I told him, 'You're going to be a better coach than your dad or me.'"
As Riley Welch graduates from Kentucky and searches for his first job as a full-time coach, Calipari is bringing in his dad to join the staff.
Discuss This Article
Comments have moved.
Join the conversation and talk about this article and all things Kentucky Sports in the new KSR Message Board.
KSBoard