Johni Broome Returns to Auburn as NBA Draft Deadline Looms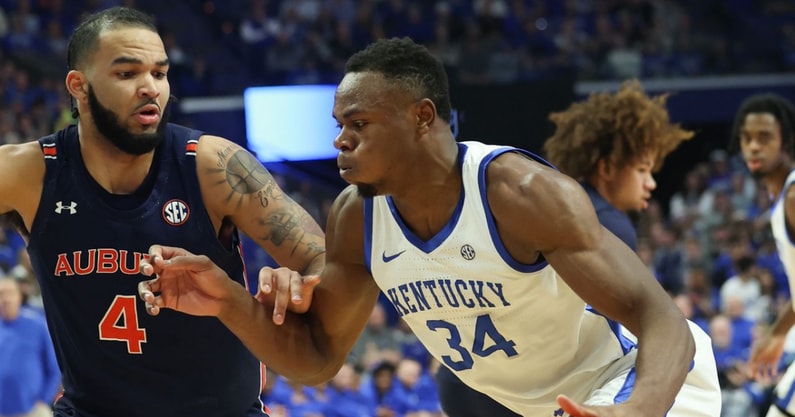 One of the top players in the SEC isn't waiting until he NBA Draft withdrawal deadline to make a decision. Johni Broome, the Morehead State transfer forward that led the Tigers in scoring and rebounding in 2022-23, announced on Monday he will withdraw his name from NBA Draft consideration and return to The Plains for an additional season.
"I'm back," Broome told On3's Auburn Live.
"I always wanted to play in the NBA. Hopefully, my goal is to get drafted and walk off the stage in the first round, early second. I felt like coming back to college, working on my body a little bit more."
In his first season for Bruce Pearl, Johni Broome scored 14 points per game while shooting 52.7% from the field, the fourth-highest field goal percentage in the SEC. He finished third in the league in rebounding, hauling in 8.3 boards per game. Broome was a second team All-SEC selection following the 2022-23 season.
Johni Broome is not the only All-SEC forward returning for another year of college basketball. Mississippi State's Tolu Smith will be back in Starkville for another season. Once rumored to potentially be on the move via the transfer portal, he removed his name from NBA Draft consideration last week and announced a return to Mississippi State. Last season Smith averaged 15.7 points and 8.5 rebounds per game.
Ryan Kalkbrenner is OUT of the NBA Draft
Since NIL entered the world of college basketball, the best bigs are sticking around a little longer. Outside of the SEC, Creighton's Greg McDermott received a gift. Ryan Kalkbrenner announced he will run it back for the Blue Jays with a matter of fact social media post. Who needs a cool graphic or video when you can just type out a sentence?
The 7-footer is one of only 11 players to ever win Big East Defensive Player of the Year twice. This year he was a finalist for Naismith Defensive Player of the Year.
Will Oscar Tshiebwe join the other talented bigs for another year of college basketball? He has until Wednesday at midnight to decide. In the meantime he'll continue working out for NBA teams, continuing tomorrow with the Atlanta Hawks.
Discuss This Article
Comments have moved.
Join the conversation and talk about this article and all things Kentucky Sports in the new KSR Message Board.
KSBoard