Johnson Central 48, Letcher County Central 18: Kroger KSR Game of the Week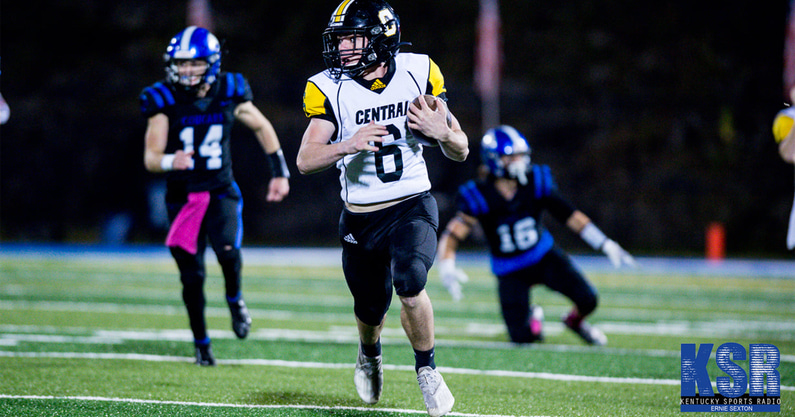 The mountains of southeastern Kentucky painted a majestic backdrop for the 4A District 8 championship game that featured Johnson Central at Letcher County Central. Johnson Central proved to be too much for the home-standing Cougars. The two-time state champions routed LCC, 48-18, in Whitesburg. 
The Cougars jumped out to a 6-0 early lead after quarterback Carson Adams connected with Nick Hanning for a 16-yard touchdown pass. The point-after failed. Johnson Central answered with Chase Price's 62-yard touchdown run. The Golden Eagles never trailed after taking a 7-6 lead with 7:19 left in the first quarter. 
Letcher County Central went back to the air on its second drive when Carson Adams found Jonah Little on a wheel route for a 21-yard gain. Adams carried the Cougars to JC's twelve but came up short on a missed pass attempt in the end zone on fourth down. Johnson Central responded by marching the football 88-yards in 1:40 for another touchdown run by Chase Price. This time the fullback scored from 28-yards out to extend Johnson Central's lead to 14-6. 
Quarterback Carson Adams came up with a critical 3rd down conversion after finding Jonah Little on a screen pass that resulted in a 53-yard gain. Adams later ran through would-be tacklers for a 9-yard touchdown. Letcher County Central's two-point attempt failed to make the score 14-12. 
It didn't take Johnson Central long to answer. The Golden Eagles ran six plays that covered 59-yards on its way to Chase Price's third touchdown on the night. The crafty fullback broke several tackles to score from the 19 yard-line which extended the lead to 21-12. LCC's three-and-out led to the contest's only first half punt with 7:45 remaining before halftime. A 39-yard boot gave Johnson Central optimal field position at its own 33.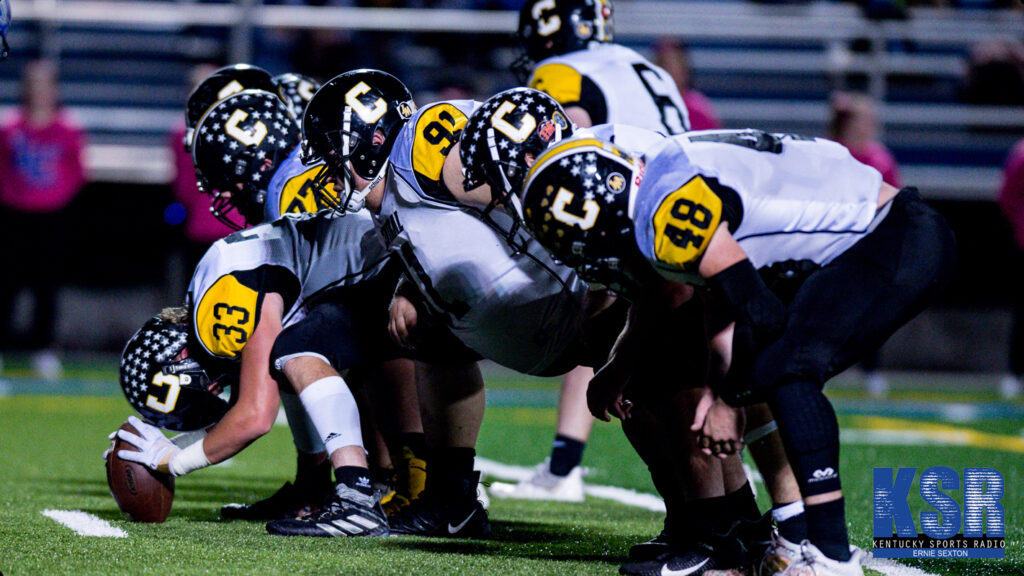 Quarterback Grant Rice later scored on a 23-yard keeper to push the score to 28-12. Johnson Central overcame three personal fouls on a 67-yard scoring drive that took nine snaps. The Golden Eagles opened the game wide open after Zack McCoart picked up a fumble on the ensuing kickoff and ran into the end zone from the thirty to give Johnson Central a commanding 35-12 lead. 
LCC failed to convert on a 4th and 4 after an Adams pass sailed high on a wheel route giving the Golden Eagles field position on the 43. Quarterback Grant Rice punched it in from three yards out with :05 left in the first half. Johnson Central missed the extra point but took a 41-12 advantage into the locker room at halftime. 
Second Half
Johnson Central's opening possession of the second half painted an accurate picture of Friday's game. The Golden Eagles ran the football on nine consecutive plays and covered 63 yards, topped off by Matt Crum's 2-yard touchdown rush. The Golden Eagle's 48-12 lead triggered a running clock in the third quarter. 
Grant Rice attempted its first pass of the game at the 11:11 mark in the fourth quarter. His throw was intercepted by Mercer Quillen. The Cougars capitalized after Trevor Branham caught a Carson Adams screen pass for a 27-yard score. A failed two-point conversion was followed by Johnson Central running out the clock to secure the district championship and a 48-18 win. 
Johnson Central dominated the football game. It never punted. The Golden Eagles have outscored its latest four opponents by a total of 174 to 30. JC is peaking at the right time and is going to be a tough out in 4A. UK commit Grant Bingham is the real deal. The offensive lineman dominated the line of scrimmage and was effective as a downfield blocker. 
Letcher County Central entered Friday's contest averaging 38-points per outing. The Cougars were held to 18. Quarterback Carson Adams is a dynamic playmaker who will put LCC into a position to advance in the playoffs. These two teams could meet again in November.
A Message from Kroger
We're excited to tell you about something new from our friends at Kroger. Did you know Kroger is America's largest grocery chain that started over 135 years ago? They are doing something they've never done before: bringing fresh groceries right to you with a new service called Hometown Pickup. 
That's right, for those of you in Cynthiana, Midway, Eminence, Bedford, McKee, Dry Ridge, Carlisle, Eubank, Georgetown, Mt. Vernon, Jackson, Frenchburg, Irvine, Mt. Olivet, and Paris, Kentucky you can now order all your groceries online and pick them up at a central location in your hometown. No more long drives into the city to get fresh food for you and your family. Now THAT is truly Fresh for Everyone. Thanks, Kroger. 
Learn more and place your first order at Kroger.com/hometown.