Jon Rothstein raves about Keion Brooks' progression: "Could be the key."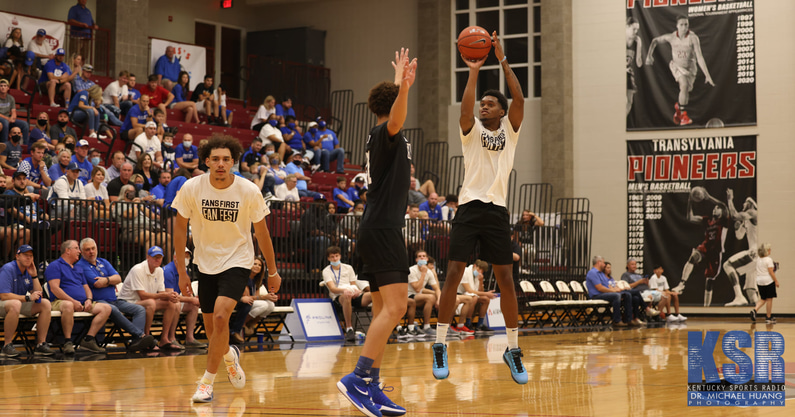 National insider Jon Rothstein has a long history of correctly predicting the breakout stars of college basketball, specifically for the Kentucky Wildcats. Three years ago, he heard rumblings of Tyler Herro standing out in early practices. A year later, it was Immanuel Quickley. Last season? Isaiah Jackson.
Three predictions based on behind-the-scenes scoop, three hits.
In an appearance on Kentucky Sports Radio earlier this summer, Rothstein was asked to make his prediction for the upcoming season. With offseason workouts just starting to ramp up at the time, the national insider hadn't gathered enough information to make a strong pick. His gut, though, said Keion Brooks Jr. would be the team's breakout star.
"I would expect the attention and bold print on Keion Brooks to really be raved nationally because of his IQ and what he can do at the power forward spot," Rothstein told KSR at the time.
Fast forward to September, and Rothstein is ready to make his official prediction. And as his gut told him in July, Brooks has been the player praised most behind the scenes leading up to the season.
"Highly placed spies in Lexington continue to rave about Keion Brooks' progression," Rothstein said. "Averaged 19 PPG and 10 RPG in games last season where he played 30 minutes or more.
"Could be the key to Kentucky's whole operation."
Back in July, Rothstein told KSR that for Kentucky to return to contender status not only in the SEC, but all of college basketball, Brooks has to be the team's glue at the power forward spot.
"To me, that's the guy that's going to make this whole thing go," he said. "If at one, two and three, you're going to have interchangeable pieces with good shooting and quality ball handling, you are going to have a scenario where you're going to need someone who can pass, dribble and shoot at the four spot to bring it all together. To me, that guy for Kentucky is Keion Brooks."
After missing the entire preseason and the first nine games of the year with a left leg injury, Brooks totaled career bests in points (10.3), rebounds (6.8) and assists (1.6) per game in 2020-21. The 6-foot-7 forward scored in double figures in 11 of his 16 appearances and posted two double-doubles.
Now, there is growing buzz that a junior leap is inevitable for the 6-foot-7 forward.